10 Terrific Sayings and Slogan Ideas for
Heart Health Awareness
published: January 24, 2020 | updated: March 6, 2023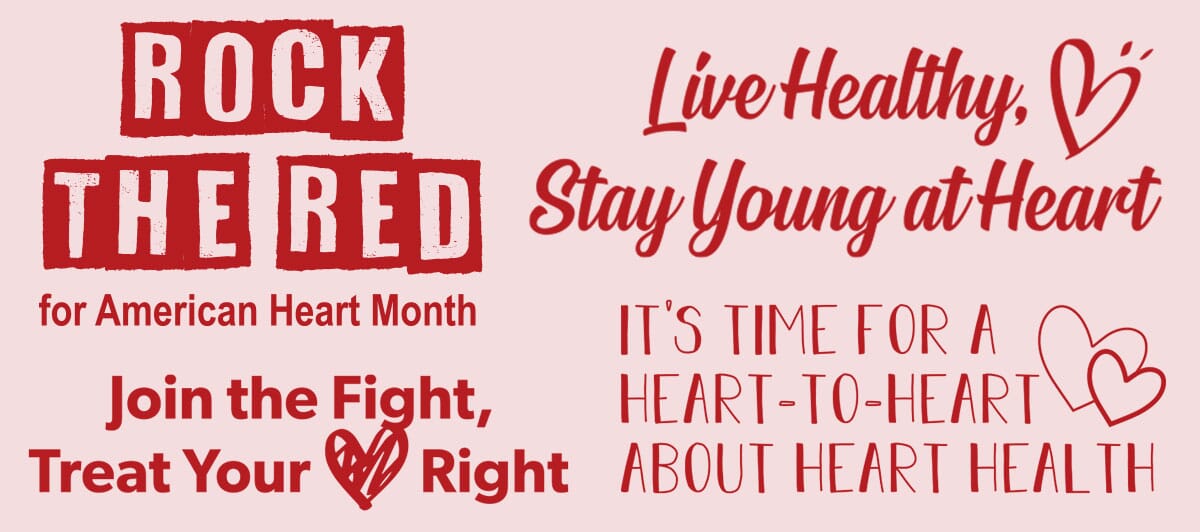 Heart health is something we should all be focusing on. According to the American Heart Association, someone in the US has a heart attack every 40 seconds, and someone dies from a stroke every 3 and a half minutes.
But other than exercising and eating right, what can we do to prevent poor heart health from claiming more lives? Celebrating American Heart Month is a great place to start.
Each February, the American Heart Association encourages citizens to raise awareness for heart health and make lifestyle changes to better their own.
One great way to spread the word in your community is through the power of catchy heart awareness slogans. These sayings can be printed on promotional t-shirts, water bottles, stress relievers, drawstring bags and more to send a message of heart health awareness far and wide.
Need some inspiration for your American Heart Month quotes? Read on to discover 10 fantastic slogan examples you can use to promote heart health in your community.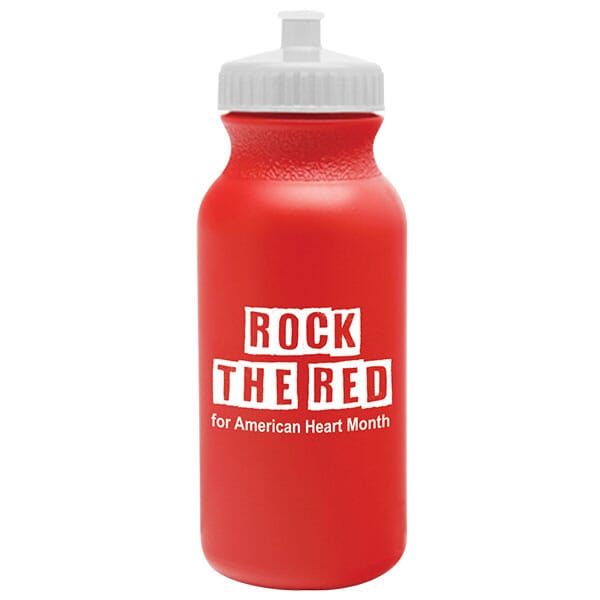 1. Rock the Red for American Heart Month
The official color of heart health awareness is, fittingly, red. In an effort to raise awareness for heart disease in women, the American Heart Association has also started an initiative called Go Red for Women.
Show support for both of these causes with the catchy slogan, "Rock the Red for American Heart Month." On a portable water bottle like the 20 oz Bike and Sports Bottle shown above, your recipients can be reminded of the importance of heart health awareness wherever they are. With its sporty design, this bottle is also perfect for distributing at an American Heart Month run, walk or bike ride.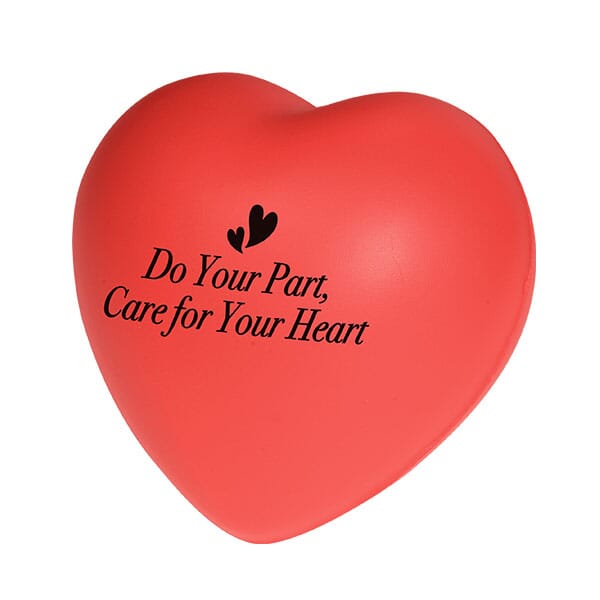 2. Do Your Part, Care for Your Heart
American Heart Month isn't just about spreading awareness: it's also about encouraging participants to take care of their own hearts every day. That's why the quote: "Do Your Part, Care for Your Heart" is a great reminder.
On an everyday object like the heart-shaped stress ball pictured above, it can serve to remind your recipients that they should be caring for their hearts daily. And, since stress can also have a negative impact on heart health, a promotional item like this can help prompt recipients to relax and unwind.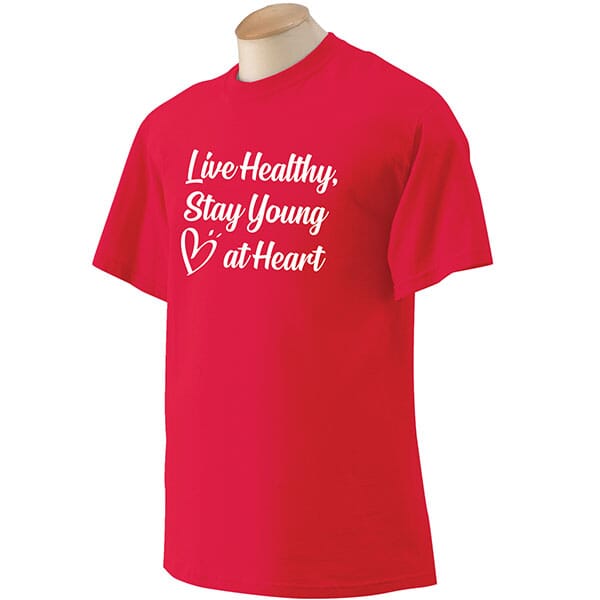 3. Live Healthy, Stay Young at Heart
No matter one's age, we can work to keep our hearts youthful. How? As the Centers for Disease Control and Prevention (CDC) says, "you can make your heart younger by making changes that reduce your risk."
(Want to know your heart age? Check out this nifty calculator.)
So, the quote: "Live Healthy, Stay Young at Heart" is great for encouraging others to make smart choices and improve their heart health. This saying is also a perfect t-shirt slogan. We love how it looks on the Gildan® Ultra Cotton™ T-Shirt, a comfy and durable t-shirt that everyone will love.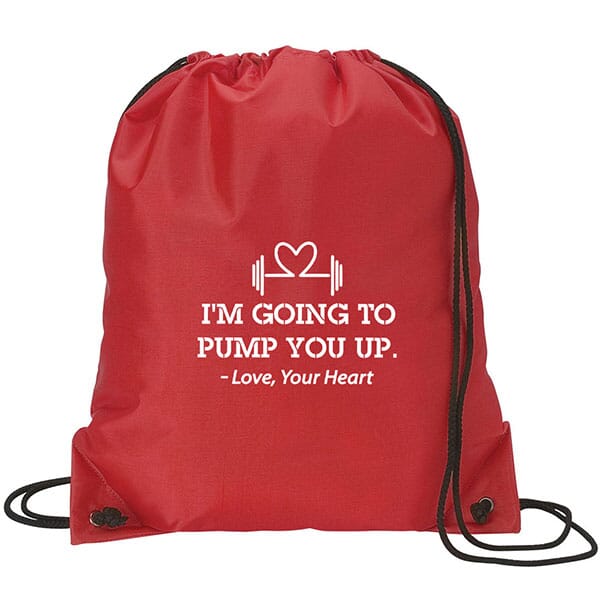 4. I'm Going to Pump You Up. -Love, Your Heart
Our hearts do a lot for us. Every single day of our lives, they pump blood throughout our body, which distributes oxygen and nutrients from head to toe, and gives us the energy to face the day (and maybe even some workouts).
Pump yourself up with the saying:
"I'm Going to Pump You Up.
-Love, Your Heart."
We think it looks fantastic on the Drawstring Backpack 2.0 shown above. With its lightweight and durable construction, this backpack is perfect for toting to sports practice, gym sessions or other heart-healthy activities.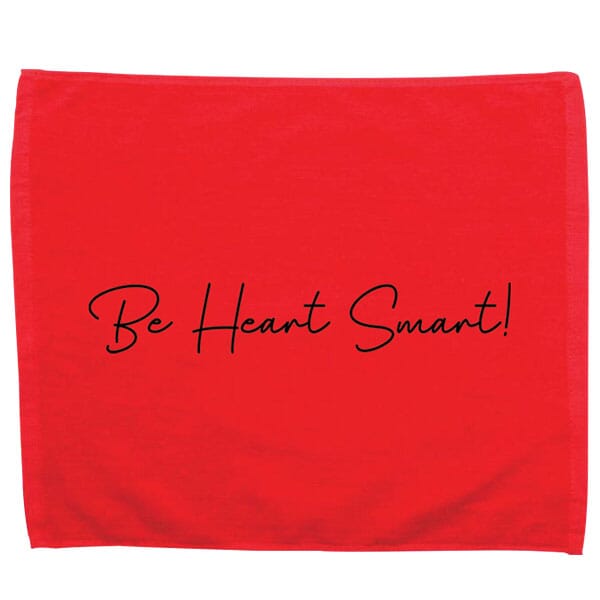 5. Be Heart Smart
Being heart smart can mean a lot of different things. According to the University of California Irvine, everyone can benefit from these heart-healthy practices:
Exercise regularly.
Quit smoking.
Lose weight.
Eat heart-friendly foods.
Eat chocolate and drink wine (in moderation).
Don't overeat.
Learn to manage stress.
That's why we love the quote "Be Heart Smart:" it condenses all those ideas into one memorable saying.
To celebrate the lifesaving power of heart smart habits for American Heart Month, try imprinting this catchy slogan on a fitness-related item like the Soft Touch Sport Towel pictured above.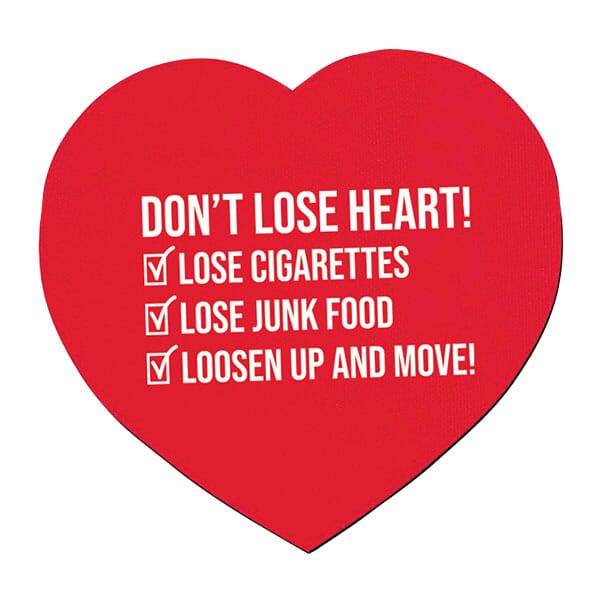 If you have a big enough imprint area, spell it all out!
Don't Lose Heart!
Lose cigarettes
Lose junk food
Loosen up and move!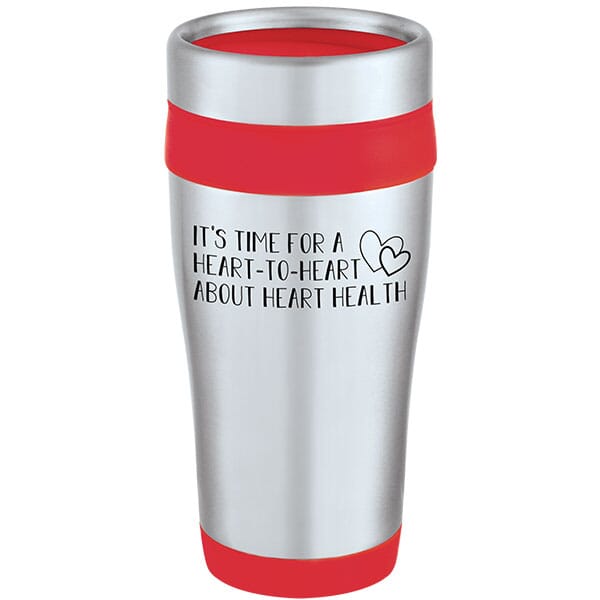 6. It's Time for a Heart-to-Heart About Heart Health
If you're already well-versed in heart health, it may seem like common knowledge. However, the truth is that most people aren't familiar with important aspects of their own heart health.
According to a 2017 survey from the Cleveland Clinic, almost 70 percent of Americans are afraid of dying of heart disease.
Despite this, only 38 percent know their blood pressure, and just 18 percent know their body mass index (BMI), both of which are essential factors in overall heart health.
So, it's clear that more Americans need to learn about heart health and how they can manage theirs. Spark a conversation with the quote: "It's Time for a Heart-to-Heart About Heart Health," which will be seen by people when printed on the 16 oz Accents Stainless Tumbler shown above.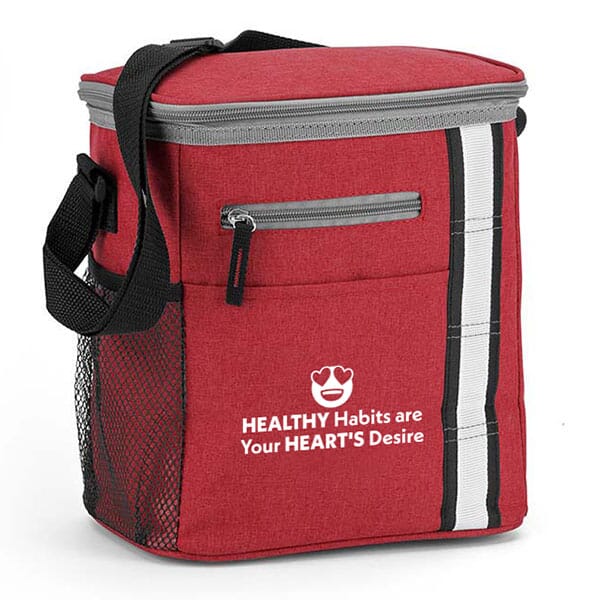 7. Healthy Habits Are Your Heart's Desire
When it comes to heart health, there is no one-size-fits-all, "set it and forget it" solution. Instead, a healthy heart comes from lots of little changes that become a habit. The heart awareness quote: "Healthy Habits are Your Heart's Desire" reminds recipients to make healthy choices each day; this saying is more than a promotional slogan—it's a reminder to strive for a longer, healthier life.
Since a balanced diet is essential for heart health, this quote is perfect for reusable lunch totes. Choose a cooler bag with a water bottle pocket, pockets for snacks and utensils and a roomy zippered main compartment, and it will easily hold all the heart-healthy food and hydration that people need.
Educational giveaways will keep your heart-positive messages fresh in recipient's minds all year long.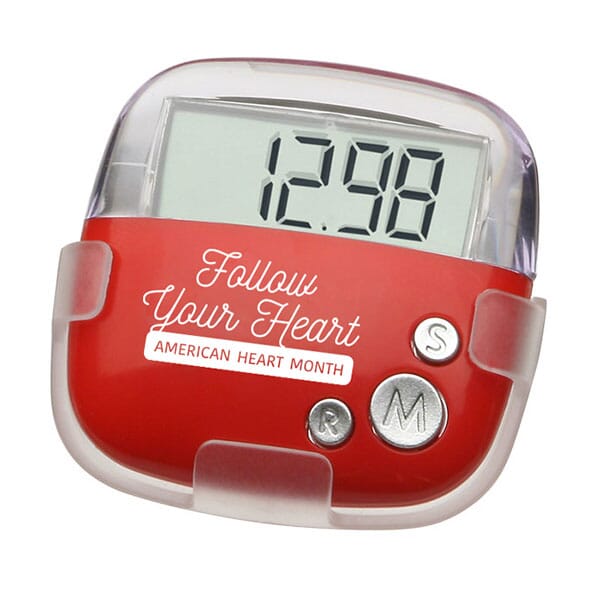 8. Follow Your Heart - Heart Month
A heart-healthy lifestyle is all about listening to your heart and giving it what it needs to thrive (even if that means ignoring your stomach's request for a second donut).
Display that important message on any promotional item with the quote, "Follow Your Heart — American Heart Month." This saying makes for an awesome heart walk team slogan. It's especially ideal for fitness product like pedometers. In convenient clip-on or bracelet styles, these handy gadgets measure calories burned and distance covered, making them a surefire smash hit for your next heart health awareness walk.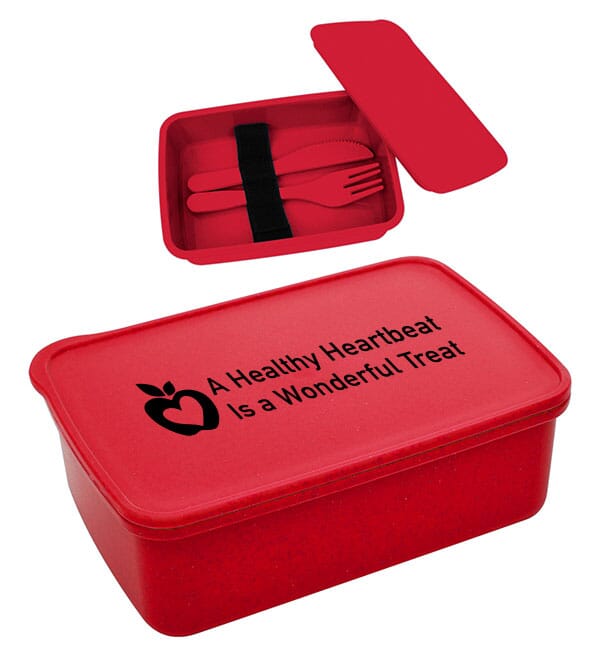 9. A Healthy Heartbeat Is a Wonderful Treat
All too often, the phrase "heart health" makes us think of inconvenience. With the right mindset, though, a healthy heart is a reward that's well worth some minor lifestyle changes. That's why the slogan, "A Healthy Heartbeat Is a Wonderful Treat," can remind folks that heart health is something to be celebrated, not viewed as a chore.
We think this quote looks fantastic on reusable food containers and lunch sets. Plus, it can help remind your recipients to choose nutritious snacks over junk food.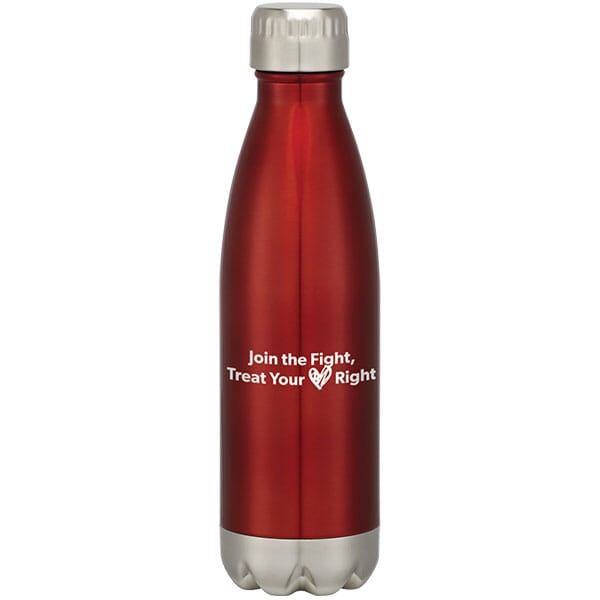 10. Join the Fight, Treat Your Heart Right
The fight for heart health awareness truly is just that: a fight. Heart disease is a formidable foe that's responsible for 1 in 5 deaths in the U.S., more than any other cause of death.
With that in mind, it's critical that we come together to combat heart disease and promote heart health for everyone. That's the message behind the quote "Join the Fight, Treat Your Heart Right." This quote is well-suited to almost any type of promotional product, but it works especially well on personalized healthcare items, such as a custom heart-shaped pill case or every day healthy lifestyle gifts, like stainless steel water bottles.
Even More Heart Health Quotes
Still didn't find the right quote for your American Heart Month festivities? Consider these additional six options:
Give Your Heart a Head Start
Bless Your Heart. Live Smart. American Heart Month.
Show Your Heart Some Love
My Heart Is in It 100% — American Heart Month
I Have a Good Heart — American Heart Month
You Have a Big Heart. Take Care of It!
This American Heart Month, use any one of these 10 quotes on heart health to encourage healthy habits, raise awareness and help your community be healthier and happier. That's certainly something worth celebrating.
Want to learn more about how you can raise awareness for heart health? Check out our previous article, 9 Awareness-Raising Ideas for American Heart Month. Or if you need more ideas for promotional products and advertising slogans instead, read Quotes, Sayings & Slogans for Funny, Inspirational Travel Mugs.