The Survey: States Most Obsessed
with Deals and Couponing
published: June 1, 2023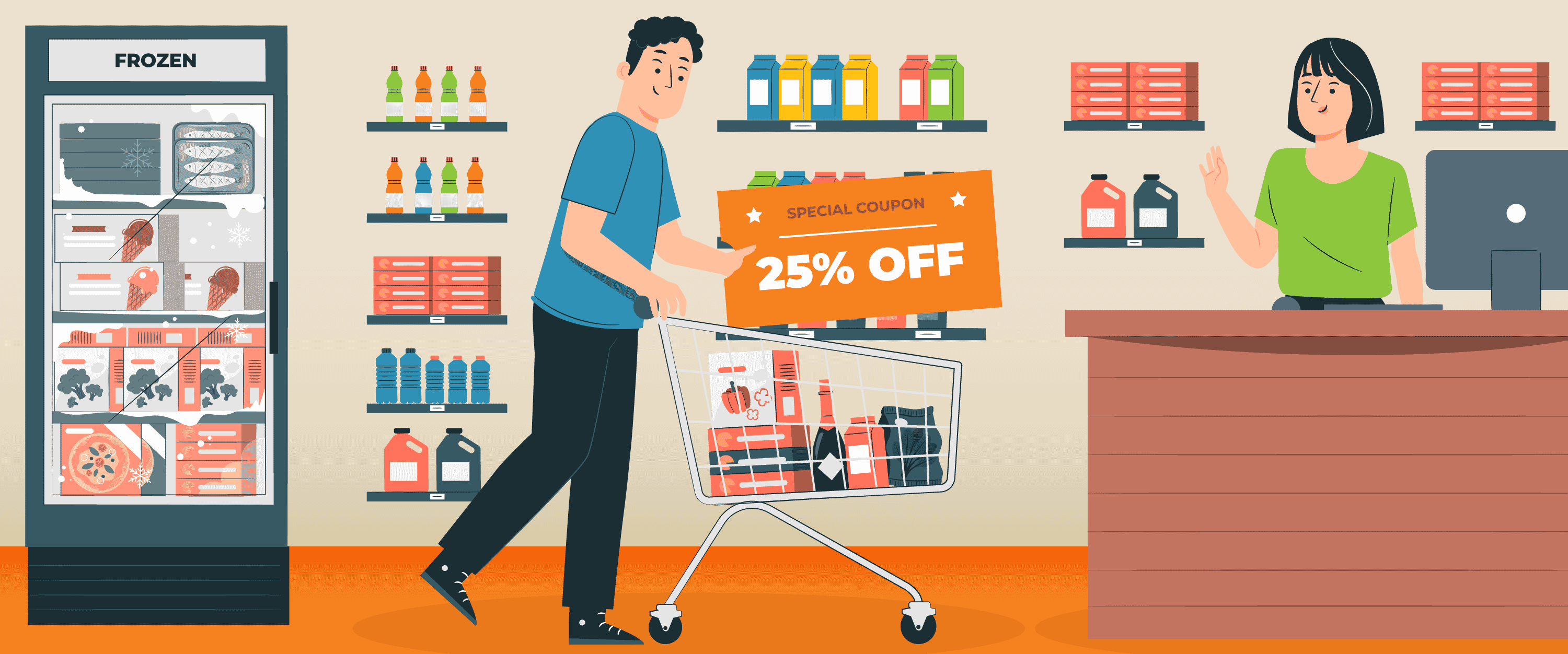 With hit TV shows like "Extreme Couponing," which highlights Americans getting their shopping cart down to the pennies, and various national shopping events like Black Friday and Amazon Prime Day, it's no secret that Americans love a good deal. So we were curious to know what Americans' shopping habits were and which state saves the most money.
To calculate the savings, we surveyed 2,343 Americans about how they save while shopping, including using coupons or loyalty programs and shopping around for deals. Then we compiled our results to see which states are most obsessed with deals and couponing as well as how and where Americans save the most.
Key Findings
Mississippi, Alabama, and Indiana practice the most saving strategies.
Nearly half (47%) will make trips to multiple grocery stores to grab items that are on sale at each.
Half of Americans (51%) say they never pay full price for clothing and apparel.
When it comes to electronics, over 1 in 3 Americans say they never pay full price.
To save money, 77% of Americans regularly shop clearance sections.
The States Most Obsessed with Deals and Couponing
With savings available for a wide range of products, Americans frequently use coupons and shop deals to save money, especially when prices are higher than they used to be. We wanted to find out which states shopped for deals and most often used coupons. To determine our results, we took specific strategies into account:
Using coupons: We included not just clipping coupons or using coupon apps but also loyalty accounts and cards.
Shopping for deals: These strategies included shopping around different stores for deals, shopping for clearance, and waiting for an item to go on sale.
We took all of the factors and weighted them to equal a max score of 100. The states who have a higher score practice the most savings strategies.
Two neighboring states in the South ranked as first and second overall: Mississippi ranked as the top state that shops for deals and uses coupons, with a score of 65.5, and was closely trailed by Alabama with a score of 65.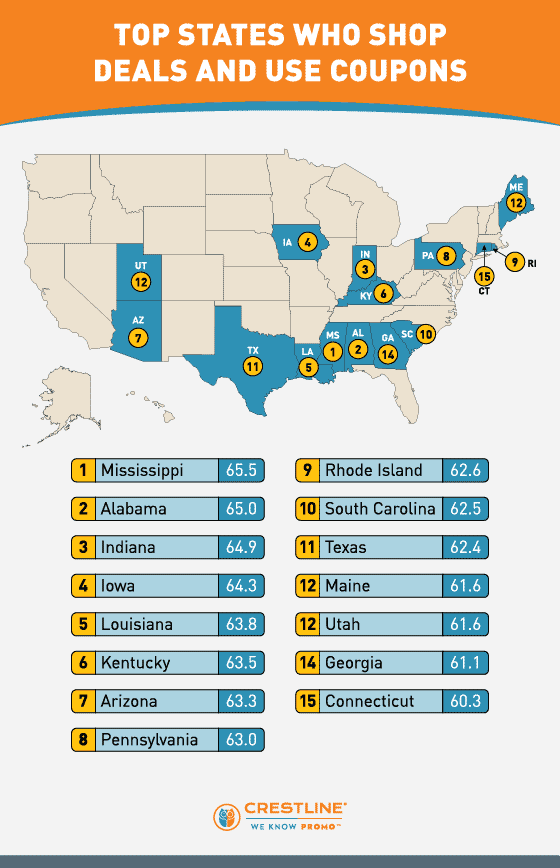 Making sure you're getting the best deal and saving on an item can take a bit of effort, and not everyone has the energy for it. The states least likely to shop for deals and use coupons were Kansas (51.9), New Mexico (54.0), Nebraska (54.6), New Hampshire (55.4), and Oklahoma (55.5).
For the states that do like a good deal, we found that certain states prefer specific money-saving tactics.
Kentucky loves its coupons. Coupons come in many forms, and for a lot of folks, they love to stack the deals with a store coupon and one found online or in apps. Whether they're using online coupons or presenting a physical one in store, residents in Kentucky use more coupons than any other state.
Arizona proves that loyalty pays off. Loyalty cards and accounts are available at a wide range of retailers, even at high-end stores. People use these accounts to gather points that can earn them a future discount or in some cases a free item. Signing up for these savings accounts is most done by residents in Arizona.
Alabama hunts the deals. Shopping around different stores can take some time, but save you a lot of money. Store hopping to find the best deals is most common in Alabama.
Iowa combs the clearance section. Whether they have too much inventory or moving on to a new season of items, most stores always have discounted goods. Residents in Iowa shop clearance more than any other state.
Utah waits for a sale. With many national deal days in America, it's very likely that your high ticket item will one day go on sale. Waiting for an item to go on sale is most common for residents of Utah.
What Americans Won't Pay Full Price For
Full price is never a good price for some items. From groceries and electronics to clothing and household items, there are certain products Americans refuse to buy without some sort of discount, and the number one category where Americans always save is clothing and apparel.
Electronics came in second with groceries closely following in third place. In fact, saving money on groceries is so important that 47% will make trips to multiple grocery stores just to grab items that are on sale at each. With grocery prices still high from inflation, it's no surprise that they made the top three list of things Americans will never pay full price for.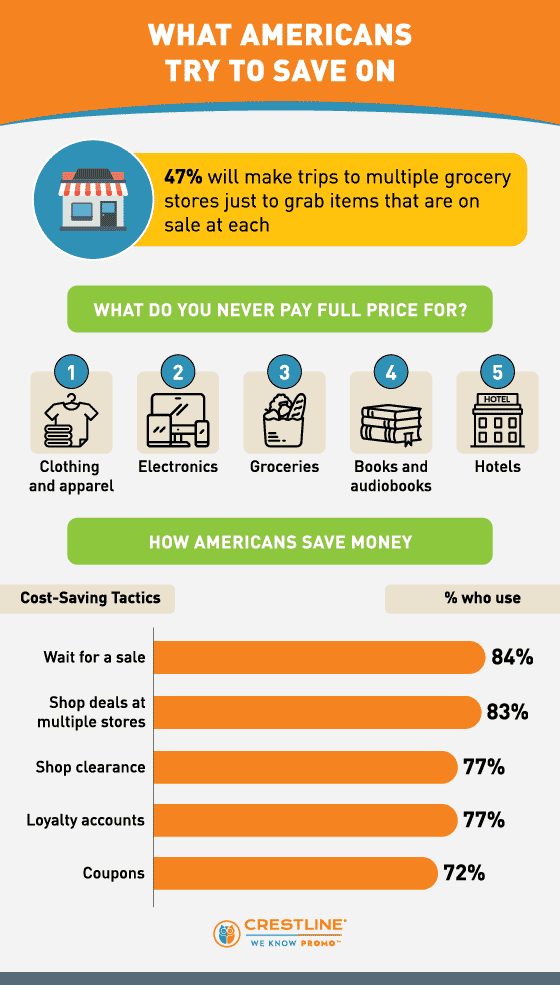 America's favorite coupon apps
Gone are the days where your only option to save was to clip paper coupons and take them to the store — with the digital age also came digital savings. Nowadays there are endless apps that help you save, keep track of your loyalty accounts, and give coupons for in-store and online purchases. These apps notify you of your opportunity to save, especially since 44% of people are signed up for 5 or more loyalty/rewards programs.
While 70% of people find coupons on the store's app, other apps allow users to find coupons across several retailers. When it comes to digital coupons, Americans shared the five apps and sites they use most: Honey, Groupon, Ibotta, RetailMeNot, and Coupons.com.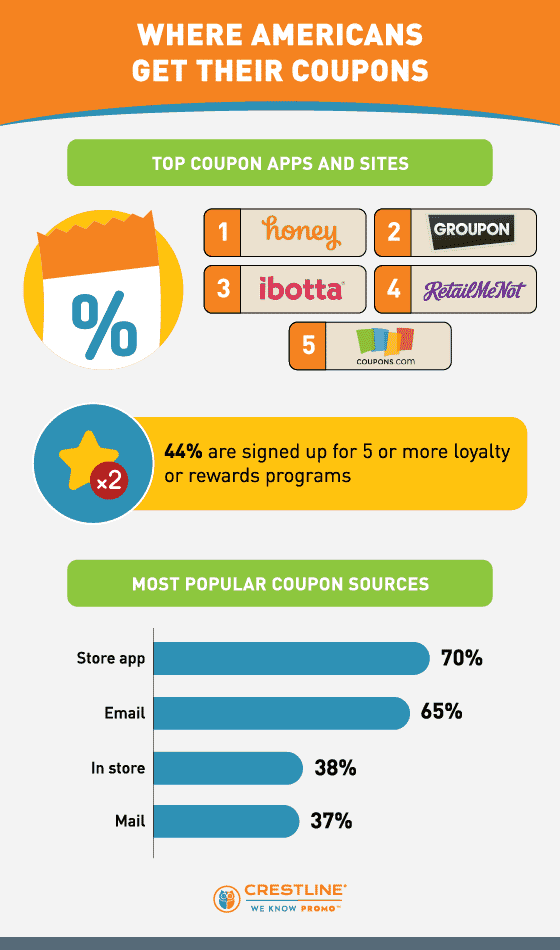 Conclusion
Whether it's by using coupons, shopping deals, or both, most Americans love to save money. With Crestline, you don't need to shop around for the best deals or search for a coupon because we are tirelessly checking the competition's prices to be able to guarantee you the best price on top-quality promotional products. If free is more your style, check out the free services we offer like graphic design and art preparation, digital proofs, and custom online stores.
Methodology
From February 15, 2023 to February 27, 2023, we surveyed 2,343 Americans about their shopping habits and their use of coupons. Due to insufficient data, we excluded Alaska, Delaware, Hawaii, Montana, North Dakota, South Dakota, Vermont, and Wyoming from the state analysis. Respondents ranged in age from 18 to 76 years old, and were 51% female, 47% male, and 2% nonbinary.