What to Wear to a Conference: The Ultimate Guide
updated: May 25, 2023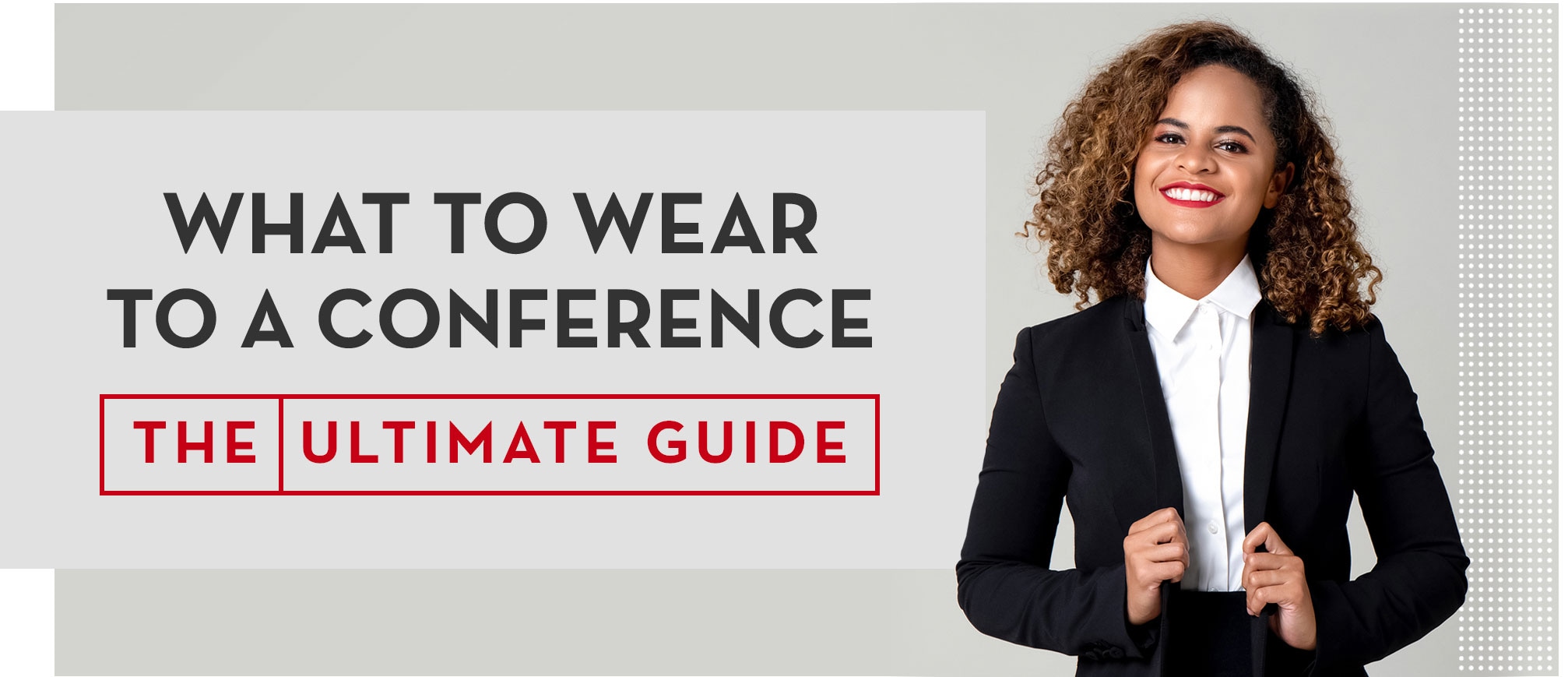 So, you've got a big conference, summit or trade show coming up, and you're feeling prepared. You've crossed your t's, dotted your i's and considered every detail. That is until you remember that you have to figure out what to wear. While every conference and trade show is different, the goal is always to look professional and composed no matter what you're doing.
Unless you've been assigned a uniform, though, it can be difficult to determine what types of clothes will help you achieve that. To help you look your best, we've put together this comprehensive guide.
What should you Wear to a Conference?
When preparing for a conference, you can generally never go wrong with wearing upgraded versions of your typical work outfits. Choose from business casual classics like ties, blazers, oxfords, polos, and chinos for men, and blouses, cardigans, and pencil skirts or dress pants for women. Dress in layers and neutral colors, with comfortable, quality shoes.
Those are the basics, but if you want more than just the 4-1-1, keep on reading to learn more about conference attire for specific times of day, seasons, and industries, as well as some common conference fashion blunders to avoid.
What to Consider Before Choosing Your Apparel
Before you start brainstorming outfit ideas, you'll need to take a few key elements into consideration. Below, we've outlined each one.
Men's vs. Women's Attire
While the goal for both male and female conference attendees is to look professional, the attire they have to choose from can vary greatly. Take a look at these tips for each gender to get started.
Do dress smarter than you typically do.
Unless you always wear a suit and tie to work, there's likely room for improvement. For example, you could add a tie or blazer to your everyday shirts and sweaters, or swap out your jeans for chinos or dress pants.
Don't forget shoes and accessories.
For some men, shoes and accessories are never anything more than an afterthought. At a conference or trade show, however, that won't cut it. Remember to choose a belt, bag and a pair of shoes that convey a professional message and don't clash.
Do stick with go-to colors when in doubt.
If you're unsure how to color-coordinate your outfits, don't be afraid to stick with the staple menswear colors. These include navy blue, white, gray, black and brown/beige. A professional conference is not the place to try out a bright color for the first time. You can never go wrong with a wardrobe basic like the
Port Authority® L/S Easy Care Shirt - Men's
.
Do stick with staples.
Although women generally have a bit more leeway in terms of conference clothing than men, there are several professional staples that can help you look your best. Think blouses, cardigans, blazers, button-downs, dress pants, wrap dresses and pencil or A-line skirts.

Don't feel pressured to adhere to a certain look.
Ahead of a conference, you may feel pressure to wear your hair, makeup and clothes a certain way. This may have been the norm in the past but is no longer the case. For instance, if you don't like wearing makeup, there's no need to don a full face because you feel like you have to. Instead, think about what professional style means to you and focus on execution.
Do use minimal accessories.
While some men have trouble remembering to accessorize, some women tend to take a "more is more" approach. Instead, use simple, classic accessories, and when in doubt, heed the advice of Coco Chanel: "Before leaving the house, a lady should look in the mirror and remove one accessory."
Don't wear shorts or distressed jeans.
Simply put, these items of clothing are never appropriate for a business conference, no matter the weather.
Do break in your shoes beforehand.
Though a brand new pair of shoes will undoubtedly look smart, the last thing you want during a long day of standing and walking is to deal with blisters. So, be sure to break in your shoes several days before the conference starts.
Don't wear a strong fragrance.
Since other attendees might be allergic or sensitive to strong perfumes and colognes, avoid wearing intense fragrances.
Do choose simple colors and patterns.
To remain professional and avoid looking garish, choose simple colors and subtle patterns over loud colors and busy patterns. However, there's nothing wrong with a couple of accent pieces in bold but classic shades like red, blue or dark green. Check out the
Men's Clearwater Roots73 LS Shirt
, available in a
women's style
as well!
Don't forget the conference dress code.
When in doubt, consult the conference's dress code. If you can't find one, don't be afraid to call or email and ask. The dress code will likely specify whether you should wear clothes that are business casual (professional workwear, i.e. a button-down and dress pants), smart casual (a mix of informal and work-appropriate attire, i.e. high-quality jeans and a blazer) or formal (occasion wear, i.e. a suit and tie). Also consider the industry you're in, as that may change affect your wardrobe choices (more on that later). A great shirt choice for both men and women is the
Port Authority® L/S EasyCare - Ladies'
and the
Port Authority® L/S EasyCare Shirt - Men's
.
Combine comfort and class by outfitting your team in shirts from the
UNTUCKit
line. As the name suggests, shirts like the
UNTUCKit® Petrus Short Sleeve Shirt
are designed to be left untucked. These shirts have just the right length, fit all shapes and sizes, and help you look sharp — even at your most casual. Plus, you can ditch the iron as shirts in the UNTUCKit line have state-of-the-art wrinkle free technology.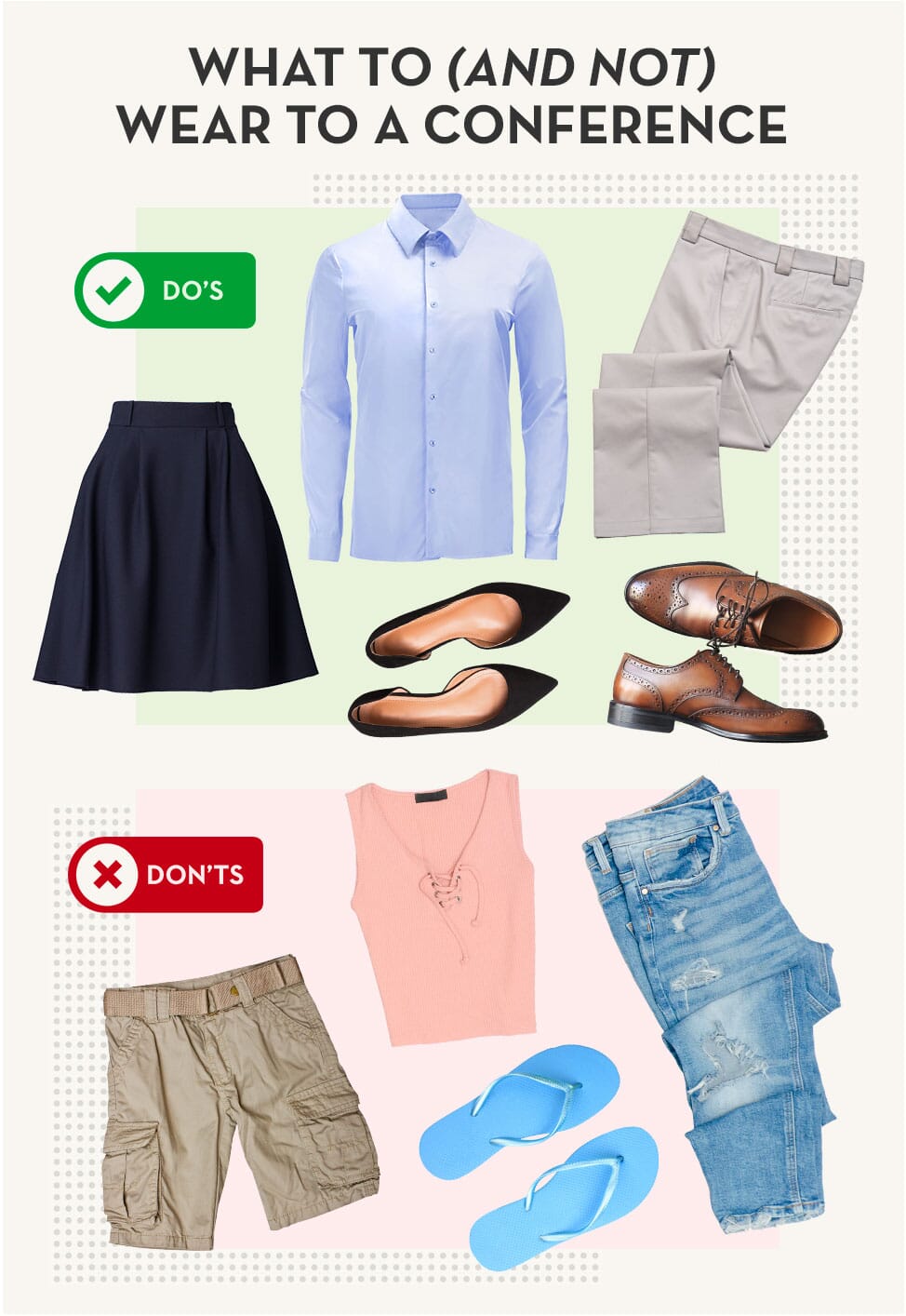 Time of Year
Although most conferences and trade shows are climate-controlled, the time of year in which they take place will still affect your wardrobe choices. After all, no one wants to step out of the conference hall at the end of the day only to break out in a sweat or immediately start shivering.
So, use these tips to help inform your apparel decisions.
For summer conferences: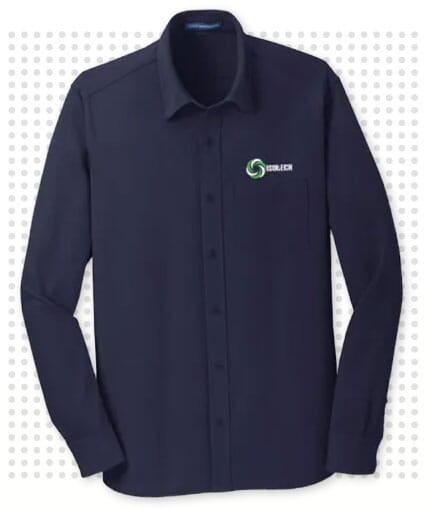 Choose breathable fabrics like cotton, linen, silk and lightweight merino wool. In general, you'll want to stay away from fabrics like polyester, nylon and rayon, which tend to retain odor and fail to absorb moisture.


Stay away from very light clothing if you tend to sweat. No one wants to deal with sweat stains when they're trying to focus on business and networking. Or, you could look into undershirts or underarm pads which are specifically designed to absorb sweat.


Bring a backup jacket or cardigan. Never forget to bring a lightweight jacket or cardigan you can easily throw on if the conference hall gets too cold.


Prioritize comfortable shoes. When it comes to wearing shoes in the summer, heat and sweat are a recipe for disaster. That's because they can cause swelling and friction, both of which can lead to blisters and discomfort. With this in mind, go with professional yet comfortable shoes that aren't too constricting, and bring gel inserts for added support.
For winter conferences: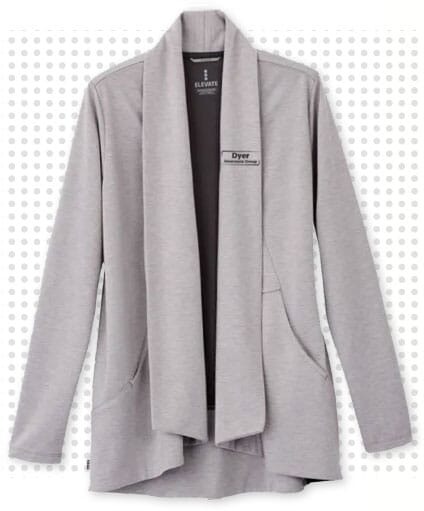 Dress in layers. Layers are the key to attending a winter conference. With layers, you'll be able to remove your outer layer if the conference venue gets too hot, or add one if the temperature drops. Consider wearing a nice sweater over a lighter long-sleeved shirt, or a warm blazer over a button-down. Branded pullovers are another great option in trade show attire, and can be worn for work as well as for play. The Performance Tech Half Zip-Women's pullover is one such option, available for men too!


Bring a warm and professional coat. At some point, you're going to be outdoors, even if it's just when walking to your car. To maintain a business-appropriate look, leave your sports team jacket at home and instead opt for a stylish and warm overcoat, peacoat or trench coat.


Remember your feet. For many people, their feet are the first body parts to get uncomfortably cold. With this in mind, don't forget to pack warm socks or tights, and choose professional shoes that can keep out the cold air.
Your Role at the Conference
It's also important to consider what role you'll fill at the conference. Will you be an attendee? Will you be manning a booth on behalf of your company? Will you be speaking as part of an onstage presentation?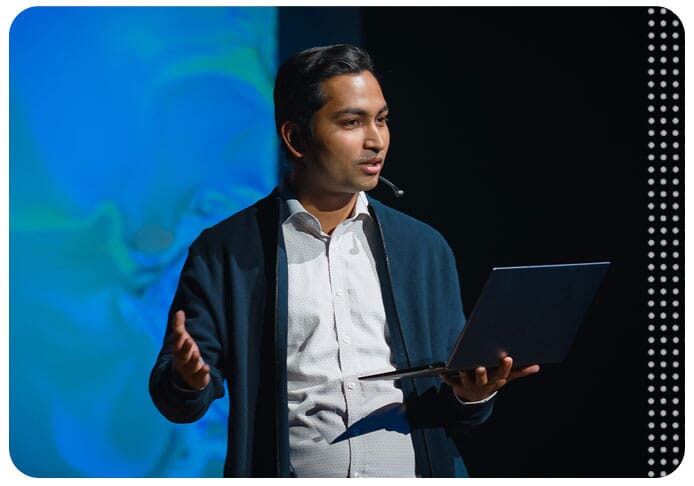 The answers to those questions will significantly influence what you should wear to a conference.
If you'll simply be attending the conference to learn and network:
Refer to the wardrobe tips outlined above.
Focus on professionalism while adding a touch of your own personality.
Consider the kind of first impression you'll make while networking with new people.
If you're going to be speaking at a presentation or other onstage event:
Choose clothing in a flattering color that will contrast with your backdrop without clashing with it.
Don't wear anything distracting, like noisy jewelry, loud patterns or shoes that squeak with every step.
Consider what the audience will be wearing. Whether their outfits are business casual or fully formal, your outfit should follow suit.
Consider wearing a power color. For example, red can be used to command attention, while dark blue conveys trustworthiness and wisdom.
If you're running your company's booth:
Make sure you've thought through the type of clothing your team will be wearing while manning the booth, such as branded polos, t-shirts or caps that work to create a unified, easily recognizable look. Outfitting your team can be made simple with a custom online company store. A company apparel store allows your team members to select their size or style in one central location, all while allowing you to maintain consistent branding and streamline the ordering process.
Don't sacrifice comfort, especially when it comes to your shoes (hint: a great pair of insoles can make a big difference).
Since you'll be acting as the face of your company, remember to focus on grooming so you can look polished and approachable.
Remember that this is where corporate apparel can be used to show off your brand. Keep your logo prominent but not gaudy, ensure that team members match one another and consider incorporating your company's colors. If you have a cool, branded t-shirt design, you can even give out t-shirts to attendees to further raise brand awareness.
We love the outfits our team members wear when working the Crestline booth:
With smart dress shirts, branded vests and sleek black pants, their ensembles create a coordinated and professional look. Plus, the embroidered logos are classy but clearly visible.
Your Industry
The industry you belong to should also affect your sartorial choices. Let's look at a few examples:
After-Hours Events
Naturally, you're likely focused on what you'll wear all day during the conference. But what if you'll be attending a dinner with potential business partners, an end-of-conference cocktail party or a nighttime reception?
In all of those cases, it would be wise to change into an outfit that's a bit more elegant, and maybe even a little glitzy.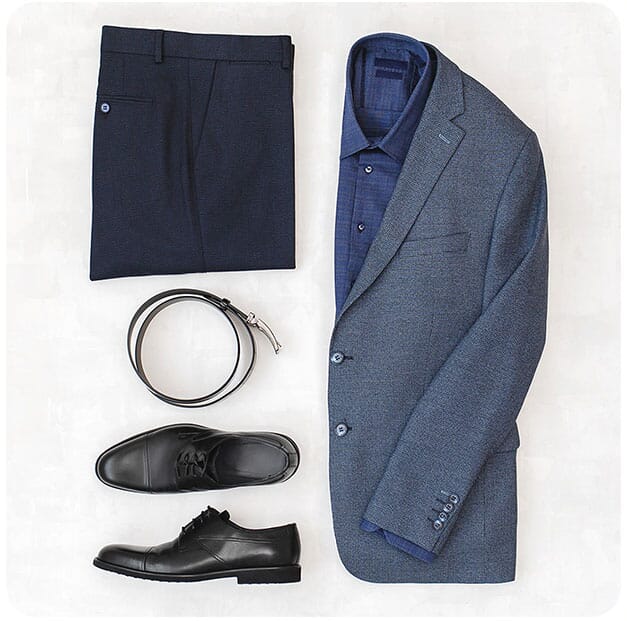 For a business dinner or nighttime reception:
Men's clothing is quite straightforward. An outfit that consists of an unbuttoned sports coat, button-down shirt, slacks and leather oxfords will be well-suited to most business dinners.


Women's clothing is a bit trickier, especially when you're not sure what to wear. However, you can't go wrong with a flattering black dress, sophisticated accessories and either closed-toe pumps or ballet flats. Or, you could wear sleek dress pants, a dressy blouse and coordinating shoes. Either way, choose jewelry that's understated and elegant, not flashy.
For a cocktail party:
For men, if the dress code specifies cocktail attire, go for a suit, shirt, tie, dress pants and dress shoes. If it's more casual, go for a button-down shirt, blazer, dark jeans or chinos and business casual shoes like desert boots.


For women, a foolproof cocktail party outfit can consist of a little black dress, heels and jewelry. Or, try pairing a midi-length skirt or dress pants with a silk blouse, heels or ballet flats and jewelry. If the dress code is business casual, dark jeans, ballet flats and a nice blouse will be more than adequate.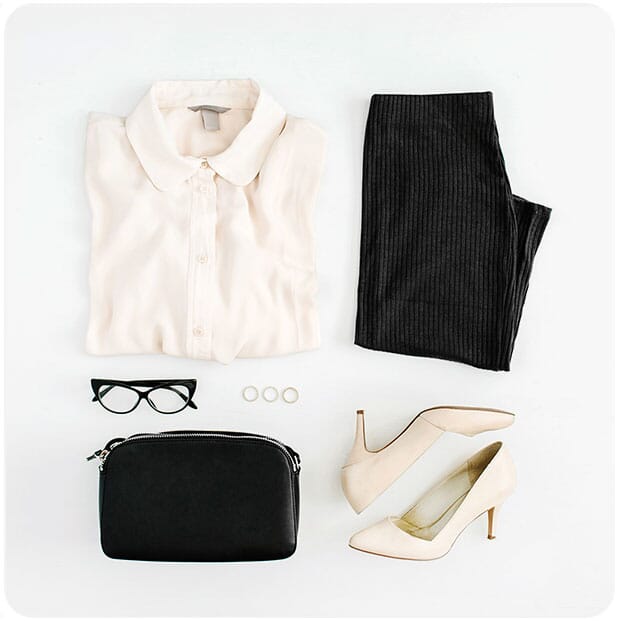 Also consider the season when choosing your after-hours outfits. In the summer, lighter colors (like light blue, blush pink, or yellow) and fabrics (like cotton or linen) are perfect. In the winter, heavier, more opulent-looking fabrics (like velvet, brocade, or wool) and colors (like royal blue, wine red, or emerald green) are ideal.
For all after-hours occasions, though, remember that you still need to look professional. So, don't dress like you're heading to a club—instead, aim for looks that are tasteful and timeless.
Other Resources for Your Next Conference
You now know how to dress for a professional conference, but that still leaves plenty of other things to plan for.
Check out our FAQs about trade Shows, and read these other articles for more advice and inspiration you can use to prep for your next conference
Or, browse our full selection of custom trade show and event products.