Why Buy Custom Drinkware?
How Mugs & Bottles Refresh Your Brand
published: May 1, 2020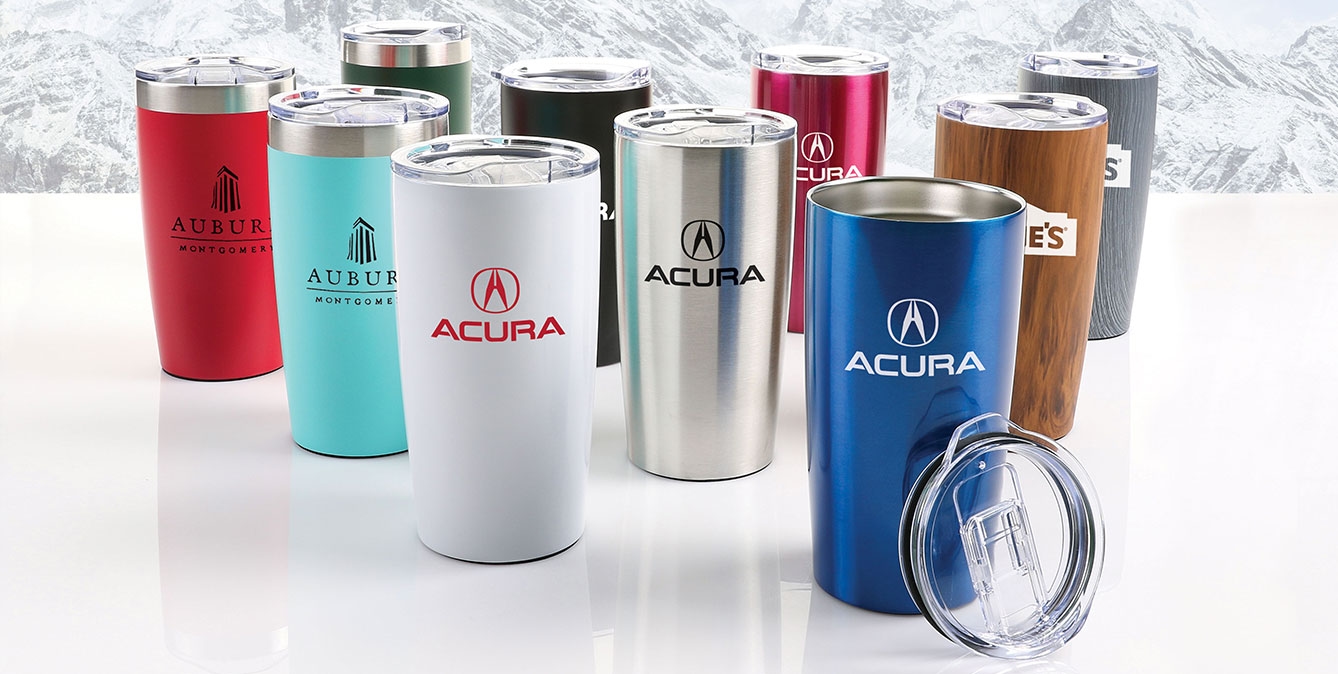 Always Good, Never Better!
Giveaways. Gifts. Souvenirs. Parties. Sporting events. Indoor, outdoor, home, office, factory floor, job site, classroom, car or bicycle. These are just some of the occasions and places where you'll find custom-logo drinkware hard at work promoting your organization.
Promotional drinkware has always been a popular and effective promotional product option. Whether it's a coffee mug, wine glass, water bottle or stainless steel travel mug, drinkware is used at home, on the road, at the gym — pretty much anywhere and everywhere. With your logo and branding message prominently on display, promotional drinkware gives your company broad and positive exposure, helping you gain new business and enrich customer relationships.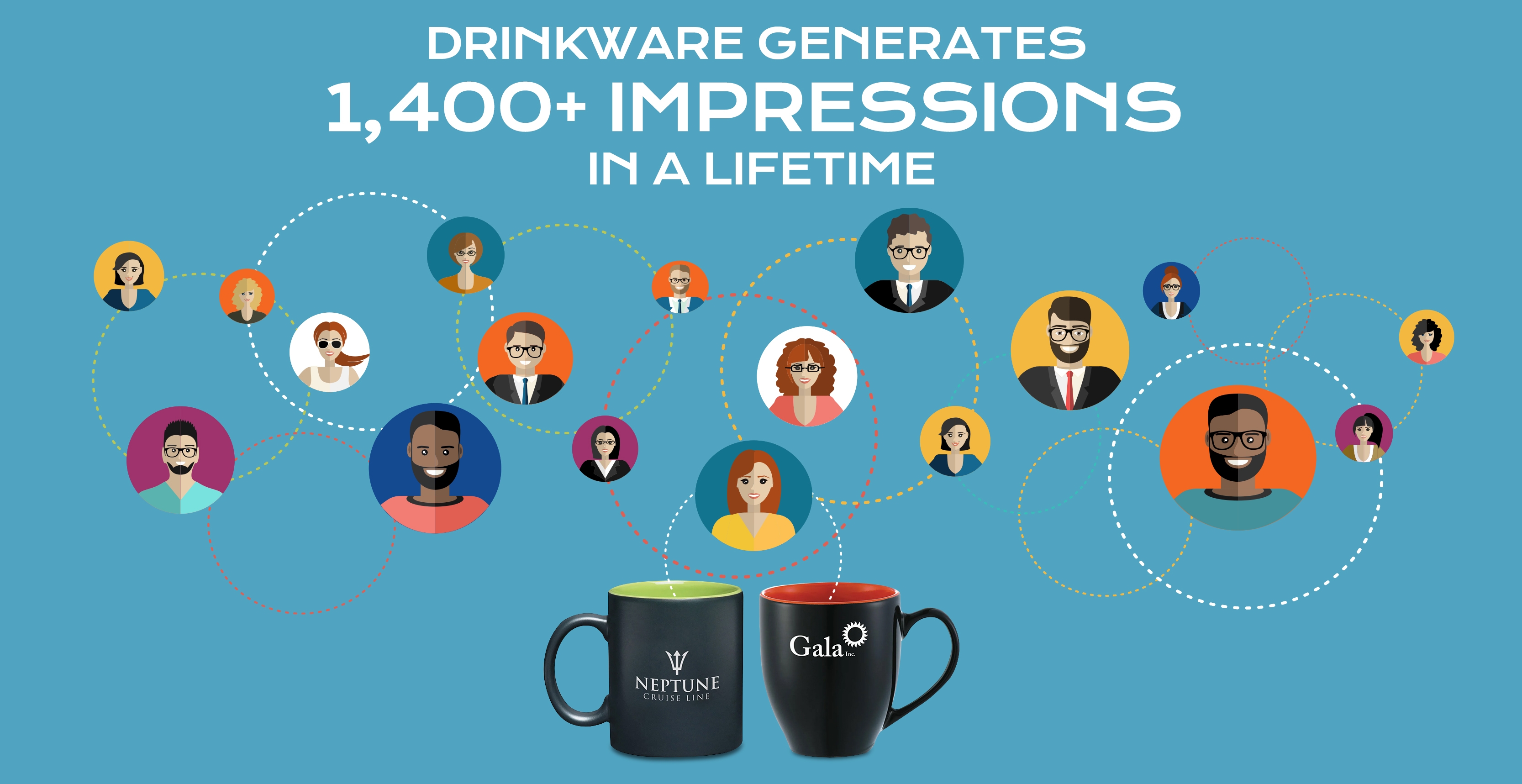 The exciting thing about drinkware: It's a blazing hot commodity. Drinkware of all kinds is in strong demand, across all the leading categories — and Crestline has all the promotional drinkware options covered. Consider:
Water, water everywhere! People everywhere have recognized the importance of drinking water and staying hydrated. At the same time, people everywhere have recognized the importance of avoiding disposable plastic water bottles to help protect the planet. This means reusable water bottles, cups and tumblers are being used like never before. We've got them all, and they're all BPA-free.
Sports drinks are enjoying healthy growth, especially ready-to-drink (RTD) protein and energy drinks. These days, everybody wants to stay fit, which means exercising and drinking energy-boosting, nutritious products. What are most of these sports drinks consumed in? Reusable drinkware!
Coffee has never "bean" stronger. In the U.S., average coffee consumption is over three cups a day, a nearly 33 percent increase from 15 years ago. Is it any wonder? In the old days, coffee was popular (and it still is), but layered on top are lattes, mochas, espressos, cappuccinos and a hundred other concoctions people crave — and love to drink from mugs and insulated tumblers. Mugs are also eco-friendly: One reusable coffee tumbler replaces 115 disposable coffee cups!

Wine not? Wine consumption, like coffee, is trending upward. With or without stems, wine glasses make an elegant gift that lasts for years, maybe a lifetime. Wine glasses are superb for expressing customer appreciation, employee appreciation, and of course events such as weddings, office parties and other festive occasions.
Grin and beer it! Another hot drink category is craft beers. No matter where you live or travel to in the U.S., you've probably seen breweries popping up and/or bars that feature the latest local options. People are making beer at home to share with family and friends. Promotional drinkware is the perfect way to ride the wave — or should we say, the foam?
Straws suck. Americans now realize the threat that single use plastic straws pose to the oceans and environment in general. This adds to the attraction of Crestline drinkware with reusable straws — and our selection of reusable, durable, stainless steel straws.
Which Organizations Use Promotional Drinkware?
Crestline produces customized drinkware for 1,001 occasions, including trade shows, fundraisers, sporting events, school spirit, employee recognition and customer appreciation.
These are a few types of organizations where Crestline drinkware is ultra-popular.
Education
Schools have great success with travel tumblers, water bottles and cups. These items are great gifts and giveaways for students, alumni, parents, teachers and staff. Schools from pre-school on up have events and fundraisers running all year long.
Healthcare and Human Services
Water bottles are the second most popular promotional items for healthcare providers (after pens). Since these organizations are concerned about human health and ecological responsibility, re-usable, BPA-free water bottles perfectly fit the brand and send the right message.
Industrial Firms
Manufacturing, mining and construction companies find promotional travel mugs and tumblers to be well-received by employees at all levels. You've got to stay alert and focused in these businesses — and that takes coffee.
Religious Organizations
Like educational organizations, religious organizations run frequent fundraisers and host events non-stop. Travel mugs and other drinkware items are naturals!
Don't see your organization listed above? Worry not! Drinkware from Crestline is sure to be a hit for your upcoming event, customer appreciation and employee recognition.
Ideas and Suggestions for Promotional Drinkware
Crestline's options for drinkware styles, colors and imprinting are virtually limitless. If you aren't sure which item would be the perfect fit, here are a few suggestions that include always-popular items and new options sure to stand out from the crowd.
Need Help?
If you're still wondering which promotional drinkware item is best suited for your event or campaign, if you need assistance in working out the promotional message, or have any other drinkware-related questions, please contact us now. We are standing by, eager to assist!
You may also be interested in: