12 oz Vinay Stemless Wine Glass
Item # 123235 4.5 Stars (3 Reviews)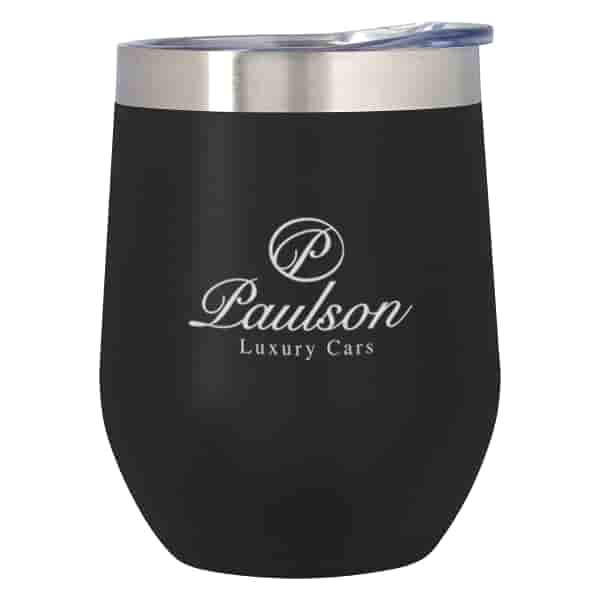 Product Details
• Stainless steel outer and stainless steel inner
• Powder coated finish
• Double wall construction for insulation of hot or cold liquids
• Vacuum insulated
• Snap-on sip through lid
• Non-slip bottom
• Meets FDA requirements
• BPA free
• Hand wash recommended
Size:
4 1/2" H
Imprint Area:
3" W x 1 1/2" H
Setup Charge: $46
Production Time: 12 working days (does not include payment, art prep, or shipping time)
FOB: FL
Standard Production Schedule
Processing: 12/6 – 12/7
Production: 12/8 – 12/23
Estimated Ship Date: 12/24
Product Reviews 3
4.5 Stars
5 Stars
So Popular We Had to Order More
Our customers and staff are crazy about these. We bought them for our first big public event since COVID and I had to order 300 more, I was afraid we'd run out!
There are so many items to use at home and in the kitchen that you could be promoting your business on.
Product Options







Product Details
• Stainless steel outer and stainless steel inner
• Powder coated finish
• Double wall construction for insulation of hot or cold liquids
• Vacuum insulated
• Snap-on sip through lid
• Non-slip bottom
• Meets FDA requirements
• BPA free
• Hand wash recommended
Size:
4 1/2" H
Imprint Area:
3" W x 1 1/2" H
Setup Charge: $46
Production Time: 12 working days (does not include payment, art prep, or shipping time)
FOB: FL
Standard Production Schedule
Processing: 12/6 – 12/7
Production: 12/8 – 12/23
Estimated Ship Date: 12/24
Item # {{ scope.currentItemNo }}
Product Reviews 3
4.5 Stars
5 Stars
So Popular We Had to Order More
Our customers and staff are crazy about these. We bought them for our first big public event since COVID and I had to order 300 more, I was afraid we'd run out!

There are so many items to use at home and in the kitchen that you could be promoting your business on.

Product Options
Write A Review