Boxanne Portable Bluetooth

®

Speaker
Item # 120745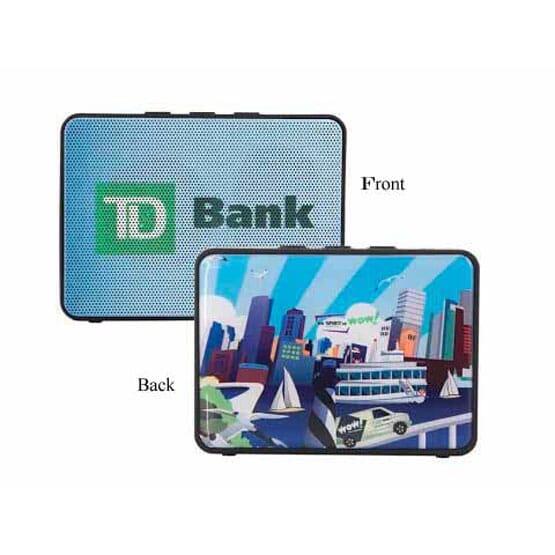 Product Details
You can put on the music tonight with this Bluetooth® speaker!
• Knock-your-socks-off sound from this pocket-sized powerhouse.
• Premium 3 watt speaker with built-in subwoofer and microphone.
• Attached wrist strap allows it to tag-along on your next adventure.
• Listen to music or conference call from up to 33 ft away.
• Your custom full color graphics are featured on both sides of the speaker.
• This item contains Lithium Ion Batteries. Certain freight methods may not be available, longer shipping times may apply.
Size:
2 3/5"W x 3 5/7"H x 1 1/3" D
Imprint:
Full color
Imprint Area:
3 1/2"W x 2 1/2"H (both sides of speaker)
Product Options


Product Details
You can put on the music tonight with this Bluetooth® speaker!

• Knock-your-socks-off sound from this pocket-sized powerhouse.

• Premium 3 watt speaker with built-in subwoofer and microphone.

• Attached wrist strap allows it to tag-along on your next adventure.

• Listen to music or conference call from up to 33 ft away.

• Your custom full color graphics are featured on both sides of the speaker.

• This item contains Lithium Ion Batteries. Certain freight methods may not be available, longer shipping times may apply.

Size:

2 3/5"W x 3 5/7"H x 1 1/3" D

Imprint:

Full color

Imprint Area:

3 1/2"W x 2 1/2"H (both sides of speaker)

Item # {{ scope.currentItemNo }}

Product Options