Event Tent
Item # 102149 5 Stars (9 Reviews)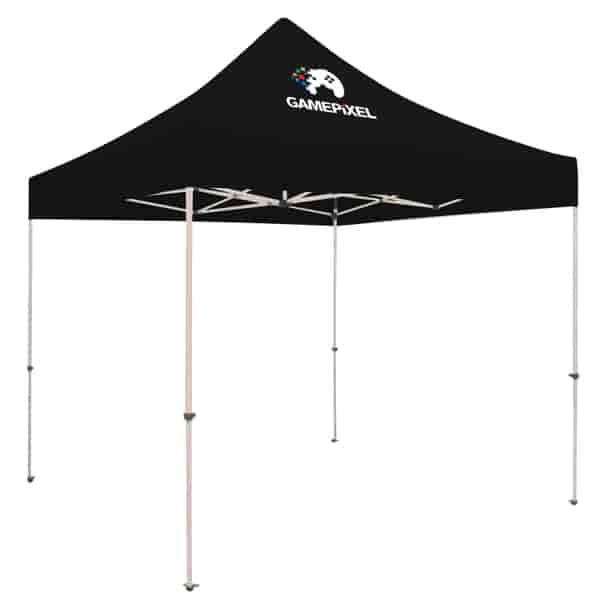 Product Details
Make your booth more visible and stand out at tradeshows with this 10 x 10 outdoor event tent. The Event Tent is also perfect for warm weather activities like golf tournaments and tailgating. With a canopy constructed of weather-resistant, 400 denier polyester and legs featuring plastic push buttons for pinch-free height adjustment this tent is both durable and easy to use. The Event Tent pops up in minutes for a quick set up and easily collapses to fit inside the included soft case with wheels.

• 10x10 trade show tents come in a choice of eight colors with white support poles.
• Includes a stake kit with 4 metal stakes and 4 13' rope lengths in a soft carry pouch and a soft carrying case with wheels.
• Amplify the impact of this pop up tent a Half Wall Banner with a Thermal Imprint or Full Dye Sublimation.
• See also the 8' x 8' Event Tent, and Event Tent with Full Color Sublimated Imprint.

Warning: We recommend using the Stake Kit (included) or Stabilizing Weights in windy conditions.

Size: 10'W x 10'D
Imprint Area: 44"W x 24"H (peak); 60"W x 8"H (valance)
Setup Charge: FREE!
Production Time: 6 working days (does not include payment, art prep, or shipping time)
FOB: MN
"
OUT OF STOCK ALERT: Frame is out of stock (Estimated Availability – 10/27/2021)
Standard Production Schedule
Processing: 10/26 – 10/27
Production: 10/28 – 11/4
Estimated Ship Date: 11/5
Product Reviews 9
5 Stars
Seems sturdy. Ask me again in 5 years.
The product itself is great.
The color is different in different lighting.
Product Options








Product Details
Make your booth more visible and stand out at tradeshows with this 10 x 10 outdoor event tent. The Event Tent is also perfect for warm weather activities like golf tournaments and tailgating. With a canopy constructed of weather-resistant, 400 denier polyester and legs featuring plastic push buttons for pinch-free height adjustment this tent is both durable and easy to use. The Event Tent pops up in minutes for a quick set up and easily collapses to fit inside the included soft case with wheels.

• 10x10 trade show tents come in a choice of eight colors with white support poles.
• Includes a stake kit with 4 metal stakes and 4 13' rope lengths in a soft carry pouch and a soft carrying case with wheels.
• Amplify the impact of this pop up tent a Half Wall Banner with a Thermal Imprint or Full Dye Sublimation.
• See also the 8' x 8' Event Tent, and Event Tent with Full Color Sublimated Imprint.

Warning: We recommend using the Stake Kit (included) or Stabilizing Weights in windy conditions.

Size: 10'W x 10'D
Imprint Area: 44"W x 24"H (peak); 60"W x 8"H (valance)
Setup Charge: FREE!
Production Time: 6 working days (does not include payment, art prep, or shipping time)
FOB: MN
"
OUT OF STOCK ALERT: Frame is out of stock (Estimated Availability – 10/27/2021)
Standard Production Schedule
Processing: 10/26 – 10/27
Production: 10/28 – 11/4
Estimated Ship Date: 11/5
Item # {{ scope.currentItemNo }}
Product Reviews 9

5 Stars

Seems sturdy. Ask me again in 5 years.

The product itself is great.

The color is different in different lighting.

Product Options
Write A Review