Multi-Purpose Personal Carrying Bag
Item # 122409 4.5 Stars (4 Reviews)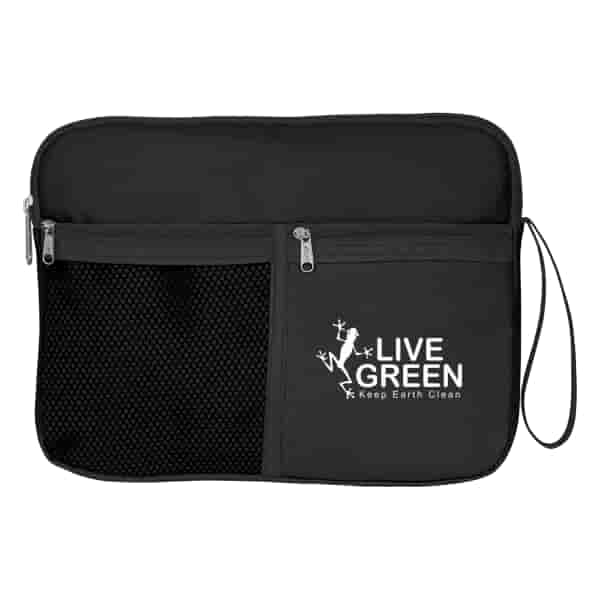 Product Details
• Made of 600D polyester
• Zippered main compartment
• 2 front zippered pockets
• Side strap for easy carrying
• Spot clean/air dry
Size:
10"W x 8"H x 1 1/2"D
Imprint Area:
3"W x 3"H
Setup Charge: $58
Production Time: 12 working days (does not include payment, art prep, or shipping time)
FOB: FL
Standard Production Schedule
Processing: 9/22 – 9/23
Production: 9/24 – 10/11
Estimated Ship Date: 10/12
Product Reviews 4
4.5 Stars
I like the product. The only thing I would say is I thought it was more of a document holder but it really isn't big enough to fit documents without folding them. Other than that I am pleased with the product.
Very nice document holders!
This should make a splash when my clients take it on vacation. In addition, a simple reminder of who did an outstanding job for them.
Product Options


Product Details
• Made of 600D polyester
• Zippered main compartment
• 2 front zippered pockets
• Side strap for easy carrying
• Spot clean/air dry
Size:
10"W x 8"H x 1 1/2"D
Imprint Area:
3"W x 3"H
Setup Charge: $58
Production Time: 12 working days (does not include payment, art prep, or shipping time)
FOB: FL
Standard Production Schedule
Processing: 9/22 – 9/23
Production: 9/24 – 10/11
Estimated Ship Date: 10/12
Item # {{ scope.currentItemNo }}
Product Reviews 4

4.5 Stars

I like the product. The only thing I would say is I thought it was more of a document holder but it really isn't big enough to fit documents without folding them. Other than that I am pleased with the product.

Very nice document holders!

This should make a splash when my clients take it on vacation. In addition, a simple reminder of who did an outstanding job for them.

Product Options
Write A Review