Share Your Brand on the Green: 5 Giveaways for Charity Golf Tournaments
published: May 28, 2019 | updated: September 10, 2020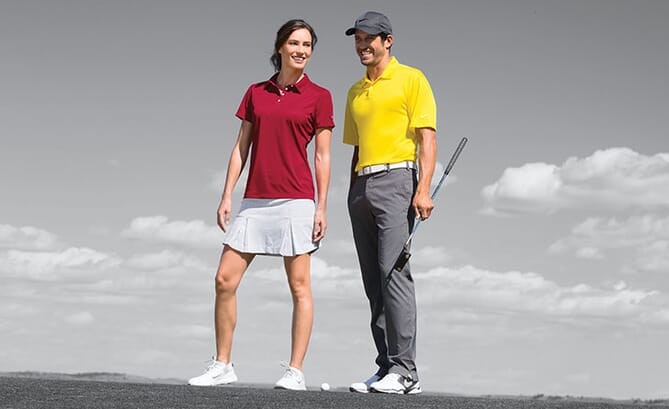 Did you know that over 140,000 charity golf tournaments are held annually in the US? Many different groups from corporations to non-profits host tournaments as a way to raise money for scholarship foundations, charities, causes, or on behalf of an individual that needs support. Golf is a sport that is loved by many, it offers an opportunity to socialize while enjoying nature and honing your skills on the course. Annual golf tournaments are a chance for corporations and individuals to get out in the community and make an impact. Additionally, annual tournaments are likely to become yearly traditions for participants and spectators alike.
Golf tournaments provide many opportunities for hosts and sponsors to share their brand and message on giveaways, awards, tournament supplies, and memorabilia.
Here are 5 ways you can promote your brand on the green this summer: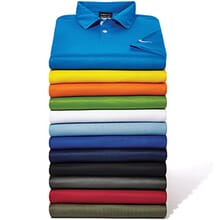 Performance Polos
Quality performance polos like the Nike® Golf Dri-Fit Pebble Textured Polo make great gifts for registered participants. Provide each entrant with a custom branded polo that is designed to up their game. Performance polos that wick moisture and provide unrestricted movement are also highly sought after merchandise at events of this kind. Consider offering a special color for participants, staff/volunteers, and at your merchandise table for purchase.
Top Quality Golf Balls
Having quality golf balls is arguably one of the most important parts of your tournament. Instead of just purchasing a trusty worth brand of balls, purchase top branded balls that also feature your event, brand, or charity logo. Try top favorites like Titleist® Pro V1®, Callaway® Hex Warbird®, or Wilson® Ultra 500s.
Awards and Prizes
Make your tournament memorable with a special golf-themed award for tournament winners as well as special contest winners such as the longest drive or closest to the pin. Awards will be kept as a memento from the day and will likely earn a spot on an office or study shelf. Awards are an easy way to help your winners feel proud as well as recognize top sponsors or hosts by adding their logo to the award.
Divot Tools for Respectful Course Etiquette
Help participants practice good course etiquette by handing out branded divot tools. Divot tools are useful affordable giveaways that help each golfer take care of the course by fixing their divots. These little tools will be kept around in participants golf bags and will leave them thinking about your event with every use.
An Easy Giveaway Kit
Customized golf kits are an affordable way to make your event attendees feel spoiled. Kits with tees, balls, divot tools, drinkware items, towels and more can be purchased for any budget. If you can't afford to hand out brand name polos and golf balls, try our Tee Off Kit that includes a Titleist® golf ball plus some extras for as low as $7 apiece or our Golfer's Pal Kit that can be branded for as little as $3.68.