Promote Your Business with Custom
Golf Accessories & Apparel
published: January 14, 2021 | updated: July 18, 2023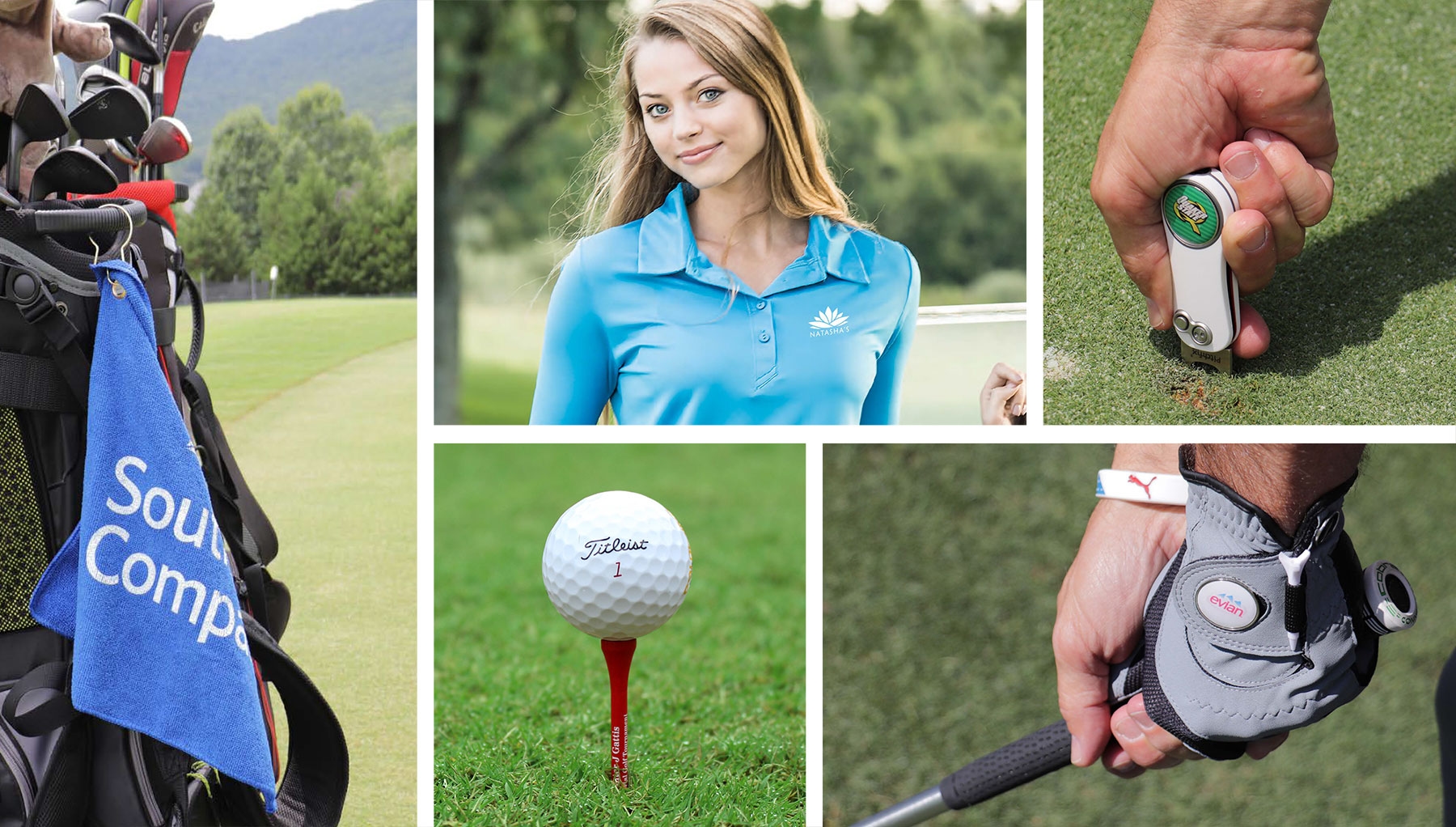 More people than ever before have taken up golf. That provides the perfect opportunity for your company to promote with custom golf merchandise featuring your logo. Whether you're hosting a golf tournament, in search of corporate golf gifts, or a country club looking to stock the pro shop, check out our top golf gear and apparel.
Low-Cost Personalized Golf Gifts
Even when budgets are tight, there are plenty of budget-friendly golf items to help you spread good will and grow your business. Some great low-cost options include custom golf accessories like golf tees, ball markers, and golf tool kits. Other inexpensive options that will get plenty of use on the course are golf towels, and cooling towels.
Custom Golf Accessories for Direct Mail Campaigns
Reach your audience at home with small, light, or flat promotional golf gifts that are easy to mail like golf tee packs, golf kits, or a simple postcard offering a special rate or promotion. Direct mail is the perfect way to promote resorts, as well as real estate in retirement communities that feature golf courses.
Client & Employee Appreciation Corporate Gifts
The golf course is a classic environment for business discussions. Remind customers of one of their favorite pastimes with:
Personalized Golf Balls

Golf balls are the classic gift that everyone can use, and top brands like Titleist are always appreciated. Another popular choice to send clients is the Wilson Ultra 2 Ball and Tees Tube that includes two personalized golf balls and 12 tees.

Golf Umbrellas

Custom printed golf umbrellas make the perfect golf gift for clients as it's an item everyone needs but nobody ever buys for themselves. Customer favorites include the Ultra-Lite Golf Umbrella, Revolution Umbrella, and the 60 Arc Golf Umbrella .

Golf Apparel for Everyone

The great thing about golf apparel is its universal and is just as often worn off the course. Polos and pullovers are just as popular to be worn as corporate apparel in the office, as work from home attire, or on the go. Caps and visors are also worn on or off the course – by golfers or anyone who needs a little protection from sun and glare.
Commemorative Golf Giveaways for Charity Tournaments
Whether you are a nonprofit group looking for a way to raise revenue, or a company looking for a way to support your community, sponsored golf tournaments are a great idea. Put up banners to promote the event, and have a table set up with an imprinted table throw – this can act as the check in table and a place to give out information, schedules and swag.
Give out commemorative golf towels and other fun giveaways to all participants. T-shirts are a great option as they have a large imprinting where you can include your sponsors logos. A Silver Golf Kit with tees and a first-aid kit that will come in handy in real time.
Send winners home with bigger prizes like a Cutter & Buck® Tour golf bag cooler, a dozen Titleist® Pro V1® golf balls or a crystal award. You can have additional prizes for special contests such as closest to the pin or longest drive. Award prizes like the golf gift set, or a gift card inside a branded cell phone wallet. A sure favorite would be a steel ice bucket filled with adult beverages or soft drinks.
Custom Golf Gear and Items to Stock the Pro Shop
Any brand can win with promotional golf items, but they are essential for the marketing and promotion of golf courses and country clubs. You'll want to stock the pro shop with branded golf apparel and items so your loyal golfers, members, tourists, and everyone in between can represent the course and extend your brand's reach wherever they play.
Branded Uniforms for Country Clubs and Golf Courses
Make sure staff members and golf pros look the part with branded golf apparel and polos like the Greg Norman Play Dry® Striped Mesh Polo. Complete the look with a brand name cap like the Puma® Golf Adult Pounce Adjustable Cap or the Nike Dri-FIT Tech Cap – both have moisture wicking technology for enhanced breathability.