3 Ways to Get Your Nonprofit or Charity Noticed with Custom Logo Items
published: May 29, 2019 | updated: May 8, 2020
Did you know that there are over 1.5 million nonprofit organizations registered in the US? With so many worthy causes hoping to gain support from donors, it is important to get creative when amplifying your message. Here are a few tips for effective non-profit marketing: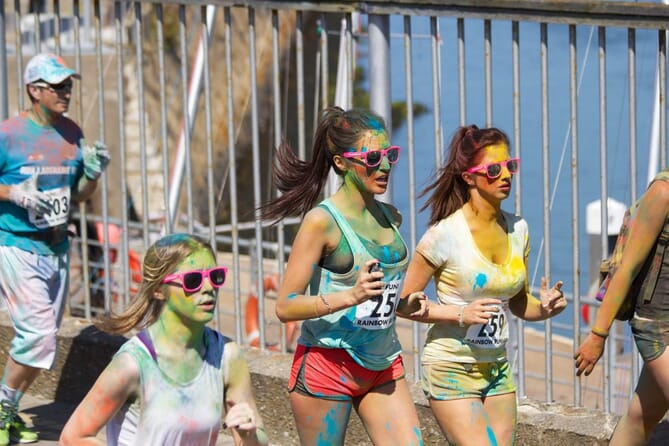 Sell Some Swag – Promotional Nonprofit Merchandise for Fundraising

Selling promotional products as a means of fundraising works twofold for your organization. Not only does your cause receive extra funds, your nonprofit merchandise also serves to get your organization's name out there. Whatever cause your organization supports, there is a unique promotional product to spread your message. In this section, we will provide fundraising ideas and case studies that demonstrate how promotional products can work for your nonprofit.
Organize or Participate in an Awareness Raising Event
Get involved with your community by sponsoring or hosting an event relevant to your cause. Events are a great outreach opportunity and can allow your group to make valuable connections with other nonprofits in your area. This section will outline a few ideas that you can implement or get involved in to raise awareness about your own organization.
Sponsor a Fun Run or Charity Walk

Although charity walks are rising in popularity, they are not exactly cost-effective for nonprofit groups. Hosting a walk or run often requires closing a road, security, human capital to help with organizing the event, marketing the event, additional fundraising efforts, and registration. Becoming a sponsor is a great way to give back to an organization that needs it. It is also a great way to get your business involved with the community and spread awareness about what you do. You can sponsor an event monetarily or some organizations even accept in-kind donations of giveaways or other supplies. The great part about donating these kinds of goods is that there is always room to include your logo along with the organization that you are helping. Handing out the goods yourself also allows for extra face time with potential supporters. Below are a few ideas to think about when sponsoring a charity marathon.

Volunteer to Provide the T-Shirts


No matter the type of event, the organizer is bound to offer t-shirts to participants in one way or another. Take advantage of the opportunity to sponsor these essential fun run giveaways for the event. Not only will you be helping in a big way, but you'll also ensure that your logo will be worn around for years to come.

Become a Hydration Station

Another great way to sponsor any type of charity athletic event is to make your booth into a hydration station for participants. Set up a table filled with personalized recyclable water bottles that participants can grab and go. Alternatively, you can customize a fun reusable water bottle that participants can keep and refill at your booth whenever they run out of water. This is a great way to safeguard everyone's health and ensures that people continue to return to your booth throughout the event. The runners and event staff will surely appreciate these charity promotional items.

Bring the Shade

A staple at any sort of outdoor event, they are the thing that participants always forget, but vendors always seem to have on hand — sunglasses. Especially if the event takes place during the warmer months, these are a great giveaway to sponsor. You could also provide sunscreen and other UV safety products to become the official "sun safety stand" at the event. Participants will be flocking your booth in no time.

Supply a Storage Solution

One negative about jogging clothes is that they don't have pockets. This leaves runners struggling to find somewhere to keep their belongings while they finish the marathon. Fix this issue yourself by offering to have your organization supply custom waist packs. These are great, hands-free promotional items for runners, and will be a unique way to get your cause noticed.

Lighten Up the Event

Themed marathon events are becoming increasingly prominent within the charity event landscape. From Insane Inflatable, to color runs, to marathons where you jog through bubbles, fun runs are a great opportunity for professionals and novices alike to enjoy themselves while also supporting a cause they care about. Other types of non-traditional marathons that have been appearing more lately are glow, dark, and blacklight runs. What do these all have in common? They happen after dark, of course! Give the gift of light by volunteering to provide the lights that the event organizers will undoubtedly want to put in post-registration goodie bags. Things like shoe lights, glow sticks, flashlights, and face paint make great giveaways for these types of events. Check out our selection of other giveaways available in neon colors to ensure that whatever you sponsor for the event stays on theme.

Take Part In a Community Event

Perhaps the best way to find supporters for your organization is to go out into your municipality and talk with community members face-to-face the old-fashioned way. Tabling at an event can take a bit of extra planning and resources on your part, but it is well worth it for the feedback you get in return. Here, we offer a few events where you might be able to present your cause in your own community.

Health Fairs

Health fairs are outreach events that offer a variety of information on medical topics, basic health screenings, and other fun activities to get people thinking about health, wellness, and fitness in all aspects of their lives. In that way, health fairs are events that could welcome just about any charity organization, not just those directly related to health and wellness. Tabling at an event like this is beneficial to you because it takes place while people are already thinking about bettering themselves. What better way to do so than by supporting a charitable cause? Ready your display set up, find a first aid item to give away, and find out when the next health fair is near you.

Farmers Markets, Flea Markets, and Festivals

Many communities host farmers markets, flea markets, or annual festivals where local vendors can go and sell their products. It's a great way for small businesses to get noticed by patrons. Some markets and festivals will allow organizations to table there. Contact your local market or festival organizers to see if their policies would allow you to present. If so, prepare some freebies for patrons to take after learning about your organization. A custom tote bag with your organization's name and logo design is an ideal choice at this type of venue. You could even allow them to spin a prize wheel for an extra bit of fun. Also, make sure your table looks nice with custom table covers and signs that could catch anyone's eye.

Guest Speaker

Why not have community members come to you instead? If you have connections within your cause, you could invite someone with a lot of knowledge to come to your community and speak. Publicize your event in all the local newspapers, radio broadcasts, and on all your social media platforms. This way, you know that all the people who attend are already interested in your cause. Whether you choose to charge admission to the event is up to you, but providing notebooks and pens for attendees to take notes with is a kind gesture that will remind everyone that you sponsored the event, long after it is over.

Documentary Screening

Screening a documentary about your cause is another cost-effective way to promote your organization. Providing an outlet for interested community members to discuss your mission is as easy as choosing a film to show and getting the word out about your event. Make tasty snacks available to ensure a nice atmosphere where everyone feels comfortable.

Happy Hours

Reach out to local bars or pubs to see if they would be willing to help you host a happy hour. Some bars will periodically allow customers to extend their happy hour deals if they donate to a charity. Others will allow a portion of proceeds from an event to go toward a nonprofit. Contact bars and pubs in your area to find out if there is a way for you to get involved in their happy hour festivities. Make it extra special for patrons by providing customized barware, water bottles, or t-shirts for them to take home.
Promote in the Media
When you think of ways to promote an organization or message, harnessing the power of the media immediately comes to mind. This is the best and cheapest way to get people outside of your community to notice your organization. In the final section of this article, we will offer some suggestions of how you can utilize the media to get your organization's name out there.
Social Media

Social media platforms, especially Facebook, Twitter, and Instagram are ideal for promoting your cause and keeping people engaged with updates, blog posts, event photos, questionnaires, and videos. Below are some insider tips and tricks for how you can use social media to its full potential for fundraising and promoting.
Press Releases

Simply put, press releases are a brief written about an event or special occurrence within your organization. This document can then be submitted to news organizations and publications where they might consider making a piece based on the information. If you're just getting started or have a big event coming up, press releases are the most convenient way to get your foot in the door.

Cause-Specific Publications

Consider subscribing to or buying a copy of the Writer's Market. They feature a complete listing of publications looking for freelance writing. This makes it easier to find publications that directly relate to your cause. If you have a good writer in your midst, have them submit a query letter to a publication requesting to write a piece about your organization. If not, try finding a freelance writer that would be willing to take on the project. This is a great way to ensure that readers are passionate about your cause, making them more likely to support your organization specifically.
To learn more about how organizations are using promotional products to spread awareness about social causes, check out this article from our Promotional Products in the Wild series.