Christmas & Holiday Gifts for Clients by Budget
published: November 19, 2019 | updated: July 1, 2021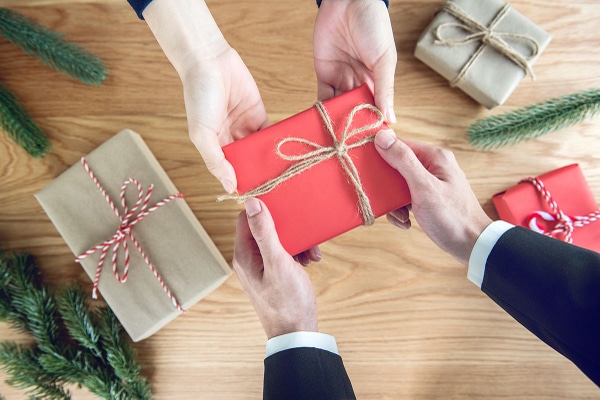 Show your appreciation and give thanks to clients, business partners, and customers this holiday season with custom imprinted gifts. Use this guide to help you choose the perfect corporate holiday gifts for clients at a price point that is just right for your company. Christmas, Hanukkah, as well as other non-denominational winter holidays all represent great opportunities to build loyalty with custom corporate gifts, and you don't have to miss out due to a tight budget. Even if 2021 has been tough on your business, Crestline has you covered with affordable options to make your audience merry.
Crestline's Services Make Holiday Gifting Easy
If you're looking for the best custom holiday gifts for clients, look no further. At Crestline, you will find products to wow customers and help you build authentic connections. We even make the ordering process easy with bulk discounts, kitting services for gift sets, and delivery to individual addresses. Browse gifts by budget below, and if you don't see the perfect bulk Christmas gifts for clients, check out even more holiday gift ideas or ask one of our Promotional Product Experts for personalized guidance!
Client Gifts Under $2
For little more than the cost of a business greeting card, you can send your customers something special. Many of these items are also lightweight or flat, making them easy to mail. These gifts, along with holiday face masks, also make wonderful party favors.
Client Gifts Under $5
Deck the halls! Holiday ornaments give you sparkle without excessive spend. We even have a earbud headphone and charger set that you can hang from the Christmas tree. Glittering journals light up the night, while holiday shorties make spirits bright, all without breaking the bank.
Need more ideas? Find more corporate gifts under $5.
Client Gifts Under $10
When it comes to budgets under ten dollars, we have plenty of options for client gifts that although inexpensive, are gifts that your recipients will truly treasure. Consider the items below to hand out to customers, patients, donors, and volunteers.
Looking for a little more inspiration? Find more corporate gifts under $10.
Client Gifts Under $15
With budgets up to fifteen dollars, there are a variety of high-quality tech, drinkware, food and candy, and kitchen accessory choices available that make trendy and useful branded Christmas gifts for clients, customers, members, and donors.
Client Gifts Under $20
Extending your gift-giving budget up to twenty dollars will provide you with even more options to show your appreciation. Consider an adorable tote filled with gourmet cookies, a laptop backpack for hybrid from home and in-office schedules, or a wine set with insulated tumbler, stopper and corkscrew, as all make delightful and surprising Christmas gifts for clients.
Client Gifts Under $25
Those organizations with corporate giving budgets up to twenty-five dollars will find that there are ample options on hand to delight your constituents. A naturally beautiful coaster set for the new home office, a BBQ set for cooking at home, a luxury insulated beverage bottle, or a classic executive pen set are just some of the thoughtful gift options we have available in this price range.
Client Gifts Under $50
Last but not least, for businesses with larger holiday gifting budgets of up to 50 dollars, we offer some of the finest luxury corporate Christmas gift ideas for clients. The customized products below are not only a great way to show your appreciation to your staff, donors, and B2B partners, but because of their quality, they are also items that are likely to be held onto and used for a long time to come.
You may also be interested in: