Why Invest in Promotional Pens?
published: May 8, 2020

It Starts with Versatility and Keeps on Going
They can be serious. They can be funny. They can be elegant, edgy or economical. They can expand brand awareness, reinforce the theme of a meeting or event, popularize a product or service, introduce an organization to a new market, commemorate a special occasion, or serve 1,001 other purposes.
In short, custom imprinted and engraved pens are versatile — and versatility is perhaps the most important reason why pens continue to be one of the world's most popular and effective promotional items. But versatility alone doesn't explain why businesses and other organizations find pens such an effective marketing tool. Let's take a look at some of the other reasons.
Everybody uses pens. Even though the printing or engraving "real estate" on a pen is relatively small, the impact can be huge. We all talk about the Internet, but everybody still uses pens.

In fact, an Advertising Specialty Institute (ASI) found that 89 percent of consumers have a promotional writing instrument, and 20 percent own more than 10.

That is a lot of exposure for your brand, product, service or event! No promotional item is more widely used than pens.

Pens are used over and over. Any marketing professional will tell you that repetition is crucial for getting a business message across. Few promotional items are used more often than pens. A person might use a promotional coffee mug once a day, or wear a promotional t-shirt once a week. But he or she will use a pen five, 10 or 15 times a day — and each time, your marketing message is sinking in that much deeper.
Pens are budget-friendly. The unit cost of a promotional pen from Crestline can be as low as $0.50 — that goes a long way if maximum coverage is your goal. And even at a low price point, our pens offer reliable quality and eye-catching design that will do your company proud. If you want to treat yourself to something a little nicer, go for it. Because of how often pens are used and seen, one pen that costs a dollar will have a cost per impression of less than one tenth of a cent!
Pens make people laugh. Check out our wide selection of novelty pens, and you're sure to smile. A pen in a flower pot, a pen wearing a graduation cap or cowboy hat, and other surprising designs make an indelible impression on consumers that gets them not only remembering your brand, but talking about it. Some of our most popular novelty pens have a health care theme. Who needs a smile more than caregivers and patients?
Pens send a serious message. At the other extreme, promotional pens can carry their weight in C-level executive offices and boardrooms. A quick look at our custom engraved executive pens reveals the many elegant options at your disposal (still affordable) for connecting with high-level consumers and business partners.
Pens have adapted to technology! You don't have to use paper to use a promotional pen anymore! Crestline offers a complete line of promotional stylus pens for use on touchscreens. This is a big deal, because mobile phones and tablets are used almost everywhere these days, and apps where stylus pens can be used are multiplying like virtual rabbits! Stylus pens can bring your brand to an enormous new set of prospects and customers. What's more, with a stylus, you can complete grocery store and gas station transactions without touching the screen.
Which Organizations Use Promotional Pens?
Just about every type of organization uses promotional pens, but organizations in these fields use them most often.
Education
From colleges and universities down to the elementary level, schools come to Crestline on a daily basis for promotional pens. This stands to reason, since a large part of the educational experience involves writing — tests, class notes, essays, etc. Pens make fine giveaways for the many special events that take place at school, and serve as fond mementoes for graduates and parents.
Service Businesses
Promotional pens are a proven method of expanding brand awareness for local, regional and global service businesses. Whether it's a bank, plumber, restaurant or dry cleaner, pens send a message throughout the community being served that you are there. And, with a phone number or web address as part of the message, a modest, inexpensive promotional pen becomes a direct source of new business!
Healthcare
Promotional pens are an absolute natural for healthcare/medical organizations. Every patient or guest inevitably has to complete forms for check-in, insurance and other documentation requirements — why not have them use a logo pen they can keep? Admissions is just one of the many places healthcare organizations use pens to connect with patients, family members and communities. Why not gift your nurses with light up pens stylus pens so they can make their notes in the dark without disturbing sleeping patients?
What Are the Best Ideas and Suggestions for Promotional Pens?
Crestline has promotional pens in thousands of styles. If you're having trouble narrowing your options down to a manageable size, here are a few suggestions that will help. These items combine functionality with a unique design, making them truly memorable items that will stand out from the crowd.
What is the Imprint Area for your Logo or Text?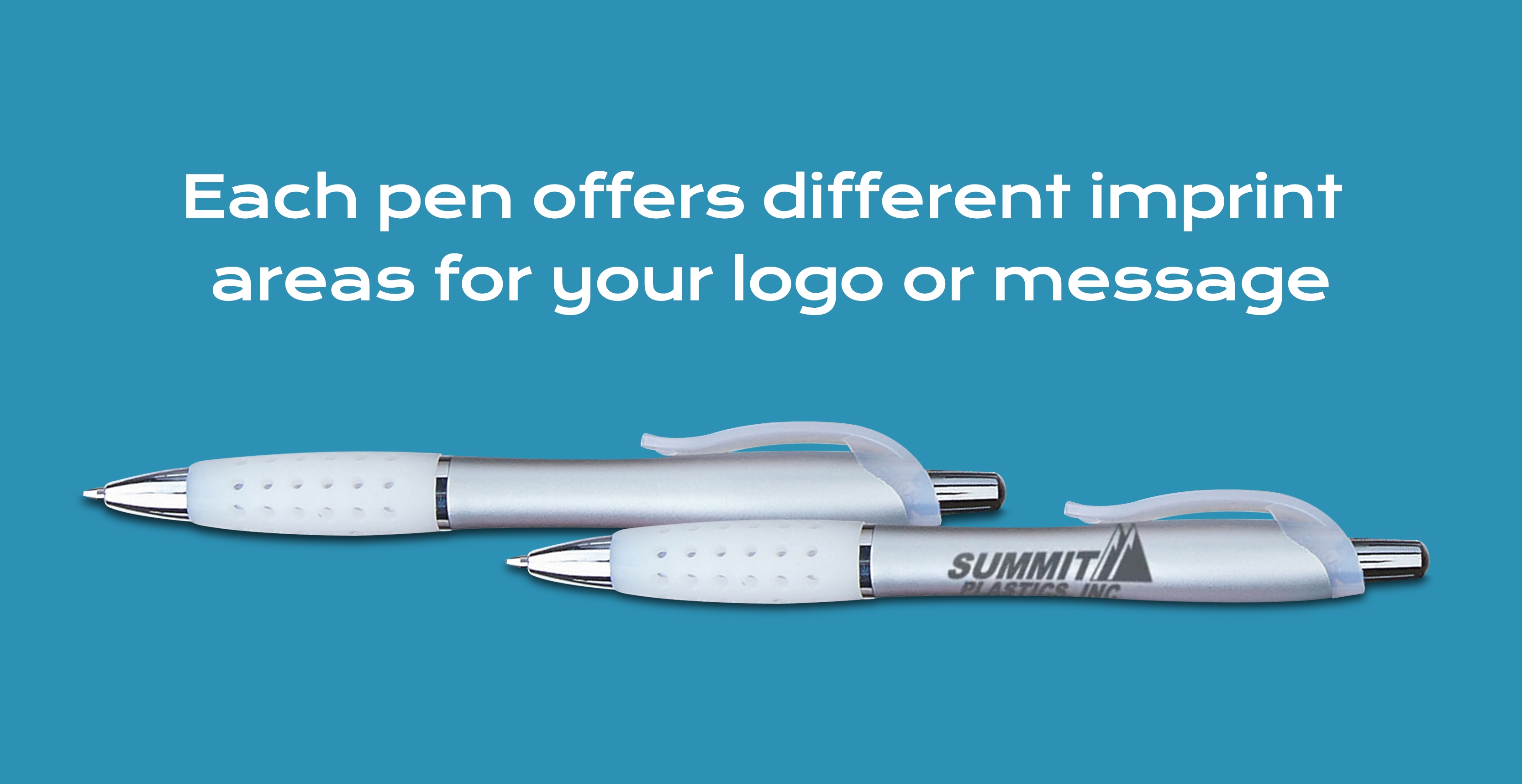 Each pen offers different imprint areas for your logo or message. Depending on what you would like to include on the pen, there are many choices to accommodate your needs. Each of our pens provide detailed information on imprint area and production time. Our helpful graphics team can help ensure your logo and message look great.
Some of our pens, like the Maestro described above, have enough room for both your message and a personalization option. Create a useful and thoughtful staff appreciation gift by customizing pens with each employee's name as well as your company logo.
Need Help?
Still not sure which promotional pen is best? Would you like to talk through your message strategy for the pen you've selected? Please contact us now: We are standing by to help you!
You may also be interested in: