Ready for Nurses Week?
Celebration & Gift Ideas They'll Love
published: March 29, 2019 | updated: March 15, 2022
Ways to Make a Memorable Nurses Day
National Nurses Day (National Nurse Appreciation Day) is celebrated on May 6, 2022. It kicks off Nurses Week each year from May 6 to May 12, and is the perfect time to plan a special event for the nurses in your organization. National Hospital Week is also celebrated from May 8-14, 2022 and the perfect time to recognize all hospital staff members for their hard work and dedication.
According to the several nurses we polled, food is always a welcome idea, as nurses don't often have the time to sit down and enjoy a meal. Catered breakfasts or luncheons, as well as gift cards to restaurants, and other food gifts are great ways to recognize them for the hard work they do all year.
Gift Ideas for Nurses Week: What Nurses Really Want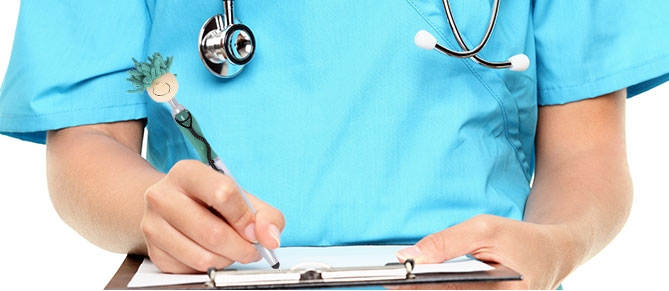 Since National Nurses Week is more than just one day, consider holding a number of events throughout the week, and giving out a small gift or another token of appreciation on each day. We wanted to know how nurses really want to be recognized, so we asked them! According to Joanne, who works as a nurse at a private medical practice, one of her favorite Nurses Week gifts was a zip-up fleece with her company logo imprinted on it. "Nurses tend to get hot and cold, so a nice zip up is nice," she says. She also loves (and has held on to) the MopTopper™ novelty pen she received one year, saying, "This is one of my favorite pens!"
Linda, a home health care nurse, has received a tote bag and a coffee mug for Nurses Appreciation Week and says that although some years she receives more than others, it is really the feeling of being appreciated that is most important. Carrie, a nurse in an elementary school, echoes this sentiment, expressing that small gestures such as cards from her students, or a plant or flowers from the wellness team, are often enough to move her to tears. Melanie, a remote healthcare consultant says, "I work remotely so we have no official celebration, however, our manager does send us small gifts which is nice. Depending on where you are celebrating, a small luncheon or brunch is sweet. Just the chance for small breaks is greatly appreciated! Guess it really all depends on the budget."
It seems that the theme of "it's the thought that counts" seems to ring true for all the nurses we polled. Depending on your budget, there are lots of options for affordable gifts as well as more premium items.
Appreciation Gift Ideas Under $5
Appreciation Gift Ideas Under $10
Appreciation Gift Ideas Under $20
Appreciation Gift Ideas Under $30
Appreciation Gift Ideas Under $50
For even more great ideas, browse our complete selection of nurse appreciation gifts.
Appreciation Activities to Make Nurses Feel Special
Spirit Days
Encourage nurses to show their team spirit by dressing alike, wearing tie-dyed or decorated scrubs, or wearing fun hats. Order custom imprinted t-shirts for everyone to wear that celebrate the nurses on your staff. Another way to boost morale and excitement during Nurses Week is to Invite a guest speaker to come in and present on a motivational/inspirational topic or to organize a seminar.
Spa Day
Spring for pedicures at a local salon for much needed pampering, or give out gift cards to use (yes, men like pedicures too)! Hand out giveaways in line with this same theme, such as nail kits, slippers, sleep masks and robes.
On-Site Yoga Class or Massage
Encourage your staff to take a break to enjoy an on-site yoga class or massage. You can even add your logo to yoga mats, blocks and bags to encourage your staff to replenish themselves all year long.
More Giveaway Ideas
Light-up pens allow nurses to see well enough to write without flipping on the lights and waking their patients. Generously sized, quality totes are always welcome and offer a large imprint area for your organization's logo. Nurses need their caffeine to keep making the rounds. Help them sip in style with a cork-bottom mug or a stainless steel tumbler.
Fun novelty pens, relaxing aromatherapy candles, bath and spa sets, and healthcare-themed items all make great appreciation gifts and although they range in price, they all show how much you value your nursing staff. Any of these ideas are also perfect for hospital week gifts.
E-Cards and Printables
The American Nurses Association provides printable thank-you cards, certificates of appreciation, as well as downloadable logos and other digital assets that you can use to supplement the communications you plan to send out.
Whether your budget allows for a pot luck or catered breakfast or luncheon, an emailed thank-you from the entire staff, or gifts both large and small, there are many ways to recognize and thank nurses in honor of Nurses Week. The nurses we polled all agreed that the act of recognizing their hard work and effort is the most important thing. A little food and a small, but thoughtful gift or giveaway can go a long way to say thank you to the nurses in your organization, and there are many options available that are just right for the occasion.
Other Healthcare Holidays
After Nurses Week 2022 has concluded, don't forget to honor the rest of the hard-working healthcare professionals in your organization. Here are other great opportunities to recognize nurses and other medical staff throughout the year.
After Nurses Week 2022 has concluded, don't forget to honor the rest of the hard-working healthcare professionals in your organization. Here are other great opportunities to recognize nurses and other medical staff throughout the year.
National Student Nurses Day May 8
National School Nurse Day May 11
International Nurses Day May 12th
Hospital Week May 9-15
Nurse Practitioner Week November 13-19
Certified Nursing Assistant Week June 16-23
National Surgical Tech Week September 18-24
National Caregiver Month November
Emergency Nurses Week October 10-16
Physician's Assistant Week October 6-12
For a full list of healthcare related appreciation days, check out our 2022 Employee Appreciation days by Industry calendar. To keep track of other upcoming holidays and special events, visit our Promotional Events Calendar.