Righteous Promos: Customized Church Giveaway Ideas for Any Congregation
published: July 31, 2019 | updated: May 8, 2020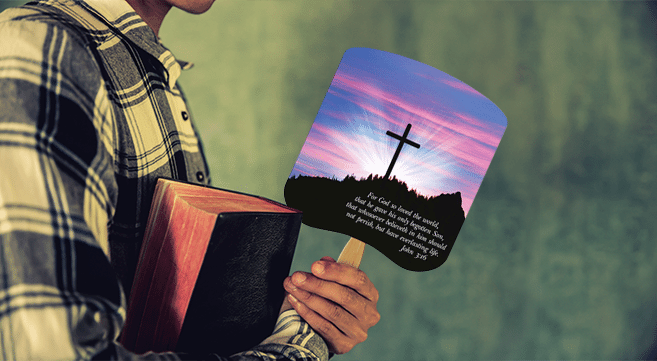 Are you wondering how you can use promotional products to build up your congregation? Or maybe you're a faith-based nonprofit looking to help people in your community? Regardless of what your group's goals are, Crestline has ideas for custom promotional products to suit any religious organization.
Newcomer Welcome Gifts
First impressions are a big factor in the future success of your church or place of worship. Making first-time guests feel welcome is the best way to ensure that they return. Giving newcomers gifts with your logo or message on them generates a sense of belonging that encourages people to join your organization. Here are some popular newcomer welcome gifts that are sure to make a great first impression.
Mugs
A custom imprinted mug can go a long way to impress new guests. Try adding your logo and a welcome message onto an attractive piece of drinkware like the Outdoor Adventure Mug for a great reminder of your organization throughout the week.
Magnets
Magnets are helpful little gadgets for the home, church office, or business. Browse our wide selection of unique magnet shapes or choose a charming promotional church-themed magnet.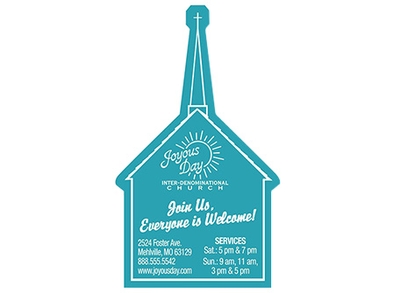 Journals
Encourage guests to really engage with your congregation by giving out imprinted journals for them to write in. Our Rustic Notebook Set provides a stylish design and comes with a sticky note set and matching pen. Journals are a nice church giveaway that will be very useful to guests both in and outside of your congregation.
Totes
No matter what you choose for welcome gifts, packing them in a tote with your logo on it is always a good idea. Guests will love carrying their new church swag home while knowing that the bag can be reused for many years to come. Our Economy Totes are an affordable option that are reasonably sized and can be easily carried over-the-shoulder- great for bible study groups and Sunday school teachers.
Back of the Pews
If you work at a place of worship, chances are you have rows with space at the back of each seat that need to be filled. Scripture and print outs of worship song lyrics are both valuable things to keep at the back of these chairs. However, this space also holds potential for further promoting your church. Keep reading to find out what you can include at the back of all your pews.
Pens
Promotional pens or imprinted pencils are a small yet impactful giveaway that will come in handy often. The Hex Greens Pencil is a small, low-cost giveaway that can easily be replaced before each sermon. Alternatively, Easy Writer pens work best as take-away writing instruments imprinted with your logo, address, and contact info. Not only are pens useful during each service, but they will also serve as an excellent reminder of your place of worship throughout the week.
Info Cards and Connect Cards
Include a custom printed brochure with information about your church and upcoming events you have. Also provide a post card for new members to fill out with their contact information. Then, they can hand it in after the service or, if they forget, they can mail it later. This could even be encouraged in exchange for a welcome gift!
Notepads
While it may not be space efficient for you to put branded notebooks at the back of each of your seats, smaller notepads could be just the right size. Imprinted sticky notes in particular are handy for making quick notes about scripture or the sermon. Our 25 sheet Post-It Notes are perfect for leaving at the backs of each seat. Consider pairing custom notepads with personalized pencils with your name and address on them, as well as church-themed erasers.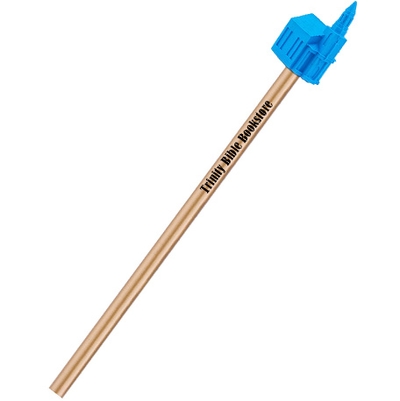 Community Meals and Charitable Giving
Donating time, money, and resources are big parts of many religious organization's missions. No matter what type of giving your church takes part in, promotional products will undoubtedly come into play at some point. This section will provide some ideas for how you can give back to your community while also encouraging others to join your organization.
School Supplies Donation
As back to school season rolls around, reach out to your local school district or a larger non-profit to see if you could offer to collect and donate school supplies for underprivileged children. Engage other community members in your efforts by holding a school supply drive or provide all the supplies yourself and ask others to come in and "stuff" backpacks with items. Crestline is the perfect place to buy school supplies in bulk.
Community Meals and Food Pantry
If you can, set up a food pantry that community members can access when they need grocery items. You could also host a weekly or monthly free community meal where hungry individuals in your area can get warm food and connect with your organization. Both ideas are great ways to get to know the people you are helping on a more personal level. Give out reusable grocery totes imprinted with the name and address of the food pantry to spread the word on where people in need can get help, as well as cooler bags to keep frozen goods in or to store leftover food from meals.
Prayer Cards and Bookmarks
Provide those with prayer needs with a laminated prayer card. It is common practice for religious organizations to give prayer cards to families going through challenging times, like St.Joseph's prayer for selling a home, to families going through challenging times like losing a loved one, struggling with addiction, or suffering through a natural disaster. Send well wishes and supportive messages, along with your imprinted logo or a photo of the saint on a Dual Sided Bookmark or laminated post card.
Sunday School
If your place of worship offers a children's ministry, make the kids feel welcome and make sure they have fun by using custom promotional items. Even small things like what activities you have on hand can play a big part in making children feel like they belong at your church.
Coloring Books
Coloring books encourage creativity and help occupy little ones during extended periods of sitting. Make sure to keep some imprinted coloring books and crayons on hand to entertain the little ones while the adults and older kids hear their sermons.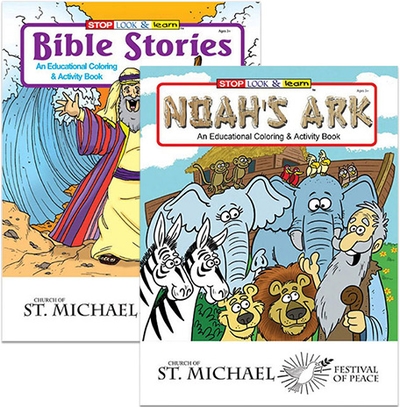 Toys
Periodically, give out some fun customized toys to kids in order to keep them engaged in your Sunday school program and thinking about the sermon each week. Using something fun is a great way for children to reinforce what they learn in Sunday school. Bringing home a piece of the fun can start up conversations with their families as well.
Community Events
Opening your events up to those in your community is a great way to grow your congregation and make valuable connections. Here are some fun event ideas that will draw people in and get them interested in your organization.
Holidays
Celebrate holidays by hosting events for families in your community. Christmas or Hanukkah parties, trick or treat events or haunted houses during Halloween season, egg hunts for Easter, and barbecues or block parties for the fourth of July are all fun ways to get outside community members involved with your church.
Community Suppers and Fundraisers
Community suppers and other special events are a great way to get congregants together as well as to connect with potential new members. It is also an opportunity to raise funds for your church or organization. Selling merchandise with your church logo is a great way to raise money and awareness for your place of worship. Consider selling items such as custom coffee mugs, potholders, and reusable shopping bags. Don't forget custom table covers with your organization's logo and message to add a personalized touch to your event.
Retreats
Host a retreat for certain segments of your church population, such as a prayer or youth group, and encourage them to invite their friends as well. Women's, teen's, and children's retreats are some of the most popular kinds, but anyone can benefit from some time away. Sleepaway activities like camping, ski trips, and conferences are fun ways for smaller groups to bond and get in touch with their religion. Give out custom designed t-shirts or lanyards with name badges to participants when they register to make everyone feel included in the fun.
Merch for Fundraising
One of the easiest ways to raise funds for your church is to sell merch decorated with your logo. Many congregation members would jump at the chance to represent their place of worship wherever they go. Try one of these popular merch items for your next fundraiser or set up a small shop in your lobby to make multiple items available at once.
Apparel
When people think of "merch" custom imprinted apparel is often the first thing that comes to mind. Crestline carries many stylish clothing items that you can imprint with your church logo or message. Gildan's® Ultra Cotton® T-shirts and Port & Company's® Classic Full-Zip Hooded Sweatshirt are great items to start with and can be easily switched out as the weather changes.
Wristlets
Bracelets debossed with your message make an excellent fundraising item because of their low price point and exceptional ability to spread your message. Aside from being a great church giveaway item, awareness wristlets are a fundraising solution that will have people of all ages flocking to get one.
Stress Relievers
Stress relievers are useful for people of all ages, including children that need something to fidget with during longer sermons. Choose an imprinted stress reliever from one of our many shapes and sizes, or go with a dove-shaped stress reliever to promote a message of peace.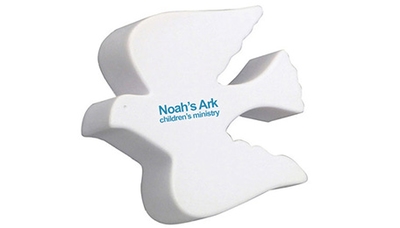 Calendars
Calendars are a popular item for fundraising, as they are universally used, at the office or home, and this custom 13-month Everlasting Word Calendar has both beautiful imagery and religious quotes and sayings to go with it.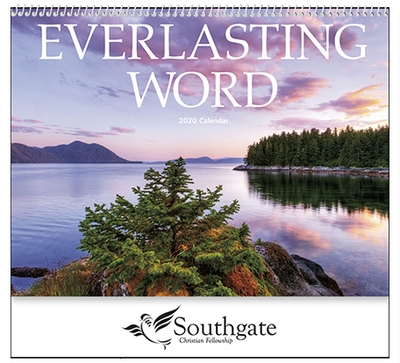 Team Member Gifts
Staff appreciation efforts go a long way in ensuring that everyone in your organization has a pleasant experience. After big events, during the holiday season, or even just at random points throughout the year, gift employees and show them how much you appreciate their hard work.
Blankets
Cozy blankets imprinted with your church logo make excellent holiday gifts that anyone on your staff will appreciate. Try a Sherpa Blanket with your logo embroidered on it for a gift that will certainly come in handy on cold winter days.
Stainless Steel Drinkware
All types of stainless steel drinkware make fantastic employee appreciation gifts. We carry water bottles, travel mugs, and even reusable straws that utilize insulation technologies to keep drinks hot or cold. We recommend the Deluxe Halcyon® Bottle, Himalayan Tumbler, and Reusable Stainless Steel Drinking Straw respectively.
Congregation Giveaways
Ultimately, the best way to ensure the success of your place of worship is to make all your current members happy. Whether it is a courtesy item or something to enhance the church-going experience, the giveaways in this section go a long way in making sure that all your congregants remain content.
Hand Fans
If your church does not have the luxury of air conditioning, it probably gets extra hot in the building, especially during larger services. Make the warmer months in your place of worship a bit more manageable for all your members by offering Fun Shaped Hand Fans. These promotional religious-themed hand fans come in a variety of shapes and are very useful for cooling off both in and outside of your church.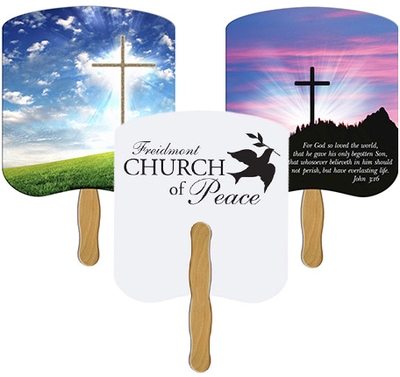 Mints
Keeping a bowl of mints or candy in your lobby is a thoughtful thing that you can do to ensure that people who go to your church arrive and leave happy. Flavor-Burst™ Candies are available in a variety of flavors and are generously sized while also being perfect for your grab-and-go candy bowl. Imprinting the wrapper with your logo will leave a sweet impression on anyone who takes a piece of candy.
Ear Plugs
If worship at your church involves live music, then keep some ear plugs out for people to take. People with sensitive ears will appreciate the ability to protect their hearing while also actively being involved in your religious organization. We carry reusable ear plugs with an imprinted case that are perfect giveaways to keep stocked at your church.
Crestline has everything to meet any promotional product need your place of worship might have. Get in touch with one of our promotional products experts. They would be happy to help you find just the right product for you.
You might also like: