Notebooks vs Journals, Padfolios vs Portfolios, Notepad vs Sticky Notes:
Office Items Go Head to Head
published: May 12, 2020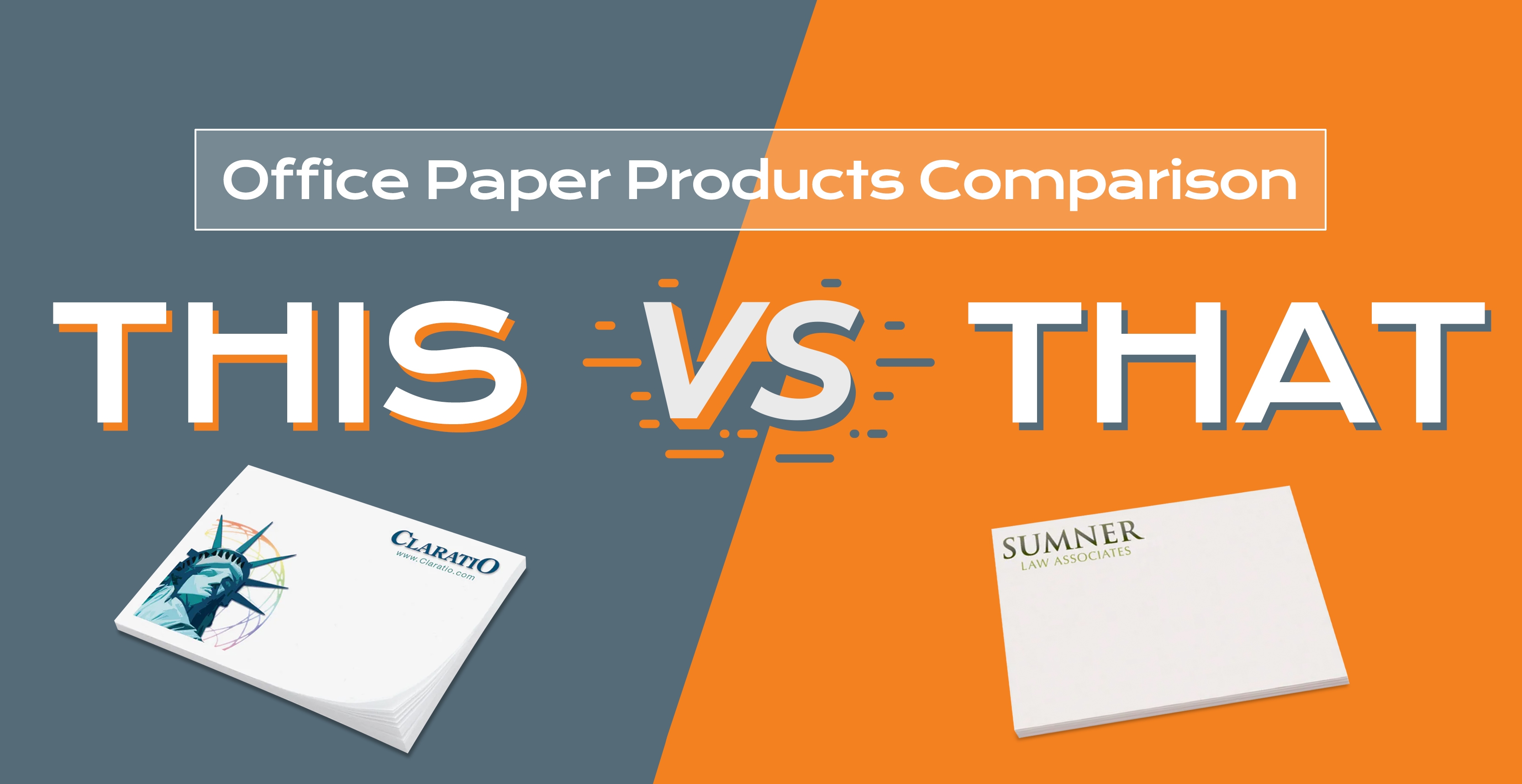 The challenge to selecting the perfect branded office supplies and stationery is having so many excellent options from which to choose. We always hear about the popularity of digital communication, but as anyone working or studying in any field knows, paper communication continues to be essential, anywhere and everywhere.
Crestline has a virtually unlimited selection of paper items for promotional gifts and logo supplies for students, customers and employees, and tradeshows. Paper items include notebooks, portfolios, padfolios (pad-what?), notebooks, folders, binders and sticky notes. Whether you need an inexpensive giveaway item for a tradeshow, want to boost your corporate culture, or raise school spirit, you can find the perfect stationery item here.
Because office items like these are used every day, they do a spectacular job of promoting your brand and reminding customers, employees, students and business partners how much you value them.
Our website is full of information about how to choose and design notebooks, journals and notepads — and even has an entire article dedicated to selecting and designing a padfolio. If you need more information or want to talk to a member of the customer service team rather than read and research online, we'd love to hear from you!
11 Side-by-Side Office Paper Product Definitions & Comparisons
One way to narrow down your selection is by reviewing one-to-one comparisons between similar items. If you're torn between a padfolio or a portfolio, a notebook or a binder, or some other set of options, these 11 head-to-head reviews will help guide you to the right choice.
Padfolio vs. Portfolio
What is the difference between a padfolio and a portfolio?
Padfolios and portfolios are both meant to safely carry papers and other office supplies. A padfolio is a pad of paper secured inside a sturdy folder that can be closed and may come with additional storage and features like pen loops, business card cases and folder pockets. A portfolio is bigger, usually has a handle, and resembles a small briefcase.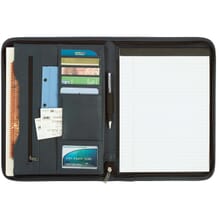 Here's an example of a padfolio, our Durahyde Exec Brief-Padfolio. It makes an ideal giveaway or gift for students, employees, and meeting and trade show attendees.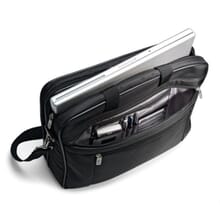 Now take a look at the Samsonite® Classic Business Computer Portfolio, which is big enough to hold not only notebooks and papers but a laptop computer, and is carried with a handle at the top.
Padfolio vs. Notebook
What is the difference between a padfolio and a notebook?
A padfolio is a pad of paper, often lined in legal or letter size, secured inside a folder. A notebook contains easily removable paper, usually bound at the side with a metal spiral. Where a padfolio has a thicker cover and a closure to protect notes and documents, a notebook usually does not, and has an appropriately lower price.
Here we see our Companion Padfolio squaring off against our On the Case Notebook. Both items are economically priced. The Companion does the usual job of a padfolio as a mobile office, but the On the Case is more than just a notebook, having a zipper pocket for secure storage of pens, coins and other small items. This notebook is popular with students, and the padfolio is the perfect Companion for mobile professionals.
Notebook vs. Journal
What is the difference between a notebook and a journal?
A notebook secures sheets of paper, usually at the side with a metal spiral, and tends to be simple and inexpensive. A journal is bound with stitching along the side, with a more durable cover than a typical notebook, and is often made of upgraded materials.
How does our Muse Notebook and Stylus Pen Set compare with the Soft Touch Journal? Both of these customizable office supplies are workhorses for people who do a lot of writing or take a lot of notes. Having a cover with a luxurious feel, the Soft Touch Journal may have a bit more appeal for executives and healthcare professionals. It's hard cover, perfect binding (just like a book that you read) elastic closure and ribbon place holder are typical elements of a journal. The Muse Notebook also has a high-end feel, and with an included pen and spiral construction, makes it an excellent choice when utility is the key factor.
Notebook vs. Binder
What is the difference between a notebook and a binder?
A notebook typically has a lightweight cover and contains ruled paper bound on the side with a metal spiral; a binder has a soft or hard cover, and ring clips of various diameters to hold documents at their left margin. Where a notebook is generally used for jotting down new notes, a binder can house a combination of existing paperwork or learning materials, folders, pouches for office supplies, and ruled paper.
The Surge Notebook and Pen Combo and the 2" Ring Binder both involve paper, but the Surge Notebook includes paper and the Ring Binder holds paper. This binder is a sturdy, medium-capacity product made to last, ideal for storage of reference and training materials. For training and meeting attendees, the Surge fits the bill for note taking . Its modern design makes it an excellent choice in the technology field and a popular item in academic settings.
Journal vs. Planner
What is the difference between a journal and a planner?
A journal is bound, usually with stitching along the side, has a durable cover and blank lined or unlined paper within. A planner may be the same style as a journal, but has pages formatted for calendar planning to log assignments and appointments.
The Kingston Journal and 2021 14-Month Academic Planner are similarly bound, but that's where the similarity ends. The Kingston Journal is an elegant promotional gift item for students and professionals of all kinds, where the Planner is useful for keeping track of class schedules and other school activities.
Notepad vs. Notebook
What is the difference between a notepad and a notebook?
A notepad is bound at the top, has easily removable paper, is inexpensive, may or may not have a cover, and is often smaller than a notebook. A notebook is bound securely at the side with a metal spiral and usually has a cover.
The BIC® 4" x 6" Adhesive Notepad has 50 sheets on a cardboard backer, an excellent promotional giveaway for office, retail and healthcare settings. The Fully Loaded Notebook, as its name suggests, includes a memo pad, pen and pen loop, built-in ruler, multi-color sticky-note flags, and pretty much everything else except the kitchen sink. Both items are affordably priced: The BIC® Notepad is for people who want to write things down, and the Fully Loaded Notebook is for those who also want to keep their notes very well organized.
Notepad vs. Sticky Note
What is the difference between a notepad and a sticky note?
A notepad has easily removable sheets that don't stick to surfaces, is inexpensive, and may or may not have a cover. A sticky note pad has paper of varies shapes, sizes, colors and patterns that are adhesive and provide a visual way to organize thoughts and create quick reminders.
Our Non-Adhesive 5" x 7" Memo Pad and BIC® 3" x 3" Sticky Notes are both colorful and extremely useful for making quick notes. Whether to go with an adhesive or non-adhesive promotional item is a tough call, since people love both. That being the case, the right solution may be to offer them both! Here are fun ways sticky notes can encourage productivity and morale.
Post-it® vs. Sticky Notes
What is the difference between Post-it® and sticky notes?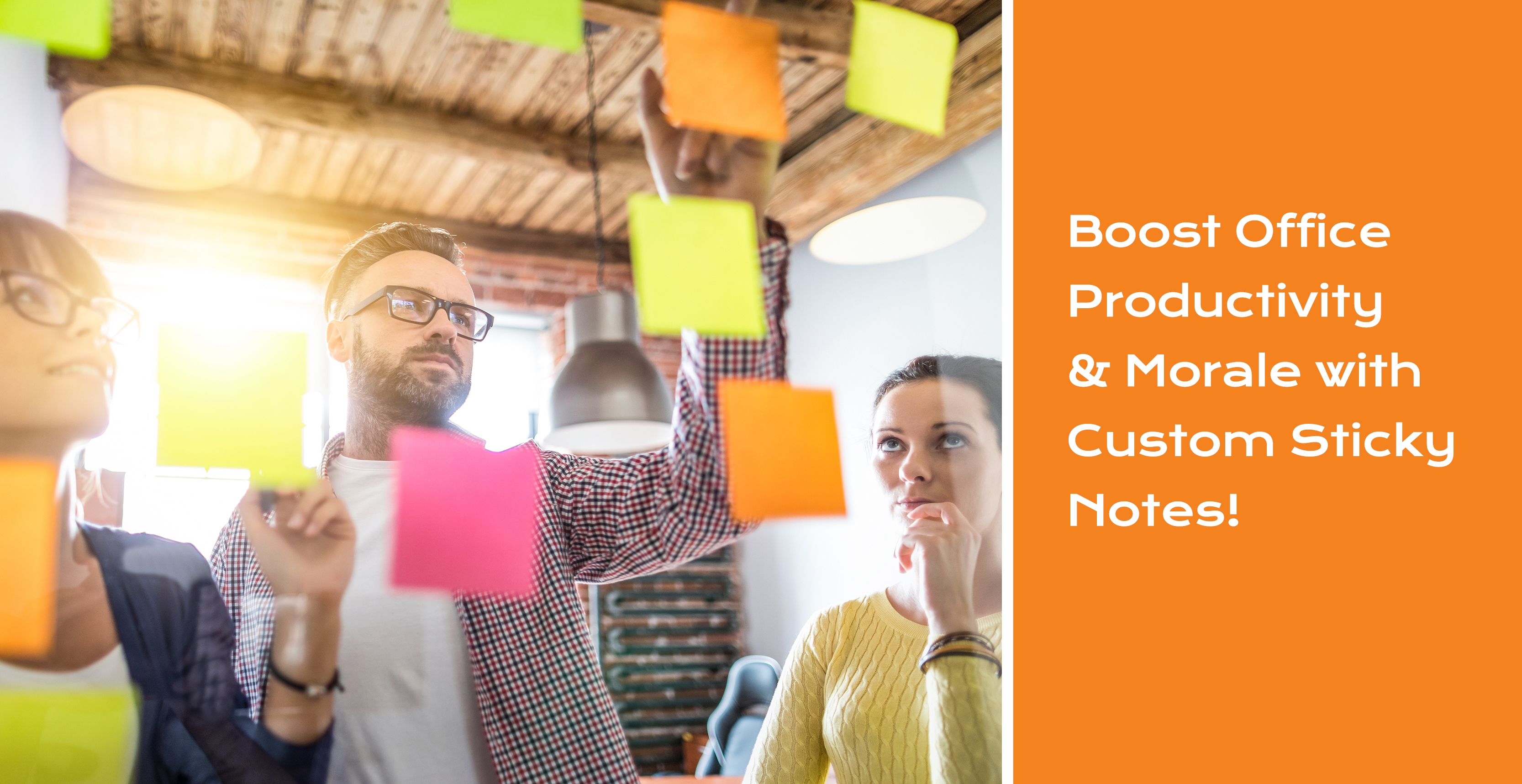 Post-it® is the brand name of the original adhesive note product invented by 3M. Sticky notes are a generic name for the product (like "Kleenex" or "Jacuzzi").
Post-it® Full Color Notes and BIC® Sticky Notes have the same dimensions and 50-sheet pad count. Some of our customers prefer the Post-it® option: It's the original 3M product, and its universally-loved brand name carries a bit of extra prestige. Both items make exceptionally handy and affordable office supplies or promotional gift items for virtually any business, educational, governmental or healthcare organization.
Legal Pad vs. Notebook
What is the difference between a legal pad and a notebook?
A legal pad is a specific type of ruled paper measuring 8.5" x 11", and does not have a cover. A notebook usually has a cover, comes in a variety of sizes, contains lined or unlined paper, and has spiral binding.
Our Commercial Legal Pads and The Janus Notebook are both versatile and made for taking notes, but each has a very different vibe. The legal pad is tried-and-true, familiar and all-business. It's made to take notes and lots of them. The Janus is smaller, spiral bound and features a protective plastic cover — great for people on the go or on their feet when they need to write something down.
Jotter vs. Notebook
What is the difference between a jotter and a notebook?
A jotter is always small and can have different flip directions. A notebook has a cover and spiral binding on the left side.
The Recycled Jotter & Pen and Nature-Friendly Notebook & Pen are promotional gifts with a strong, positive environmental message, similar size and price, and the same number of pages (60 pages, ruled). The big difference here is whether to go with a top-flip, like the Jotter, a left-side-flip, like the Nature-Friendly. If you know the preference of your audience, the choice is simple. If not, consider ordering some of each and tracking the response. Whatever the outcome of your test, both gifts will be appreciated and used daily.
Folder vs. Binder
What is the difference between a folder and a binder?
A folder is made of a stiff material and has two pockets inside to hold loose paper. A binder has clip rings of different sizes to hold papers at the left margin.
Our Designer Linen Folder and Stratton 1" Ring Binder both do an outstanding job of keeping papers and documents in one place. The binder has more capacity and is handy for storage on the shelf, but the folder makes it easier to move papers in and out. In addition, while the Stratton looks as nice as all our paper product gifts, the Designer has an elegant look and feel that will impress, all the way from people working in the trenches up to the executive conference room.
Need Help?
If you're still not sure which paper office product is best, if you need help in working out the promotional message, or have any other question, please contact us now. We are standing by, eager to assist!
Even More Information about Custom Office Supplies
If you're still looking for that perfect branded item in the office supplies category, we have a wealth of additional information and product options for your consideration.