Nonprofit Marketing Ideas and Tips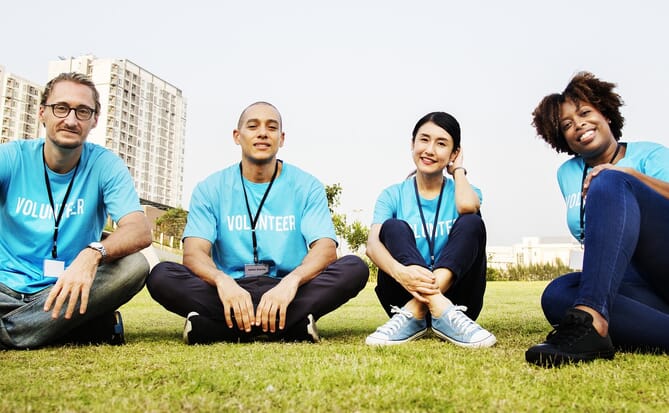 Nonprofits have the ability to impact multitudes of people in one way or another. The 1.3 million charitable organizations in America work to find solutions for problems, offer services to the underserved, and raise awareness of issues that affect everyone.
Nonprofit organizations focus on different issues, including homelessness, public health, the environment, and education. Through these diverse missions, the overall goal of nonprofits is to improve life and serve the common good.
Why do nonprofits need marketing strategies? These organizations are not commercial enterprises, but they need funding, support, and awareness to complete their missions successfully.
Create Your Nonprofit Marketing Plan
A solid marketing strategy starts with defining your mission and audience in order to create messages that inspire your audience to take action and support your charity. Here are the first steps to a winning nonprofit marketing plan:
Identify Organization Goals
Each nonprofit marketing campaign starts with identifying your goals. A concisely defined mission is the solid base on which you can build your marketing strategies.
First, you need to define the needs you wish to meet with your charitable efforts.
Then, you need to decide how marketing will help you complete your mission. What does your organization need in order to carry out its mission? The goal of your nonprofit marketing plan is to get the mission support you need.
Finally, you need to find ways to assess your marketing ideas. You can do this by defining goals for website traffic, social media shares, volunteer activity, and donation amounts.
Know Your Audience
You need to tailor your marketing messages so that your audience finds them compelling and responds to your calls to action.
The first step is to define your audience. Who will support your nonprofit projects?
The next step is to figure out where you can connect with this audience. Which websites or social media pages do they visit? What publications do they read?
You also need to define the different audiences within your target demographic. Most nonprofits need different types of support, including donors, volunteers, and people to raise awareness.
Craft Your Message
You need to craft a single message or some closely related messages that illustrate your organization's goals and mission. Marketers call these "key messages."
Create one main message. For example, if your charity works with people who are homeless, your message could be, "Providing support to help people overcome homelessness."
You then create "key messages" that merge a specific action with the main message. For example, a key message for donors would be, "Help us by providing financial support for housing or job training to help people overcome homelessness."
You can also define elements such as the tone of your message, images, logos, and color schemes.
Monitor Performance
The final step is to monitor the performance of your campaign. You can then see how your marketing ideas perform and make adjustments if necessary.
You need to define indicators, such as page views on social media, the number of likes on a promotional video, the number of volunteers, or donation amounts.
You should keep your indicators simple — do not tie multiple indicators together.
If you make changes, you need to keep the same indicators so that you can compare them with the key performance indicators from your previous efforts and decide which approach performed better.
Marketing Strategies for Nonprofit Organizations
Once you have concise key messages, a well-defined audience, and metrics to assess your campaign's performance, you can start your marketing campaign by using different strategies and ideas.
Use Email Marketing
Email marketing focuses on sending content to people who give you their email address. Since they chose to receive the emails, you know that they are already interested in your mission, so they are likely to read your content and provide support.
You can send updates about your mission so that your audience can follow your efforts. You can then include donor or volunteer information in these newsletters.
You can create an email sequence using an email marketing application. This strategy allows you to automatically follow up with volunteers or donors and use a series of emails to communicate with new subscribers.
You can put email newsletter signup forms on all of your social media accounts, your website, and other marketing content.
Consider Video Marketing
Some people respond to video marketing in a different way than text marketing. Members of your audience who might ignore an article or online ad may watch a video.
You can maximize your investment by putting the same video on your social accounts, on your website, and on sharing sites, such as YouTube.
Encourage sharing; one of the good things about social media and video sharing sites is that people can help amplify your message by sharing your video with others.
Make sure that your videos include one of your key messages and that they provide information that viewers can use to participate in or support your mission.
Improve Your Website
Your website is the backbone of your marketing efforts. Visitors who come to your site are usually in search of information about your charity and goals. Your website has to deliver this information and provide target audiences with resources so that they can participate and provide support.
Your website should provide information that supports all of your key messages.
You also need to provide clear directions that tell people how to support you.
Your website should have links to all relevant social media accounts, videos, and other promotional material.
Use Social Media to Network
You can also market for free by posting content on your social media accounts and interacting with followers.
You can use social media to answer questions, announce events, and interact with supporters.
Social media can be an excellent way to keep in touch with donors and volunteers. You can also publicly recognize their efforts.
Like email marketing, people who follow you on social media are already interested in your mission and more likely to respond to calls to action.
Sites like Facebook provide the infrastructure for you to accept donations.
Increase Your Brand Awareness
Brand awareness is important. According to Network for Good, online branded donation pages brought in five times more donors than generic pages.
You can make an effort to create a logo and tagline to use in all your marketing content. Use the same images, font, and color schemes across all of your content.
Create branded items, such as pens, water bottles, can coolers, stress relievers, table covers, or rubber bracelets for a cause to use for offline branding. If you want to be environmentally responsible, you can find products made from sustainable materials.
Use the same logo, font, and colors for employee or volunteer badges.
Successful Nonprofit Marketing Campaigns
You can get inspiration for your nonprofit marketing ideas by looking at these successful marketing campaigns:
Facebook birthday donations
People can set up a personalized fundraiser that their friends and followers can donate to instead of sending birthday gifts. You can enroll your charity in this program, and Facebook users can select it for donations.
Amnesty International's #Write4Rights
Amnesty International used a Twitter hashtag to get people to write letters in support of 11 female activists jailed for their social justice efforts. Twitter hashtags can be an excellent way to inspire action and amplify your message.
Charity: Water
This nonprofit created a movie that showed how people in an Ethiopian town benefited from clean water. They held viewings with virtual reality headsets. The VR showings gained press coverage, which inspired millions to watch the film and donate online.
With the proper strategy and some creativity, you can make a marketing plan that increases awareness and inspires support for your nonprofit without breaking your budget.