The Best Custom Awards, Trophies & Plaques for
Your Occasion
updated: August 23, 2023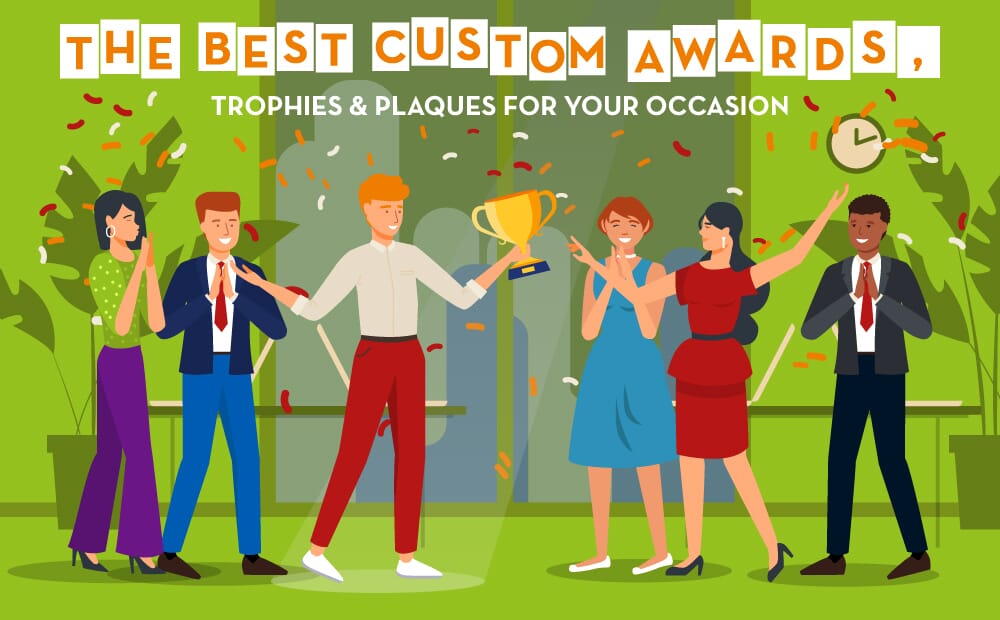 Personalized awards aren't just for events or goal driven incentives. Many companies use corporate awards as a means of recognition to honor their staff anytime and for anything. Businesses have been using employee appreciation awards for things such as keeping remote workers engaged, showing support for essential workers, welcoming employees back to the office, and thanking staff for their additional efforts during these difficult times.
While some businesses might balk at spending budget on traditional "swag," employee appreciation gifts are truly worth the investment. Awards have staying power, with 95% of awards being proudly displayed instead of being thrown out after moderate use. Since 77% of companies use an actual award (plaques, certificates, etc.) instead of cash, gift certificates, or food, you can see just how much influence these custom plaques and trophies have on company culture and performance.
If some or all of your employees are remote, you may wonder how you can get personalized awards to them. Luckily, Crestline can ship awards to individual recipients' addresses.
Types of Custom Awards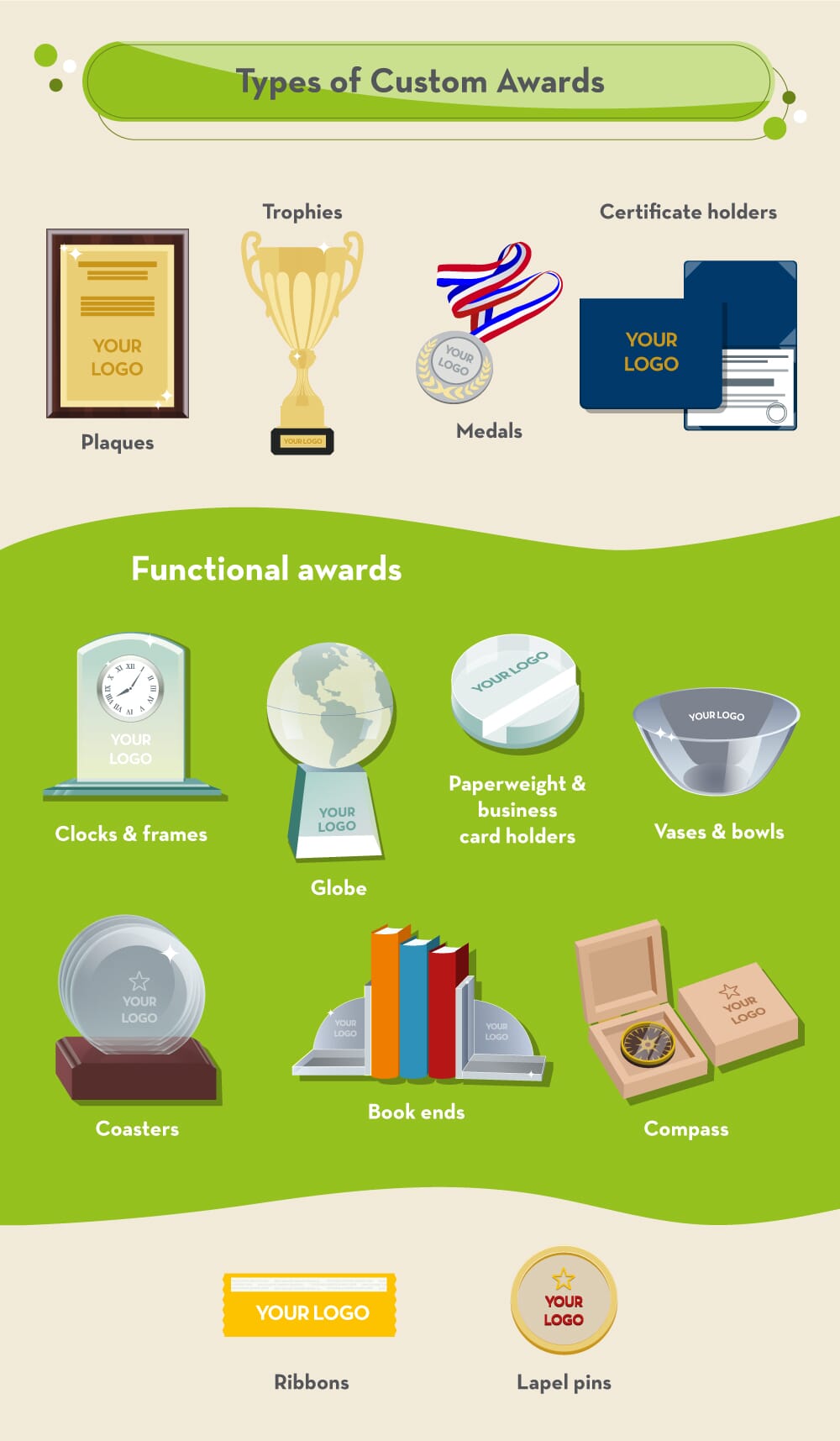 Popular Award Materials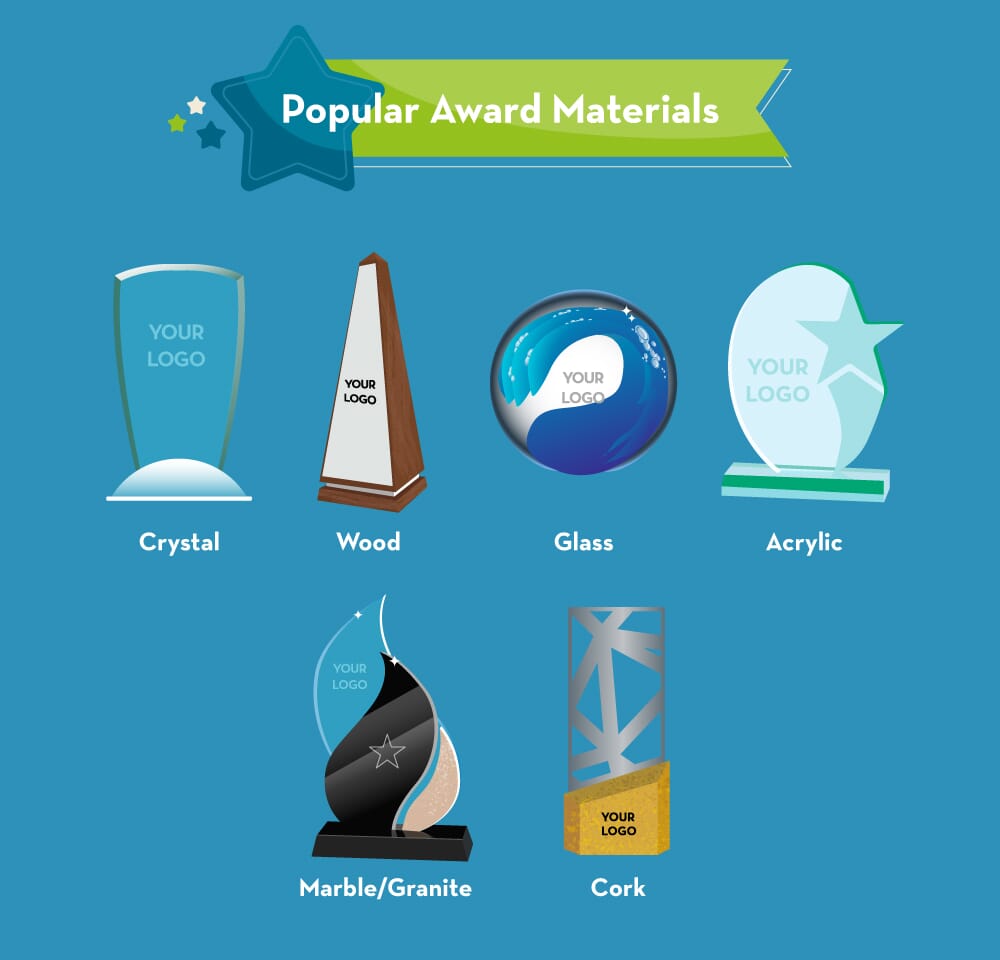 Our employee appreciation awards come in various shapes and with several unique designs to match your needs, such as a city skyline award or a Heads Up Award. On top of that, you can create and fully customize your own award to represent a building, mascot or anything else you might dream up. Custom awards and trophies allow you to create a truly unique and one-of-a-kind piece that no one else has. Reach out to one of our knowledgeable sales representatives today at 1-866-488-4975 to get started.
Awards, Trophies and Plaques for Every Occasion and Recipient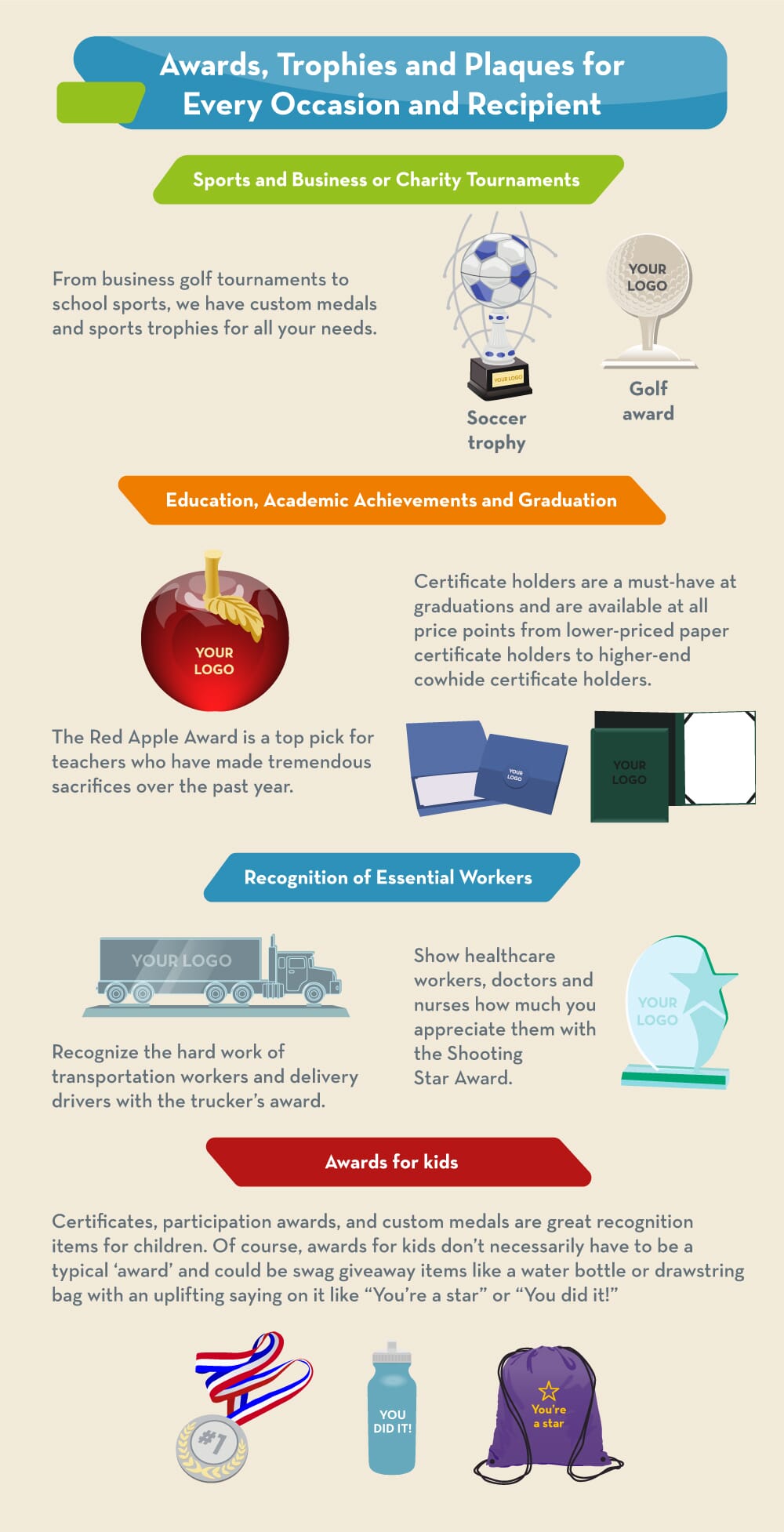 No matter the event, corporate awards are the perfect way to recognize individuals for their accomplishments. Whether you're hosting a banquet or charity event, you can elevate the reach of your business by showing your community that you value hard work. Here are our top recognition theme ideas:
Employee Recognition Award Categories

Customer Service Award
Employee of the Month (quarter, year, etc.) Awards
Year of Service and Work Anniversary Awards
Retirement Awards
Leadership Awards
Top Performer/Sales Achievement Awards
Safety Awards
Peer-To-Peer Recognition Awards
Teamwork Award
Innovation Award
Training Completion or Certification Awards
Education, Academic Achievements and Graduation
Recognition of Essential Workers

Recognize the hard work of transportation workers and delivery drivers with the trucker's award.
Show healthcare workers, doctors and nurses how much you appreciate them with the Shooting Star Award.

Awards for kids

Certificates, participation awards, and custom medals are great recognition items for children. Of course, awards for kids don't necessarily have to be a typical 'award' and could be swag giveaway items like a water bottle or drawstring bag with an uplifting saying on it like "You're a star" or "You did it!"
Unique and Funny Award Ideas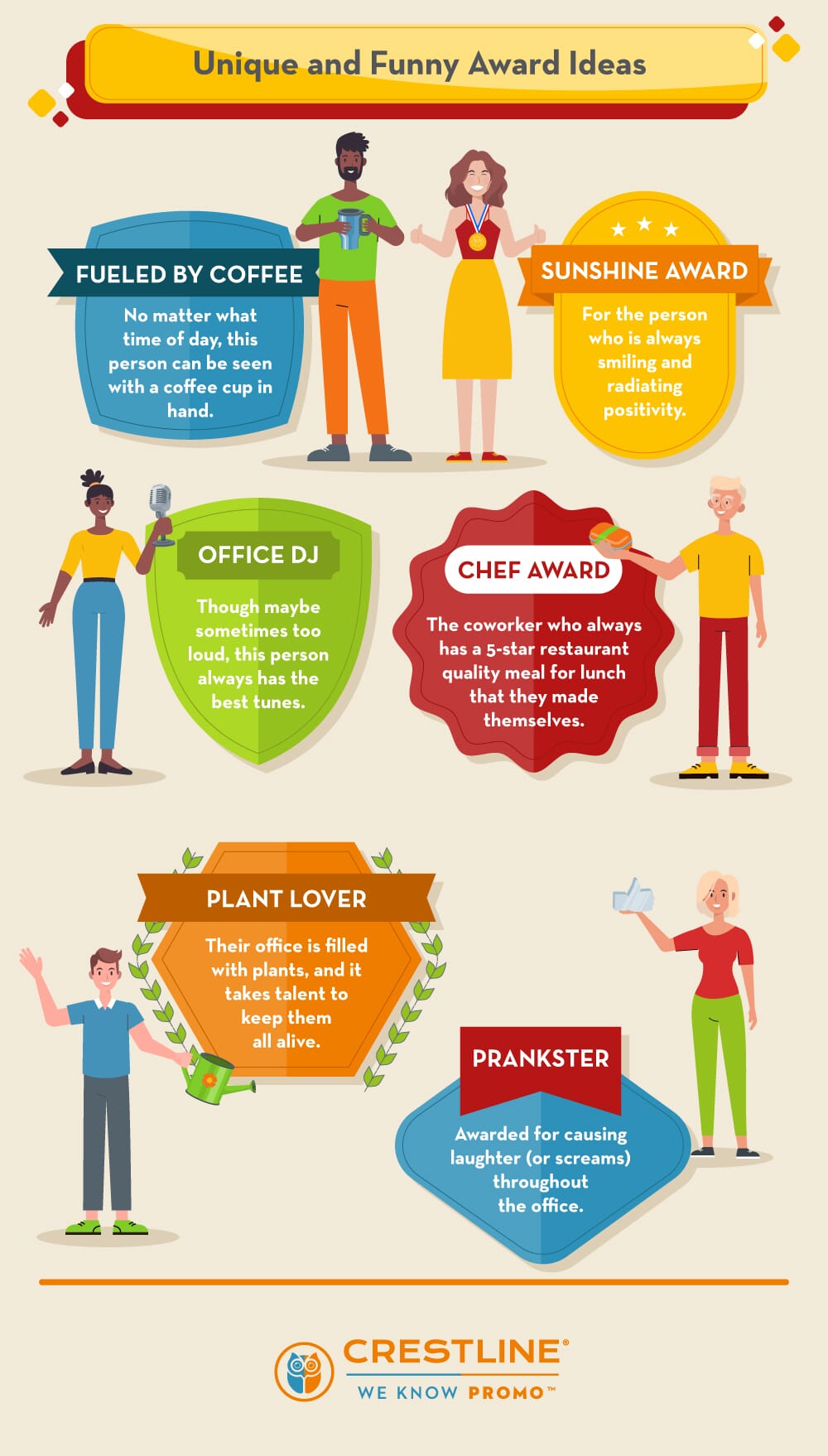 Not only are humorous office awards a great way to provide recognition, but they also connect people through laughter. Come up with humorous and fun employee awards that are reflective of your company culture. But first, think of your company values and norms around the office. Remember, it's important to keep these funny award ideas lighthearted so as to not offend anyone. Here are some funny award title ideas to get you inspired (that we think most offices can relate to):
Fueled by Coffee – No matter what time of day, this person can be seen with a coffee cup in hand.
Sunshine Award – For the person who is always smiling and radiating positivity.
Office DJ – Though maybe sometimes too loud, this person always has the best tunes.
Chef Award – The coworker who always has a 5-star restaurant quality meal for lunch that they made themselves.
Plant Lover – Their office is filled with plants, and it takes talent to keep them all alive.
Prankster – Awarded for causing laughter (or screams) throughout the office.
You can also incorporate industry specific awards, quotes and sayings such as "Super Nurse!" for the healthcare industry. That's just one of many appreciation sayings for nurses to get you inspired. Also, check out popular teacher slogans like "There Is No Substitute For You!" for the education industry.
You might also be interested in: