Promotional Products in the Wild:
4 Inspiring Use Cases for Social Causes
published: May 3, 2019 | updated: September 10, 2019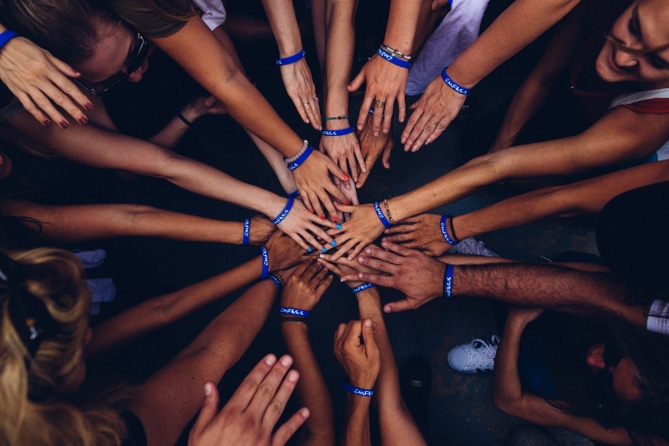 It's been proven that promotional products can greatly benefit all kinds of organizations. After all, a 2017 studyfrom the Promotional Products Association International found that about 90 percent of people remember the branding of promotional products, and 83 percent are more likely to do business with the brand after receiving one.
Another 2017 study from the British Promotional Merchandise Association revealed that 80 percent of respondents feel appreciated after receiving a promotional product and 47 percent feel happy.
It's worth noting, though, that promotional products can achieve much more than brand exposure and profits. They can also help promote important social causes, from blood donation to Alzheimer's awareness.
Here, we'll look at four promotional product ideas for social causes. Ready to get some inspiration for your next charitable campaign? Let's get started.
Promotional Product Ideas for Social Causes: The Case Studies
1. Alzheimer's Eraser USB Stick — Alzheimers New Zealand
In 2010, Alzheimers New Zealand worked with the advertising agency Colenso BBDO to create USB stick erasers designed to raise awareness about Alzheimer's disease.
Rather than simply making USB sticks shaped like erasers, Alzheimers New Zealand went the extra mile by hollowing out actual functioning erasers and fitting them with USB sticks.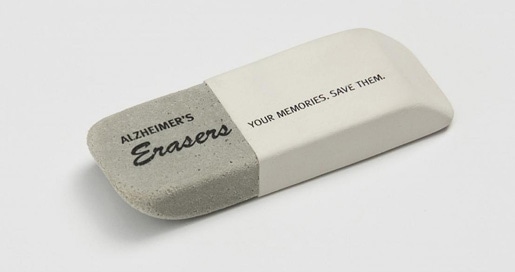 Image source: TheInspirationRoom.com, "Alzheimers USB Memories"
Printed on the reverse side of the eraser is Alzheimers New Zealand's logo and website.
As reported in Ads of the World, after being distributed to the public, various organizations and local politicians, the organization received a number of positive responses, as well as one award from the Cannes Lion International Advertising Festival.

Image source: TheInspirationRoom.com, "Alzheimers USB Memories"
2. Turning Packaging Into Education — Colgate
In the last decade, Myanmar, a Southeast Asian country located just north of Thailand, has begun to slowly open its borders to tourists and trade from around the world. While this has proved to be a financial boon to the country, it's also given its citizens an opportunity to access the information they were previously deprived of. That's what inspired oral hygiene giant Colgate to collaborate with advertising agency Red Fuse Communications. Together, they developed an innovative campaign that turns humble cardboard boxes into educational resources. For the campaign,
"Turning Packaging Into Education,"
Colgate placed colorful posters on the inside of the boxes used to deliver its toothpaste cartons.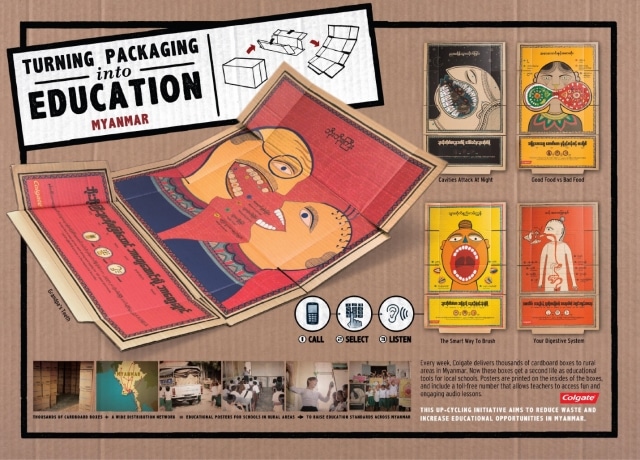 Cardboard printed with colorful images illustrating dental hygiene
Upon arrival in Myanmar, those cardboard boxes were taken to local schools, where they showed children how to practice proper oral hygiene. Keep in mind that one study found that 94 percent of five-year-olds and 39 percent of 12-year-olds in Myanmar had never brushed their teeth.
By utilizing traditional local illustration styles and a storytelling-based method of teaching, this campaign is helping to educate children in one of the poorest countries in the world.
With seven awards from the Cannes Lion International Festival of Creativity, it's clear that Colgate's efforts haven't gone unnoticed, and can certainly inspire promotional product ideas for socially-conscious companies.
3. Caribou Coffee Cares
In September of 2018, the Caribou Coffee company teamed up with the Minnesota Vikings, the University of Minnesota Gophers, and Love Your Melon, a popular online hat retailer, to collectively put their support behind the University of Minnesota's Masonic Children's Hospital with a campaign called Caribou Coffee Cares.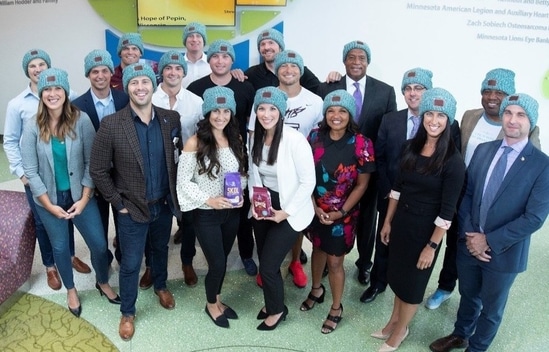 Image Source: PRNewsWire
In collaboration with its three charitable partners, Caribou Coffee committed to donating 10% of the sales of two custom coffee blends, as well as two exclusive Love Your Melon beanies, to be sold online and in their stores, to the worthy cause.
Customers love exclusive products they can't get anywhere else and may be willing to spend more on a custom designed item for this reason. Combine this buyer motivation with the knowledge that a portion of the profits will be going toward a social good, and you have a winning cause marketing campaign.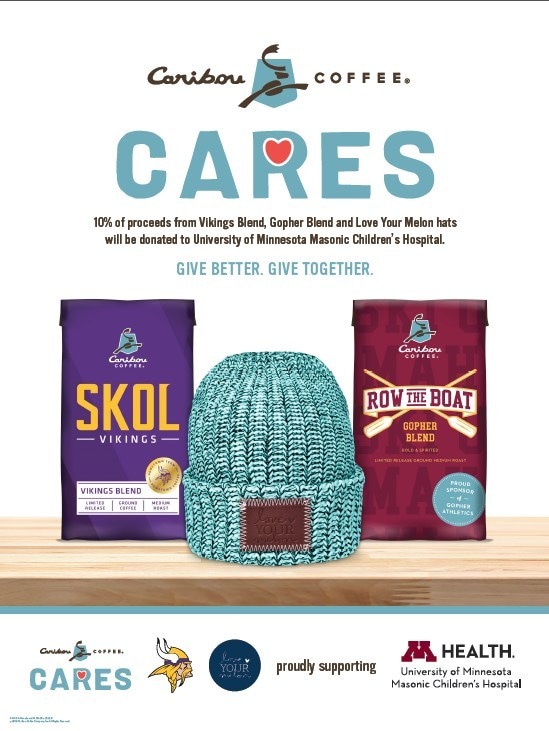 Image Source: Caribou Coffee
4. Bleed for the Throne — The American Red Cross
In March 2019, the American Red Cross teamed up with HBO to create a blood donation campaign based on the wildly popular TV show, "Game of Thrones."
The campaign, called Bleed for the Throne, first offered participants a free promotional t-shirt if they donated blood within a certain timeframe.
This unique commemorative t-shirt couldn't be bought in stores, further adding to its sense of value.

Image source: The American Red Cross, "Bleed for the Throne"
Later in the campaign, promotional posters were offered instead. Just like the t-shirts, these posters are completely exclusive to the campaign and aren't available for purchase in stores.
As an added bonus, every participant is entered for a chance to win a full-size Iron Throne from the show (a throne made of iron swords), and many are sharing their participation on social media with the #BleedForTheThrone hashtag.
You can see for yourself the incredible amount of engagement the campaign is earning on Twitter.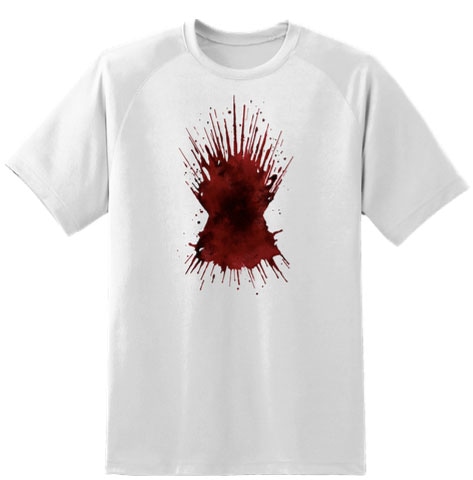 Image source: The American Red Cross, "Bleed for the Throne"
According to the American Red Cross, someone in the U.S. needs blood every two seconds.
Given the viewership of "Game of Thrones" (one episode had 8.89 million viewers), this campaign has the potential to make a real difference for patients across the country.
The Bleed for the Throne campaign has garnered positive publicity from major media outlets like CNNand People, as well as more niche publications like the TV network Syfy.
With their promotional swag in hand, donors will have a tangible token of a charitable experience they'll never forget.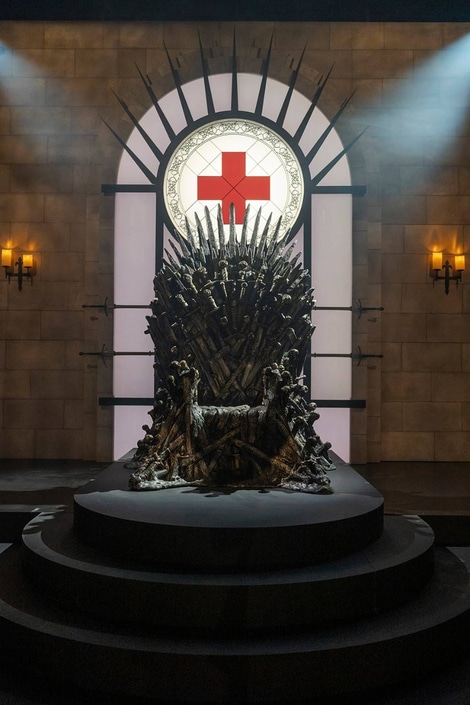 Image source: The American Red Cross, "Bleed for the Throne"
What Brands Can Learn From These Uplifting Campaigns
Here are a few key takeaways for using promotional product ideas for social causes:
Pop Culture and Social Causes Can Go Hand in Hand
Any piece of pop culture, whether it's a TV show or a song, can go a long way toward exposing social causes to more people.
For proof, just look at the media coverage received by the "Bleed for the Throne" campaign.
Information Is Valuable
As the "Turning Packaging Into Education" campaigns demonstrate, information can be the most valuable commodity of all, and education can make a real and positive impact.
Are there ways your brand can provide education through promotional items?
Awareness Should Be Functional
It's not enough to simply remind people of an important cause. Instead, take a cue from the Alzheimers New Zealand eraser campaign's clever and unforgettable design that reminds families and friends of those who have Alzheimer's to save their memories.
And, as with any other promotional product, take time to think of a product that recipients won't just throw away in the nearest trash can.
According to the British Promotional Merchandise Association study linked to in the introduction of this article, 89 percent of survey respondents have one or more promotional items on their desk with the top three being pens, notebooks and mugs.
At the end of the day, if you pair your social cause with a promo product that is truly useful and desirable, you'll be sure to make a meaningful and lasting impression on the people or cause you serve.