Marketing Ideas for Senior Living Communities & Nursing Homes
published: January 21, 2021 | updated: September 29, 2023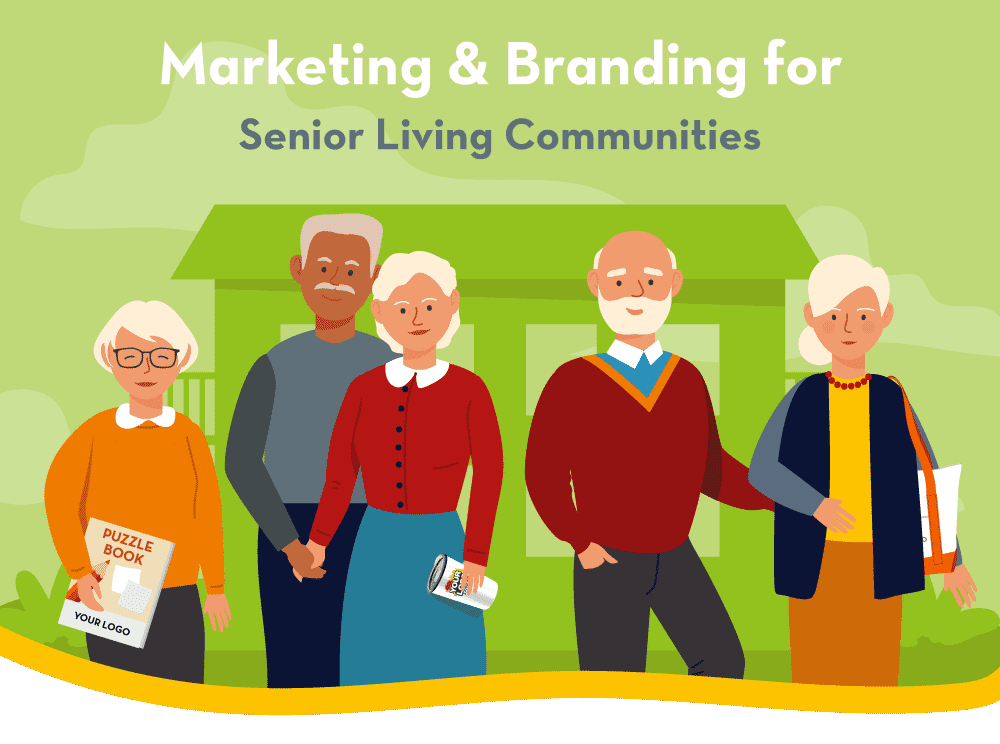 Now more than ever senior living communities have to adapt on the fly as they adjust to new data and information to protect their residents, and as your own community makes changes, you'll want to adjust your marketing strategy as well. Luckily, marketing retirement communities doesn't have to be difficult with the right plan in place.
10 Ideas on How to Market Senior Living Communities
Showcase What You Do to Bring People Together

Whether that's social events, workout classes, or cookouts – seniors are often afraid of loneliness, and their families will share that concern. Advertise your facility as a place where seniors still get to be part of the community, and where there's a strong internal sense of community, as well.

Social Media Marketing

Not all senior living communities advertise on social media thinking that their target audience aren't sophisticated users – but their family members are.

Local Partnerships

Collaborate with local businesses and healthcare providers to offer special discounts or informational sessions for residents. These partnerships not only add value to your community but also drive word-of-mouth marketing.

Direct Mail with a Twist

Send out traditional direct mailers but include a small, useful gift like a branded fridge magnet. This not only grabs attention but also serves as a constant reminder of your community.

Host Webinars on Senior Health Topics

Become an authority in senior care by hosting educational webinars on topics like aging gracefully, senior nutrition, or technology for seniors. This provides value and positions your community as a thought leader.

Referral Rewards Program

Encourage current residents or their families to refer new residents by offering a small incentive like a month's free meals or a spa voucher. This taps into the network of your existing community.

Influencer Partnerships

Collaborate with senior influencers or industry thought leaders to showcase your community on social media or blogs. Their endorsements can lend credibility and expand your reach.

Themed Open Houses

Host open houses with specific themes such as "Retro Music Night" or "Wellness Wednesday" to attract a variety of potential residents with different interests.

Community Podcast

Launch a podcast featuring discussions on senior living, interviews with residents, and expert insights on aging. This provides an ongoing touchpoint and strengthens your community's brand.

Promotional Products

Promotional products are another avenue for marketing retirement homes that will surely set you apart from the competition since these items can be used for building relationships with new clients and strengthening the ones with current members. In addition, most of these items last for months or even years, meaning your community gets more exposure with every use. Here are some ways promotional products for senior citizens can help your marketing strategy:
PPE Items and Health & Safety
Senior citizens are statistically more vulnerable to illness and disease. Protect residents and staff with custom PPE that shows how much your organization cares about the health and safety of its residents.
Face masks
Anti-bacterial wipes
Hand sanitizers
Thermometers
First aid kits
Pens
Stylus for residents and staff
Light up for nurses and their assistants
Low-cost disposable for giveaways
Rubber grip and wide hourglass shape for comfortable writing
Folders & Document Holders
From mortgages to rental agreements to medical records, the number of documents can quickly become overwhelming. These document holders will help keep everything organized for any senior living company.

Keychains
Whether it's safety keychains with lights and whistles or wrist straps to keep keys handy, these useful giveaways benefit both residents and staff.

Flat & Lightweight Easy to Mail Items for Direct Mail Promotion
You have the lead, now add a valuable touchpoint by sending a free gift with "lumpy mail" or direct mail marketing. These trendy items should be handy around the house since they keep your value proposition, branding and contact information on display in the homes of recipients.
How to Market Homes in 55+ Communities
What are 55+ homes and why do people buy them?
When you sell homes in 55+ communities, you are selling real estate, whether it be single family homes, patio condominiums, or townhouses. These homes are owned rather than rented, and they are found in neighborhoods where only people over 55 can buy and live, which limits noise disturbances and home maintenance while providing community amenities like pools, golf courses, and tennis courts. In these communities, seniors have more peace of mind, but can enjoy active and social lifestyles in their free time.
Who is the target audience for your marketing?
You are marketing directly to the 55+ buyer, which is now the baby boom generation as more and more baby boomers retire each year.
What marketing ideas work to sell them?
Each generation of retiree requires a different marketing approach, and with baby boomers now reaching retirement age, you might need to adjust your marketing strategy to align with this new generation of client. After all, baby boomers are much more inclined to use technology, so the internet becomes that much more important when you're marketing retirement homes.
Another way to beef up your marketing approach with the 55+ buyer is to utilize promotional products. Since you're selling retirement homes, a form of real estate, house warming gifts like our Bamboo Cutting Board are always a great way to leave an impression on a client, and hopefully get positive reviews in return. Here are a few more housewarming ideas to get you started:

House shaped items (new home theme)
Coffee tumblers and mugs
Cutting boards and home entertaining items
Tote bags and backpacks
How to Market Independent Living Retirement Communities
What are Independent Living Retirement Communities and what is the advantage to living in them?
These dwellings are generally rented rather than owned and usually not single-family homes, although they can be townhouses or apartments. The advantage of these communities is that even more chores are taken off the client's plate by providing benefits such as interior cleaning, laundry services and optional communal dining, in addition to in-unit kitchens or kitchenettes. Again, the focus is on social life as well as indoor and outdoor amenities and activities. This removes some of the burden on residents so that they have fewer worries and more energy to focus on various hobbies and meaningful activities in retirement.
Who is the target audience for your marketing?
For the most part, marketing is geared toward the potential residents themselves. Adult children are often involved since they may be the first to present the idea when they see their parents spending all their energy keeping up with daily chores.
What marketing ideas work to attract residents?
When marketing independent living facilities, the emphasis should be on maintaining a client's independence while reducing their everyday workload. Since this will often be their first move into a retirement community, they'll be scanning through a variety of options. The best way to get their attention is to demonstrate how your community will ensure their independence while providing peace of mind.
Less chores around the house might mean more opportunity to vacation. One way to encourage seniors to continue to enjoy their lives is with a complementary gift like a fanny pack or a luggage tag. Below are some more gift ideas to show seniors how much adventure awaits them:

Sunglasses and hats
Beach towels, beach balls and sunscreen
Water bottles
Magnetic chip clips
Fanny/waist packs
Magnets with activity schedules and/or a sales rep headshot and contact information
Golf items and accessories
Travel and luggage
How to Market Assisted Living Facilities
What are Assisted Living Communities and what advantages do they offer residents?
Assisted living is the next step towards more daily help in senior living options. Residents of assisted living facilities have individual apartments, but these may be smaller and may not feature any type of kitchen. In additional to cleaning and maintenance, meals are provided, as well as help with activities of daily living such as dressing and bathing and help with dispensing medication properly. Crucial services are balanced with fun, lower impact social activities and hobbies to create a safe, low stress but still compelling lifestyle.
Who is the target audience for your marketing?
Marketing assisted living communities should be targeted at potential residents who are struggling more and more with daily activities as well as their younger family members who may persuade their loved ones to take this step or could possibly be in charge of the decision.
What marketing and branding ideas work to attract and retain residents?
Marketing assisted living communities should be targeted at potential residents who are struggling more and more with daily activities as well as their younger family members who may persuade their loved ones to take this step or could possibly be in charge of the decision.
The ins and outs of assisted living can be intimidating for seniors and their families as they try to find the best care available while also maintaining as much independence as possible. Education is the key to alleviating some of that fear when marketing assisted living facilities. The more educated they are on your services, the more attractive your facility becomes.
Your staff will be instrumental in marketing assisted living homes by educating seniors who are looking for a higher level of care. A great way to benefit your staff and promote your facility is by dressing them with apparel that shows off your brand, like the Harriton Restore Scrub Top. On top of that, you can help ease the process of moving into an assisted living facility and keep clients around by gifting them with any of the items shown below.

Personalized apparel for staff, from maintenance to food service to personal care
Uniforms
Pill boxes, pill cutters, and denture cases
Stretch bands and fitness items (yoga mats & pedometers)
Water bottles with medicine reminder and shaker bottles to help mix drinks residents may need like protein smoothies or healthy shakes
Doorknob bags to leave on residents' doors with newsletters, newspapers, activities (see below) and giveaways
Fun hobbies and activities – items like crosswords, sudokus, word searches, gardening/seeds and adult coloring books
How to Market Skilled Nursing Homes
What are Skilled Nursing Homes and who are they for?
These facilities are for residents who need medical staff available 24/7 as well as multiple daily services that can even include help with eating. Since residents need these services, the emphasis is on comprehensive care as well as safety. Rather than apartments, residents have private or semi-private rooms.
Who is the target audience for your marketing?
When marketing skilled nursing facilities, you should speak to adult children of senior citizens as well as the potential residents themselves. Moving into one of these facilities may well be the resident's decision, but they will often need a lot of help from family to research and make this move. On the memory care side of nursing homes, the decision may rest entirely with adult children.
What marketing and branding ideas work to attract residents and retain staff?
It's not an easy question when you start thinking of how to market nursing homes. The subject is often sensitive, and your strategy when it comes to marketing nursing homes should be just as delicate. The best strategy is to motivate customers by letting them know every step you and your staff take to ensure they're in the best care available. If you can do that, your brand and marketing strategy will have a backbone to stand behind.
Your staff will be the best ambassadors for your message, so give them all the tools they need to get the job done. Any of our branded supplies is a great place to start. In addition, you can help residents feel more at home by gifting them with Fuzzy Feet Slipper Socks, a Rescue Beads Hot/Cold Pack or any of the other gifts listed here.

Branded Supplies for staff

Senior Safety ID Kits
Stethoscope tags
Nurse Essentials – totes, post its, notepads and notebooks
Retractable badge holders
Gifts for Nurses during Nurses Week

Gifts for Current & Potential Residents