45 Ways to use the Whizzie™ Spotter Tie
published: May 24, 2019 | updated: October 29, 2021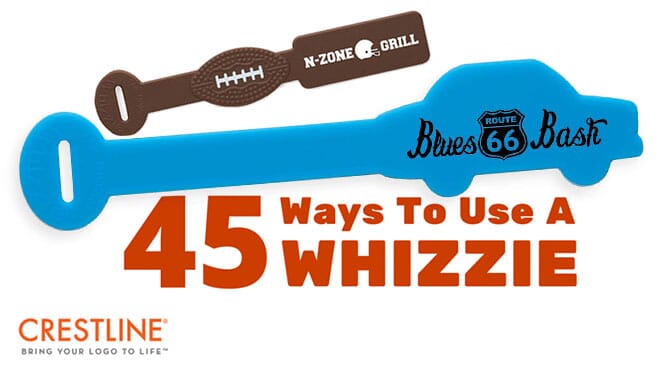 The Whizzie™ Spotter Tie is an extremely versatile and fun item that the staff at Crestline has taken a liking for. If you've never heard of the Whizzie™, you're not alone! The product is very simple. It is a silicone band that can be used to attach, mark or hold items together. It is a unique item because it gives recipients a lot of room for creativity, there is an endless number of ways to use this product. Some of the most common uses are for organization, labeling and making things easy to spot; like your suitcase on the luggage carousel.
In order to show you just how diverse the Whizzie™ Spotter Tie can be, we decided to compile a working list of possible ways that the Whizzie™ could work during your promotion or in everyday life! Here is what we have come up with—

45 ways to use the Whizzie™ Spotter Tie
Keep your headphones from tangling
Label cords under your desk
Mark your luggage when traveling to make it easy to spot
Put on the handle or stem of a drink so you know which one is yours
Use it to keep a gift bag closed
Keep crayons together in a bunch
Seal small bags of nuts, chocolate chips or sugar in the kitchen
Keep necklaces or rings together while traveling
Mark specific keys on your keyring
Put around shoelace knots to keep them from coming undone
Keep art supplies together
Hold together a bouquet of flowers
Use it to keep a poster rolled up
Attach tomato plants to a reinforcement structure in the garden
A zipper pull that provides a nice grip
Hang ornaments to your Christmas tree
Keep bobby pins together in a bundle
Attach your badge to your lanyard
Keep loose pieces of rope or yarn wound up nicely
Hold together small bushels of herbs
Hang up decorative strings of lights on outdoor event tents, awnings or patio canopy
Use it to attach a bottle opener to your cooler bag
Use instead of a twist tie to close bags of baked goods or goodie bags
Keep all of your reusable shopping bags held together by the handles when not in use
Wrap around a stack of business cards to keep them together in your purse, bag or pocket.
Hold your soap container closed during travel
Keep clothing hangers together during travel
Attach a pocket-sized first aid kit to your lunch bag or backpack
Secure a bundle of helium balloons to table weights or chair backs
Attach the string of your tea bag to the handle of your mug to keep it from falling in
Keep your phone, laptop or tablet charger neatly wound up
Roll up T-shirts for giveaways and secure by putting the Whizzie™ around it
Label plants in a garden by putting the Whizzie™ around the stem
Keep your pens together in your purse or bag
Use one to hold your hair back when you are without a hair tie
Use to attach waste bags to your dog's leash
Attach your sunglasses to your purse strap or bag to keep them from getting broken inside
Attach to child's school bag to make it easy to spot
Use it as a band to hold up long t-shirt sleeves for athletes
Attach your keys to your pants or shoelaces while exercising
Use it to keep a few batteries together to throw in your bag while traveling or camping
Attach spare flashlights or umbrellas to the back of car headrests or other handles so you always know where to find them.
Use it to turn a regular tank top into a racerback to keep straps from slipping down shoulders while active
Keep cords that are extra-long wound up behind tables or under furniture to keep them hidden and untangled
Put around your fishing pole when not in use to safeguard the extra line and keep it from getting tangled or stuck to something.