Promotional Products in the Wild:
5 Use Cases for Brand Promotion
published: May 3, 2019 | updated: January 23, 2020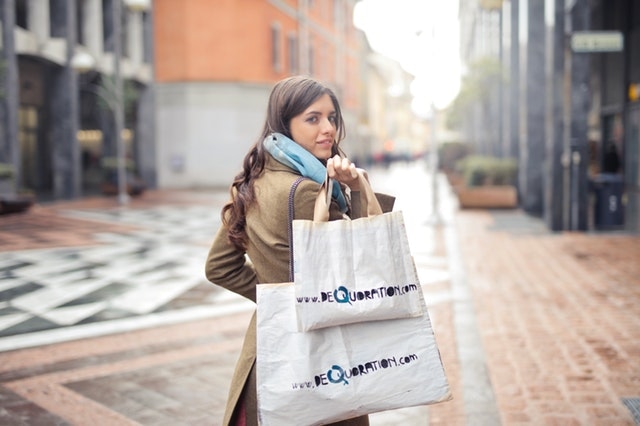 As part of our ongoing Promotional Products in the Wild series, we've already talked about how promotional products can play a valuable role in supporting good causes, but what about your company and brand?
According to the British Promotional Merchandise Association (BPMA), promotional products aren't just useful — they're extraordinarily effective:
Promotional items deliver the same ROI as TV and print advertising.
Seventy-nine percent of people would do business with a company that gave them a promotional item.
Fifty-six percent of people say that promotional products improve their view of a company.
How can your brand reap those benefits? Let's look at five high-profile case studies to find out.
How Promotional Products Can Boost Brands: 5 Case Studies
1. The New Yorker Tote
It's every company's dream: A promotional item transcends the realm of ordinary free swag and becomes not only a stylish accessory but a bona fide status symbol. However unlikely that may seem, it's exactly what happened with the free tote bag given out by the New Yorker magazine to its subscribers.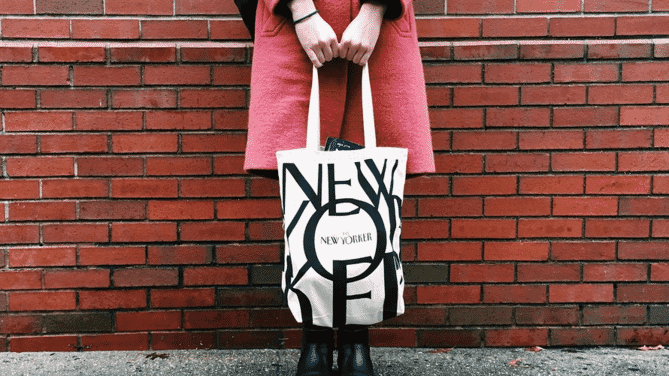 Image source: MarketWatch.com, "How a free canvas tote became a bigger status symbol than a $10,000 Hermès bag"
How can a humble canvas tote bag become a prized possession of the cultural elite? As Elizabeth Currid-Halkett, academic and author of "The Sum of Small Things: A Theory of the Aspirational Class," told MarketWatch:
"The tote bag is, consciously or unconsciously, a sign of cultural currency. Reading the New Yorker implies possession of rarefied knowledge, cultural awareness and refinement of taste that goes beyond simply reading about world happenings."
The tote bag has become so influential that it's even attained international notoriety. India Doyle, Vogue and Time contributor, elaborated in an article for "The Culture Trip:
"Indeed, this embrace of the tote poses the question of whether this [is] what the next stage of millennial activism looks like: a move beyond the Facebook like, to a more physical and mainstream statement."
This promotional item is an example of the idea that such products can do more than represent a brand: they can represent everything a brand stands for.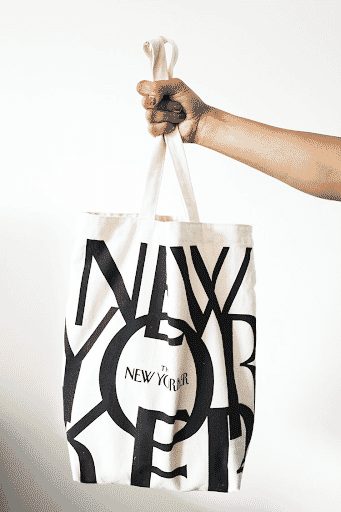 Image source: LoyalNana.com, "Totes Crazy"
2. Netflix Swag
Netflix has given away some fantastic promotional products over the years, let's look at three of its campaigns.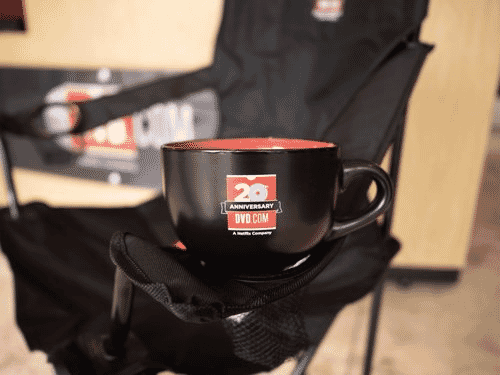 Image source: Blog.DVD.Netflix.com, "Last Chance to Win DVD Swag!"
DVD Netflix 20th Anniversary
For DVD Netflix's 20th anniversary, Netflix asked people to fill out a short survey about their favorite movies and actors, enter a photo contest or share the campaign on social media to win the brand's promotional items.
By completing each activity, participants would be entered for a chance to win merch like backpacks, mugs, battery packs and lawn chairs.
The brand received quite a bit of engagement for this campaign on social; you can take a look at the #DVD20 hashtag on Twitter to see just how much.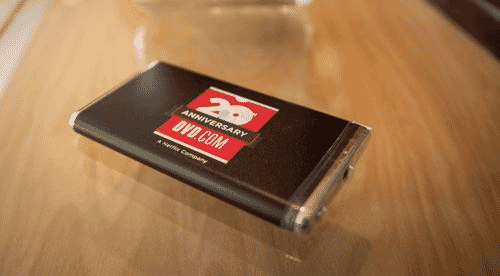 Image source: Blog.DVD.Netflix.com, "Last Chance to Win DVD Swag!"
"Luke Cage" Series Premiere
Another one of Netflix's greatest promotional products was a USB drive containing all the episodes of the unreleased first season of its show, "Luke Cage," to French journalists. The catch? The USB was contained in an "unbreakable" box.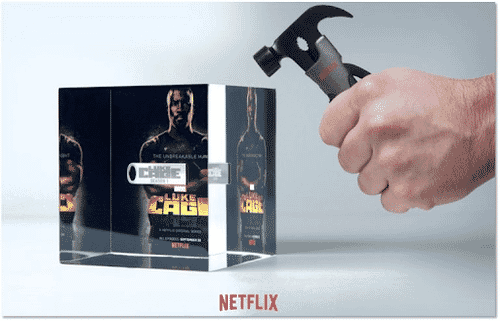 Image source: SAGEWorld.com, "Outside the Box: 4 Campaigns Featuring Clever Promotional Products"
Using the #UnbreakableLukeCage hashtag, several French publications shared their efforts to break the box. According to "Outside the Box: 4 Campaigns Featuring Clever Promotional Products", that campaign generated more than 1.5 million social media impressions.
"House of Cards" Season Premiere
House of Cards is a popular Netflix series which follows the story of a fictional U.S. president, Frank Underwood.
To promote the premiere of the show's fourth season, Netflix sent out pins and stickers as well as a note from the fictional president, as reported by Delta Marketing Group.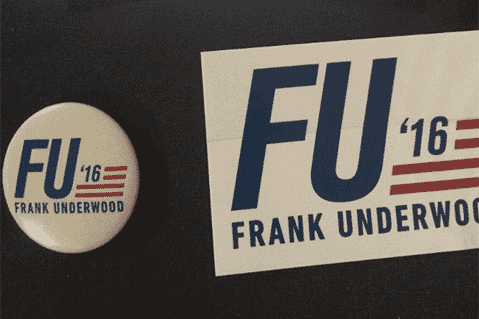 Image source: GoDelta.com, "7 Brilliant Promotional Product Campaigns to Spark Your Creativity"
Impressively, Netflix was able to orchestrate the campaign to coincide with key events of the 2016 U.S. presidential election. According to the Guardian, they even aired a spoof campaign ad during the Republican presidential debate on CNN:
3. Stella Artois Chalice
The Stella Artois limited-edition chalice is a wonderful example of promotional products being used to support a good cause, as well as to grow brand recognition and reputation.
This promotional item is a glass chalice that was created as part of a collaboration with Water.org, as well as celebrity spokespeople Sarah Jessica Parker and Jeff Bridges.
Image source: StellaArtois.com, "Change Up the Usual"
Each handcrafted chalice features a luxe gold-leaf rim, a full-color Stella Artois logo and a gift box adorned with artwork by watercolor artist Eili-Kaija Kuusniemi.
Best of all, Stella Artois will donate $3.13 for each chalice sold, an amount which can provide access to clean water for one person for five years.
The campaign and its promotional product have garnered significant social media chatter, including more than 4,600 Instagram posts with the tag #PourItForward.
The campaign's video advertisement has received approximately 14 million views on YouTube, plus coverage from publications like PR Newswire and Delish.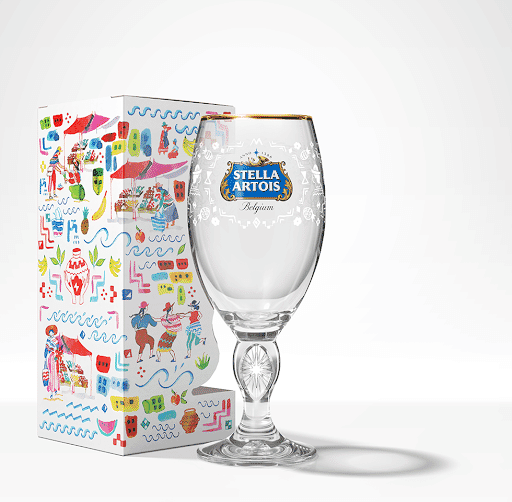 Image source: Water.org, "Stella Artois 2019"
4. Budweiser Red Light Hockey Cups
While branded signs are a common sight at hockey games, Budweiser shook things up with a very unique promotional product: A beer cup with a base that lights up red whenever a hockey goal is scored.
Budweiser also made sure to include the fans watching from home by releasing an official app that lights up viewers' cups at the right time.
According to SAGE, this promotional item has proved so popular that Budweiser has even begun offering them at NFL games as well.
The cups are a hit in Canada as well, and Budweiser announced in 2017 that they'd be available at 11 hockey games across Canada.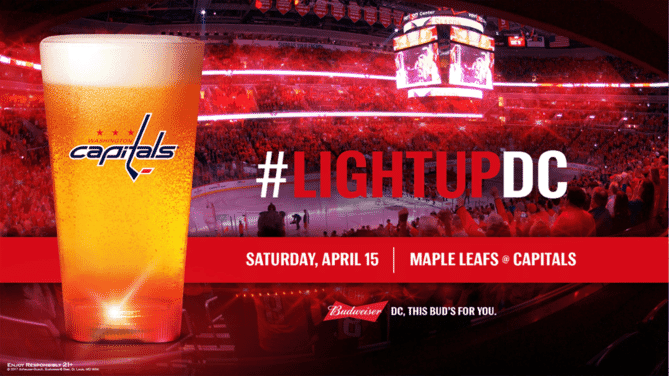 Image source: NHL.com, "Budweiser Goal-Synced Red Light Cups"
5. Tony Hawk Merch Scavenger Hunt
Finally, the Tony Hawk Twitter Hunt (hashtagged #THTH) is a promotional effort we have to highlight.
According to Twitter's blog post, Hawk arranged for more than 80 boxes of promotional products to be hidden in dozens of cities around the world, from his home state of California to Brisbane, Australia.
Over the course of the scavenger hunt, Hawk posted Tweets with cryptic clues. If fans were the first to find a box, they were rewarded with a treasure trove of promotional items, including skateboard decks, apparel, musical instruments and even snacks.
Some of the items were from Tony Hawk's own brand, while others were from various other brands.
Fans who found the boxes of loot often enthusiastically shared their discoveries on social media:
The scavenger hunt has taken place on multiple years and has received coverage from major publications like Entrepreneur, ESPN and even Fox News.
Whether in the form of a chic tote bag, a commemorative mug or a box of goodies, promotional items have the power to generate an unbelievable amount of buzz. Best of all, companies can choose from a variety of campaign formats, from direct mail campaigns to swag bags to interactive events.
Which campaign will you take inspiration from?