How to Improve Employee Engagement:
10 Ideas That Work
published: November 19, 2019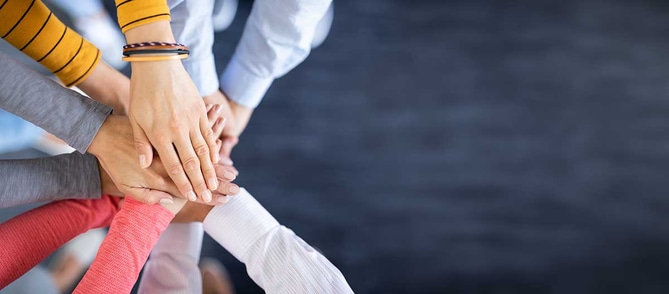 Are your employees invested in their work? Do they show up each day with purpose and drive? Are they committed to helping the company reach their goals? If you feel like your employees would answer "no" to any of these questions, you may be facing employee engagement issues.
Engaged employees are individuals who are enthusiastic about their work. They are not just going through the motions each day; they are actively pursuing their role within the company with purpose and passion. An office that is composed of engaged employees is more likely to reach success and to get there as a team.
Employee engagement should be a top priority for every company, and it should be more comprehensive than just handing out raises and offering free coffee in the breakroom. If you are struggling to keep your employees engaged in their work, these tips are for you.
10 Ways to Boost Employee Engagement
1. Start from day one.

Make sure that every new employee that joins your company is well acclimated and understands the role they play in the company. Take extra measures to make sure they feel like part of the team. Make sure that your current employees are properly introduced to new hires so that they can assist in the learning process. Leave a custom mug, notebook or a nice pen on the new employee's desk so that they instantly feel a sense of belonging.

2. Be authentic.

Make sure that your company has a clear mission and culture. Maybe you have a strong commitment to eliminating waste and being efficient or you strongly stand behind another cause. Make sure that your employees know that those values are part of the company DNA and make sure that you live it every day. Companies with confused identities or an unclear mission are likely to have confused employees as well.

3. Communicate Clearly.

Do not leave room for misinterpretation. Make sure employees know exactly what is expected of them. Tell them when they are doing something right and provide actionable criticism when needed.

4. Be transparent.

Make sure that your executives and managers always keep lines of communication open and share as much information as you can about company standings, changes, goals, and strategies.

When an employee or a team goes above and beyond to help your company reach an important goal, recognize them for it. Always make sure that your employees know that their hard work is appreciated. If they feel as though their work is going unnoticed, they will be less inclined to work hard.

6. Encourage process improvement.

Your employees know their role better than anyone else, so trust them when they recommend ways to improve. Listen to employees when they offer advice on how to make a process more productive and help them implement this change.

7. Offer opportunities for further training and education.

Your employees are your greatest asset; an investment in your people is an investment in the company. Provide opportunities for your employees to further their skills whether it be through cross training in the office, attending conferences or taking outside educational courses.

8. Have fun and bond as a team.

Find opportunities work together as a team and have a little fun. Maybe this means getting out of the office for a little bit or just gathering in a conference room for lunch to bounce ideas around for an upcoming project. Taking the time to collaborate is a brilliant way to nourish creativity and work as a team.

9. Recognize when morale is low.

Despite your best efforts to keep your employees happy and engaged, there will be times where your office is in a slump. Changes in management, a busy season, or even the weather can all lead to an imbalance in the office. When your employees don't seem to be at their best, seek ways to improve immediately. Gather for a meeting to try to figure out the root of the problem.

10.Always be improving.

What works with one group of employees will not necessarily work for another. As your workforce changes, so will your techniques for keeping your employees happy and engaged in their work. Reevaluate your strategies and try new things.
For more ideas on building staff morale, check out:
Boost Workplace Culture with Company Swag
The Importance of Corporate Apparel