How Your Organization Can
Support Men's Health this Movember

published: June 19, 2019 | updated: September 2, 2022
What is Movember?
Movember, also known as "No Shave November" is a month-long campaign to raise awareness for several serious issues that threaten men's health and quality of life: prostate and testicular cancer, mental health issues, and suicide. Many men over the years have chosen to grow a mustache throughout the month of November as a way to show support for this important cause.
The Movember Foundation facilitates the campaign and seeks to provide educational resources and to promote fundraising efforts to continue this mission. From healthcare practices to fitness facilities to places of employment, promotional products can be a very effective way to achieve this important goal of improving men's physical and mental health.
What are the Rules of Movember?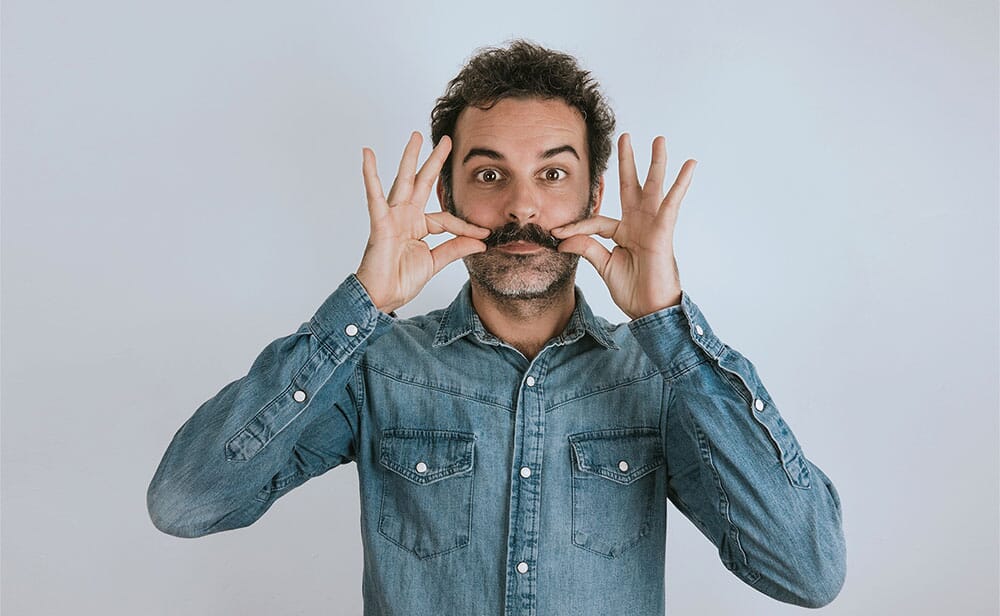 1.

Choose a charity or team and register to begin your fundraising efforts.

2.

If you are planning to grow a mustache, you must be clean-shaven as of November 1st.

3.

You need to grow and maintain your mustache all month!

4.

Mustaches only, no beards (who knew?)!

5.

At the end of the month, all funds should be donated to the Movember Foundation, a healthcare or mental health organization, or any nonprofit dedicated to men's physical and mental well-being.

6.

If you are a woman or you don't want to grow a mustache, you can still support the cause by donating to someone else's effort or team, donating to a men's health organization, or find and run in a Movember charity road race.
Movember Swag for Healthcare Practices and Nonprofits
Create a month-long awareness campaign at your medical or counseling practice. Reminding patients to keep their health in check has never been easier with our great selection of health and wellness products. Firstly, provide them with a medical diary to write down all of their health history information so that they can quickly inform a doctor. It is also helpful to have on hand in the event of emergencies when the patient is not responsive. A weekly pill organizer is always useful and serves as a great way to remind anyone to take their medications.
If you are a nonprofit, plan an interactive fundraising event where Movember gifts such as travel mugs, kits, and t-shirts are given away as a thank-you to donors, volunteers, and participants. Plan a 5K walk/run or health fair to raise money for the cause.
Imprinting your business' name and contact information on any of these useful giveaway items makes it easier for new and existing patients, customers and volunteers to remember your name and get in touch. Here are some No Shave November awareness giveaways and Movember merch:
Movember Ideas for Fitness Facilities
Promote wellness, Movember fundraising efforts, and your business all at the same time with cool fitness products. Encourage clients to maintain their own physical health by giving them the tools to do so. A pedometer can help them track their steps while exercising to make sure that they are not over or under-doing their workout. You could also shake up their normal routine by giving them a jump rope to use for cardio and strength building. Of course, many of the benefits of exercising disappear if one does not stay hydrated while doing so. Make sure they have a quality water bottle to provide them all the H2O they could possibly need.
Here are some of our favorite fitness inspired November awareness month giveaways:
Movember Ideas for the Office
Employee wellness programs are an important part of any workplace. Providing staff with the resources that they need to live a happy and healthy life will benefit them and in turn the company as a whole. Stimulate fundraising efforts throughout the month of November to show your employees that you care about them. Then host a Movember wellness event at the end of the month where employees can show their No Shave November efforts (and for those who can't grow a mustache, we got you covered). Give out portion plates to promote balanced eating or stress relievers to promote mental health and well-being. Whatever your existing program might entail, Crestline has the ideas to make it a merry Movember, indeed! Here are some Movember merchandise ideas for your workplace events:
---