Promotional Giveaways for Health and Wellness
published: May 24, 2019 | updated: September 10, 2020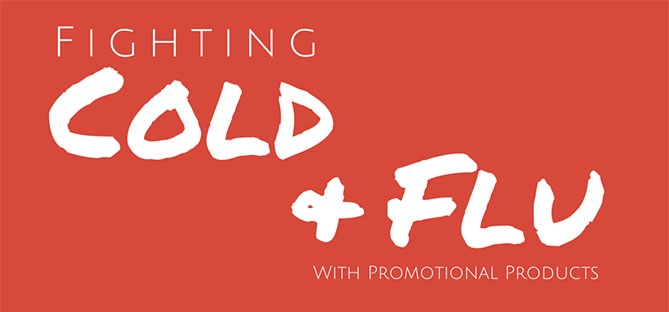 The air is crisp, the leaves are changing, and fall is here. With the excitement of the upcoming Holidays and the beautiful weather, it is easy to forget the importance of your health. This is the time of year that cold and flu season hits the hardest. Although we cannot stop cold and flu from striking, we can take measures to protect ourselves and those around us from germs that can cause illness.
When you spend your day taking care of customers, teaching students, or sharing information at a trade show, you come in contact with many opportunities to exchange germs with others. A simple handshake can lead to a cold. Combat these germs with promotional health items such as sanitizers and tissues.
One office combated the spread of germs by investing in antimicrobial gel pumps and bottles. Pumps were placed in high traffic areas and smaller bottles were handed out to each employee. Employees were able to refill their personal bottles from the larger pump bottle whenever they were running low. The end result was less office-wide illness.
The difference between the antimicrobial sanitizer that they used and antibacterial hand sanitizer is the spectrum of germs that are eliminated by the sanitizer. Antibacterial hand sanitizer is effective, but they cover limited types of bacteria. Antimicrobial sanitizers cover a wider spectrum of bacteria and viruses. Antimicrobial leaves hands and surfaces with a hospital standard of stringent cleanliness.
Handing out health items at trade shows, in-store or at events is a great way to reinforce your brand while showing that you care. Keeping a larger imprinted bottle of sanitizer on your trade show booth or storefront counter is a great way to help customers, guests and employees reduce their chances of spreading germs and bacteria to others.
Here are a few great promotional products that are great for any industry during cold and flu season: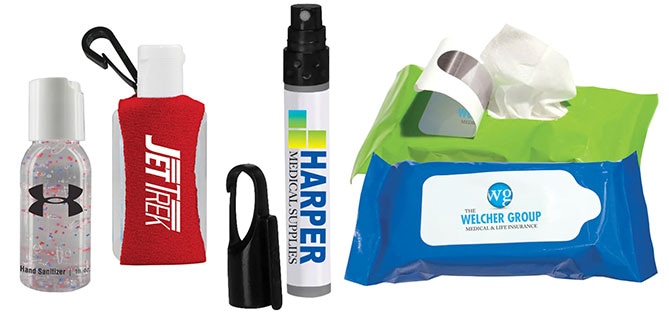 Sanitizers make great giveaway items. Choose from a variety of different gels, wipes, and sprays as well as items that are perfectly packaged to use on the go or to keep on a desk or service counter. You also have the option of choosing a particular scent for some products or different colored gels. There are many ways to use sanitizer and make it unique to your brand.
Our promotional tissues are conveniently packaged to fit in a purse, pocket or tech case. Keeping tissues on hand is a great way to catch germs. Convenient for travel, offices, hospitals and more!
Thermometers help us monitor body temperature and let us know when we are running a fever. Having a high body temperature can be dangerous, keeping a thermometer around helps us know when we are okay and when we might need to seek medical help or stay home. Promotional thermometers are great giveaways for hospitals, clinics, schools and more.
Cold and Flu kits are a great way to keep all of your wellness essentials in one place! These kits are great to keep in the office for everyone to use, or to hand out to employees to keep at their desk or take home or bring with you while traveling. These kits also make excellent giveaways for those in health-related industries.