What Are Promotional Products and Why Do They Work?
published: July 29, 2019 | updated: February 19, 2020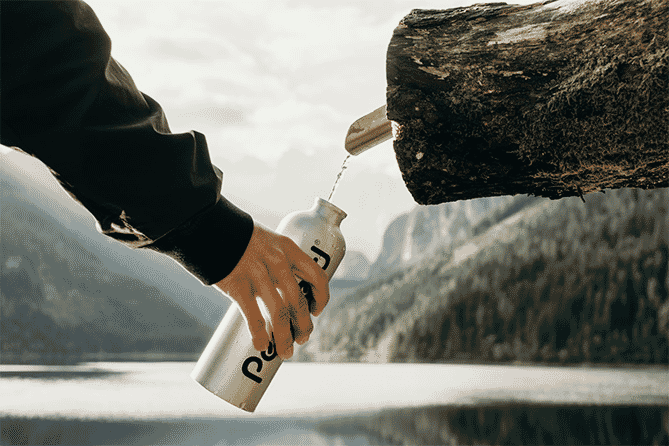 Promotional products have the power to win over consumers, employees and clients alike, all while gaining loads of organic exposure for your brand. But what are promotional products, exactly, and why do they work so well? That's what we're here to show you. Plus, we'll explain:
Who buys promotional products?
How to use promotional products effectively.
Promotional product FAQs.
What Are Promotional Products?
Ever had a grocery store give you a free, reusable tote bag? What about a reusable water bottle from a trade show, or a pen from a conference? If so, you've already owned a promotional item. In short, promotional products are simply normal items like t-shirts, notebooks, and drinkware that have been branded with an organization's logo or message.
What makes promo products particularly unique is that they're not like traditional advertising methods which aim to convince consumers to take action. Instead, promotional products provide consumers with items they already use and need. However, those items are customized with a brand's design, whether that means a company name, logo, slogan, or combination of all three.
Why Promotional Products Work
Since promotional products are so different from traditional advertising methods, like TV commercials or online advertisements, it may seem unlikely that they'd be effective.
But there are four key reasons why promotional products work so well:
Low-cost: Promotional products are purchased wholesale, which makes them extremely cost-effective. Plus, even pricier promo products are much cheaper than most other forms of advertising.
Brand recognition: Since promo products are items that are convenient and useful to consumers, it's likely that recipients will use them in their daily lives. This means they'll see the brand design printed on the product regularly, thus establishing brand recognition.
Exposure: Promo products don't only work by displaying their design to the people that own them—they'll also be seen by other people when recipients are out and about. For example, reusable water bottles tend to be taken to a variety of places, making their design visible to hundreds or even thousands of people over their lifetime.
Versatility: Since there are so many types of low-cost promotional products to choose from, any type of organization can take advantage of their power. This includes corporations, nonprofits, and schools alike.
Still not convinced? Here are some statistics that might change your mind.
According to the 2019 Global Ad Impressions Study from the Advertising Specialty Institute (ASI):
Nearly 90 percent of consumers report owning either promotional writing instruments or promotional drinkware.
Recipients keep promotional items for an average of one year.
Many types of promo items generate thousands of impressions over their lifetime, with outerwear coming out on top at 6,100 impressions.
Even if recipients don't want the promo item they've been given, 55 percent will give it away to someone else.
The average American household owns 30 promotional products.
Consumers under the age of 55 prefer promotional products over other forms of advertising.
Consumers are 2.5 times as likely to have a positive opinion of promotional products compared to online ads.
The same study revealed that consumers consider promotional products to be their most preferred method of advertising. In contrast, traditional online advertisers are facing new challenges in that consumers can fast forward through commercials while watching recorded shows or subscribe to commercial-free streaming services. Furthermore, new research from Blockthrough.com indicates that approximately 30% of internet users are now using ad blocking technology to prevent them from receiving online ads on their computers and mobile devices, and that number is expected to continue to rise.
Plus, the Promotional Products Association International (PPAI) discovered in its 2018 Promotional Products Fact Sheet that:
Nearly 70 percent of brands think that promotional products are mostly or always successful at achieving marketing goals.
After receiving a promo product, 83 percent of consumers are more likely to do business with the brand, and 79 percent research the brand.
Eighty-two percent of consumers had a more favorable impression of the brand.
Ninety percent recall the branding, 80 percent recall the messaging, and 70 percent recall the call to action.

Who Buys Promotional Products?
As mentioned above, one of the reasons that promotional products work so well is that they can be purchased and successfully used by any organization.
According to the PPAI 2018 Sales Volume Study, the promotional products industry is worth an astonishing $24.7 billion. That's the highest it's ever been since PPAI first began measuring the size of the industry in 1965.

In terms of specific industries, the PPAI fact sheet cited above reports that the top ten buyers of promotional products are:
Business services
Financial
Manufacturing
Construction
Insurance
Technology
Non-profit
Agriculture
The fact sheet also showed that companies are using promotional products for a number of purposes. The top ten uses include:
Brand recognition.
Brand/product awareness.
Corporate identity.
Public relations and goodwill.
Customer retention and appreciation.
Generate sales and referrals.
Employee communications and recognition.
New product introduction.
Motivate behaviors and incentive programs.
New customer acquisition.
As you can see, promotional products are for everyone. Whether your organization is a school, financial firm, hospital, or anything in between, it can benefit from the power of promo products.
How to Use Promotional Products Effectively
Here are some tips you can use to harness the full potential of promotional products.
1. Consider Quality and Utility
According to the ASI study referenced above, 52 percent of consumers keep promotional products because of quality, and 48 percent do so because of utility. Knowing that, it's clear that quality and utility should be at the top of your mind when purchasing promotional products.
For quality, think about the materials used to create your promotional products. For instance, you could prioritize items made from things like:
Metal, such as aluminum and stainless steel.
Natural fabric, such as cotton and jute.
Natural materials, such as wood and marble.
Durable, BPA-free plastic.
In terms of utility, try to imagine the items your recipients will use daily. These might include products like:
2. Don't Forget Your Employees
Promotional products aren't just ideal for attracting new customers and building customer loyalty. They're also perfect for showing employee appreciation and creating an awesome work environment.
For instance, consider the importance of corporate apparel. It has the ability to:
Create a positive and professional image.
Increase morale among staff members.
Help employees feel valued and included.
Build a sense of teamwork and unity.
You can give promotional products to your employees at a number of events and occasions, from special milestones to team onboarding. Check out our previous article on the topic to learn more.
3. Support a Good Cause
There are few things that people like better than knowing and showing that they support a good cause. Why not let your recipients do both with your promotional products?
We explored this idea in-depth in a recent article. There, we looked at four real-world examples:
Alzheimers New Zealand created USB stick erasers designed to raise awareness about Alzheimer's disease.
Colgate created a campaign designed to teach children in Myanmar how to practice proper oral hygiene.
Caribou Coffee joined forces with hat retailer Love Your Melon to create beanies that support the University of Minnesota's Masonic Children's Hospital.
The American Red Cross created a Game of Thrones-based campaign to encourage blood donation, complete with limited-edition promotional t-shirts.
Or, rather than support a specific cause, you could choose to go green with eco-friendly promotional products.
Trust us when we say that it's worth it: the ASI study found that 42 percent of consumers have a more favorable opinion of an advertiser if the promo product they received was environmentally friendly.
Promotional Product FAQs
To wrap up, let's look at the answers to some of the most common questions about promotional products.
1. What types of promotional products are there?
In short, the options are almost limitless. Here are some of the best types of promotional products that recipients will love:
2. How do promotional products work?
There are only two words needed to explain the basics of how promotional products work: utility and exposure.
By providing your recipients with promotional products that are useful to them, you'll increase the chance that they'll take those products with them into public places. Then, once they're in those public places, the promotional products will gain exposure for your brand.
3. How do promotional products help business?
Why buy promotional products? Because promotional products can help your business in a number of ways:
Increase brand recognition.
Gain exposure.
Increase the number of people who recall your brand, messaging, and call to action.
Gain customer and/or employee loyalty.
Build a positive work environment.
Support a good cause.
Let consumers and employees know you care.
Show appreciation to employees, clients or business partners.
What are promotional products used for? In general, they're used for three key things:
Marketing.
Showing appreciation.
Increasing exposure and brand awareness.
4. Why are promotional products important?
You've likely already gleaned the answer to this question from the rest of this article, but here's a quick summary.
Promotional products are important because they:
Are an effective yet low-cost form of advertising.
Are a form of advertising your recipients will love.
Can provide many months or years of brand exposure.
Are accessible and useful to organizations of all kinds and sizes.
5. Where should promotional products be distributed?
Promotional products can be distributed at all kinds of events and locations, including:
Trade shows (check out our handy trade show checklist).
Conferences, seminars, and other industry events.
Charity events and fundraisers.
Classes, school orientations, and other educational events.
Meetings and business trips.
Company picnics, barbecues, and hikes.
Fairs and festivals.
Conventions and expositions.
In the end, promotional products are a fantastic way to spread the word about your brand while gaining customer and employee loyalty, all without breaking the bank.
Want more examples of how companies are using promotional products to promote their brand? Take a look at our previous article, How to Make Promotional Products Work for You.
Or, check out our buying guides to determine how you can create the best promotional products for you: