Crestline Cares: K9s On the Front Line
published: September 10, 2019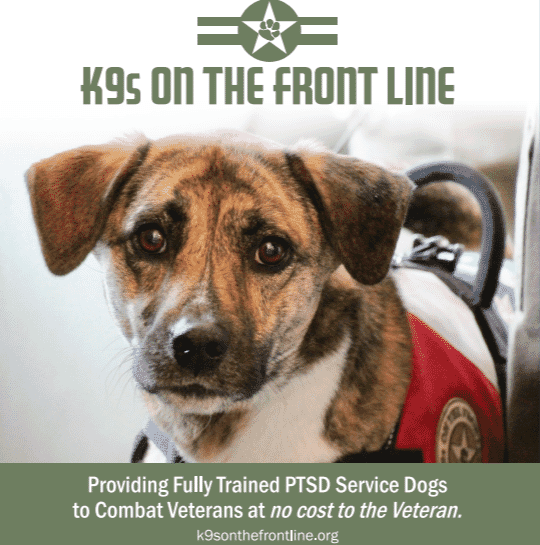 Crestline is proud to announce the kick-off of our nonprofit giving program, Crestline Cares. We are also thrilled that our first recipient is a worthy cause with ties to Maine, K9s on the Front Line.
K9s on the Front Line is a Maine and Missouri-based nonprofit organization that provides trained service dogs to veterans who are experiencing issues related to physical injuries and other trauma. Not only does this organization provide services at no cost to veterans who participate in the program, but they are also committed to training and rehoming dogs who reside at shelters, giving both the dog and his or her new owner, a second chance. The dogs provided by K9s on the Front Line are specially trained by experienced police K9 handlers to ensure that the dogs that go home with veterans know "their human" and are prepared to help them navigate the complexities of civilian life. According to the organization's website, "Over time, this human-canine bond and interaction gradually and permanently moves the alarm gauge in our Veterans into a position that makes life manageable and worth living. In addition, our K9s serve as a social buffer between recipient and public, again on the subconscious level, decreasing the level of hypervigilance in everyday life."
Both the Maine and Missouri chapters of K9s on the Frontline recently participated in events to raise awareness for veteran's rights as well as to elevate the mission of their organization. Crestline was happy to be able to provide imprinted dog flyers, pet waste bags, and logo cups for these events and, as the pictures show, their choices of products helped to convey what their organization is all about.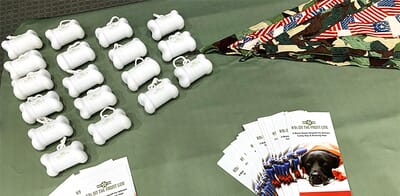 Custom printed bone-shaped pet waste bags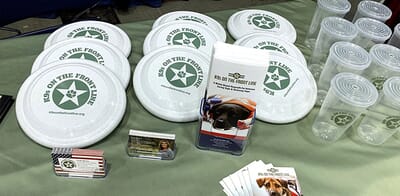 Doggie flyers and cups sporting the K9s on the Frontline logo
Crestline was honored to play a role in helping active duty military, veterans, and their families to learn about the wonderful work that K9s on the Front Line is doing. With both human and canine volunteers there to lend a hand (or paw), both events were a success!
"We had worked with Crestline prior to this partnership and were always thrilled with the design, products and customer service they offered, so we were humbled when we were offered this partnership to help promote our cause and expand our reach within their own network. As a nonprofit that relies 100% on fundraising, the products that Crestline is providing to us not only gives a professional appearance when we are at events and expos, but they allow interested attendees to leave with something that will remember us with." Linda Murray, Co-Founder and Executive Director.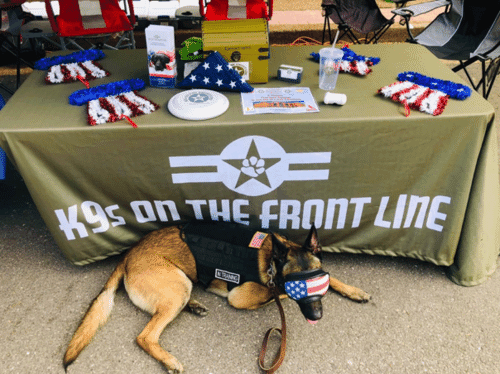 Even with his custom eyewear, this service dog can still see!
Visit K9s on the Frontline to learn more about their organization, mission, as well as read some of their human and canine success stories.