Make Your Brand Message Travel with Promotional Products
published: June 12, 2019 | updated: May 11, 2020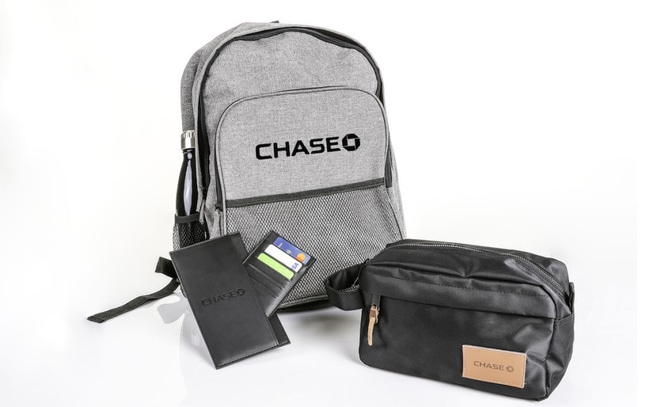 There is a large demographic of people who travel for work each year and that number is growing. The US Department of Transportation reports that Americans take approximately 400 million long-distance business trips per year, which is more than one million business trips every day! This represents a huge opportunity for your brand, as providing promotional travel essentials to your employees not only gives them something helpful that they can use on their business trips but also ensures that your logo and message will travel along with them. Here are four categories of promotional travel items to get you started:
Packing Essentials
Luggage is the number one essential that anyone traveling for business will need. Consider a promotional suitcase, duffle bag or travel backpack. Whether it is a carry-on size or a larger bag, choose the style and features that will best show off your logo and brand message. Adding a custom luggage tag is another way to attract attention to your company name.
Storage Essentials
After suitcases and other luggage, accessory pouches and Dopp kits are the next must-have business travel items. They can be carried on a plane holding essential tech items such as earbuds, a charger, and a power bank, or used to store toiletries and cosmetics and placed in the checked baggage area. Consider adding travel-sized bath and shower products to add to each bag.
Organization Essentials
Another great category of corporate travel items is organizational products that come in handy at trade shows, client presentations, and conferences. Padfolios, travel organizers and wallets are perfect for storing important documents, presentation materials, and IDs. A flash drive will hold important files in a compact and portable way from nearly any computer.
Comfort Essentials
Make your employees' business trips a more comfortable experience with a customized travel pillow, blanket, or set. Show employees that you value them with an imprinted travel mug–they can use it to stay hydrated or to enjoy a hot or iced coffee to combat jetlag and feel at home while traveling.
Provide custom embroidered apparel to keep employees looking professional and feeling comfortable. And at the end of the day, they will appreciate personal items such as a custom sleep mask.