Top 10 Tips for Welcoming New Employees
published: November 19, 2019 | updated: May 21, 2021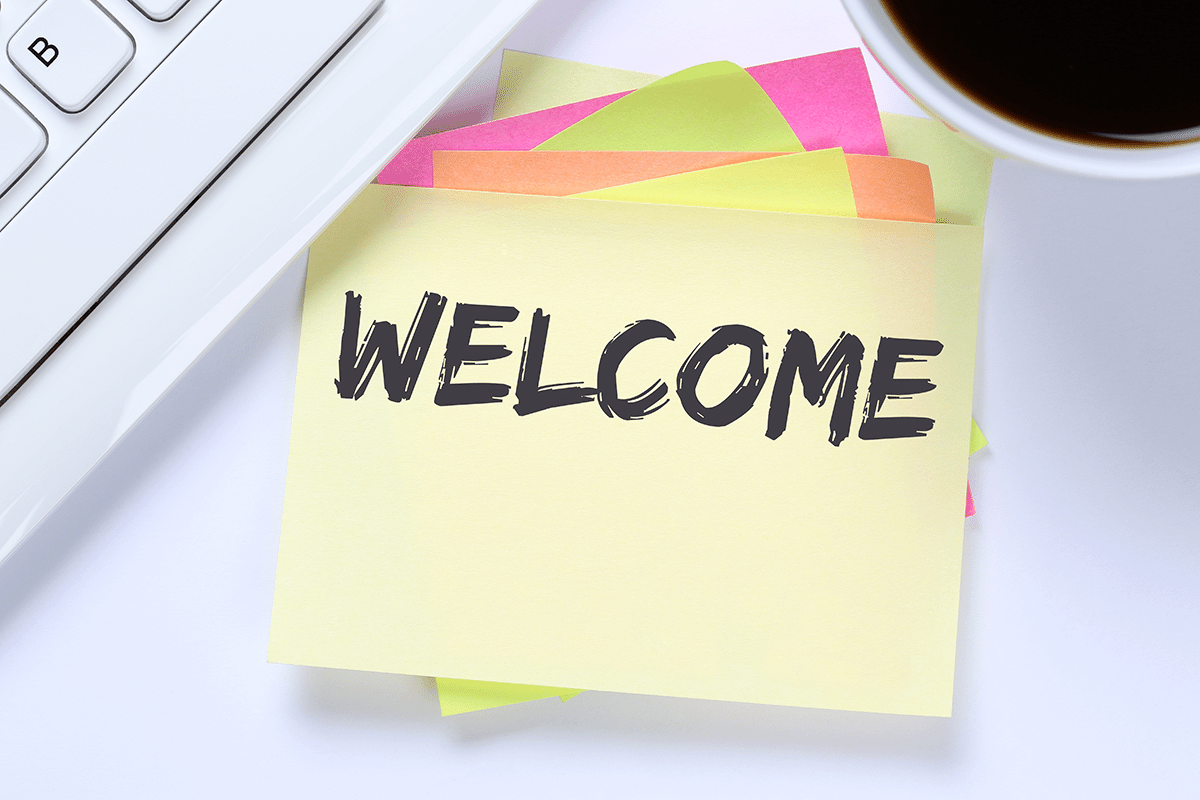 It's just as important for your company to make a good first impression on new employees as it is for a new employee to make a good impression on you. One of your goals as an employer is to ensure that your new hire feels good about choosing to work for you. Employees who like where they work are not only more productive, they are also more likely to stay where they are. That translates to fewer recruiting and training costs for your company.
When you hire a new employee, the tone that you set during those crucial first few weeks can make all the difference in their long-term success. Employees who receive a warm and thorough introduction to your organization are more likely to develop into happy, cooperative, effective members of your team.
Here are a few ideas to help you get new employees started off on the right track:
1. As soon as you know that a new employee will be starting, make an announcement and ask existing employees to offer the new hire a warm welcome. If coworkers are expecting a newcomer, they will be more likely to reach out with help, advice, or friendship.
2. Once your new employee has settled in and begun to show some progress in their work, reward them with a more substantial corporate gift, such as an embroidered business dress shirt, custom tote bag, or journal. Personal items featuring your company's logo will allow them to express their pride in being a valued member of your team. Not sure what to give? Offer a variety of items in a corporate logo swag bag. Take the good will to the next level by sending the gift bag to their home in advance of their start date. Employee appreciation can't start too early!
3. Be ready to greet your new employee as soon as they arrive. Clear your calendar of meetings for the morning. If you absolutely must be away, ask a personable and high-ranking employee you trust to stand in for you. Take some time to chat with your new hire before showing them to their desk.
4. After allowing your new employee a little time to settle in, give them a tour of your facility. Be sure to show them the restrooms, emergency exits, break room, cafeteria, and other important areas. Take the time to introduce them to key coworkers and briefly explain each of their roles in the organization.
5. Consider hosting a welcome breakfast or lunch to allow your new hire to meet coworkers at a more relaxed pace. If your organization is too large for a company-wide welcome event, plan a smaller get-together with just the new employee's immediate department.
6. Pair your new employee with a peer mentor who can not only show them the ropes, but also provide insights into the workplace culture. Have the new hire shadow their mentor for at least the first few hours.
7. When your new employee is ready to get to work on their own, take care not to give them so much work that they become overwhelmed or so little that they feel unnecessary. Start with small, manageable tasks and ask them to check with you when they are ready to move on. Assure them that you and/or their peer mentor are on-hand to answer any questions they may have.
8. Check in frequently with your new employee during the first few weeks. Though it is important to give them enough space and autonomy to feel comfortable, you should also keep a close eye on their progress and offer help if they seem lost or confused. There is often a lot of information to remember when starting a new job, and some workers are too self-conscious to ask questions. Offering guidance in a pleasant, non-judgmental way can go a long way toward helping a new hire to succeed.
9. Be sure your employee receives a personnel manual or knows where to find important information about job expectations, dress codes, behavioral policies, salary, benefits, vacations, sick time, company history, etc. Even if you go over these details with your new employee on their first day, they will be unlikely to retain everything and will need a way to access the information later. If your manual is in digital format, a handy imprinted business magnet featuring the web address or folder location can serve as a useful reminder.
10. Before your new employee arrives, assign someone to get their work area ready for them. Make sure they have all of the necessary supplies, including a lanyard with badge or keycard, personalized laser engraved pens, highlighters, printed sticky note pads, and notebooks. Custom office supplies, featuring your company logo, can help your new employee feel like a part of the team. You may also wish to include a more personal item, such as a hot and cold tumbler, foil balloon with a welcome message, a potted plant, or picture frame, as a welcome gift. Consider handing out employee welcome kits featuring a lunch cooler bag full of office essentials, all proudly displaying your company logo or message. For new remote employees, send a thoughtful work from home kit with the tech and desktop items they'll need. Custom earbuds that come in their own logoed case, are another office essential any new employee will use and appreciate.
Follow these simple steps, and your new employees are sure to feel at home at your workplace in no time!
You may also be interested in our other articles for human resource managers:
Boost Corporate Culture with Company Swag
The Importance of Company Apparel
4 Fun Employee Appreciation & Team Building Ideas for the Workplace
Boost Office Productivity & Morale with Custom Sticky Notes